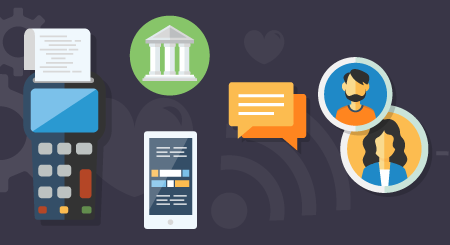 Your Merchant Services Provider is an important business partner who can assist you in running and growing your company. They help you process credit cards and provide other essential services for your business. A merchant services provider's essential services include:
Allowing for smooth transactions by accepting credit, debit, and electronic payments from your customers. Keeping your customer data protected by securely handling PCI enforcement while processing and storing payment information. Using technology to monitor payments, understand business data, and collect unpaid invoices for your company.
Let's start from the beginning to understand what a merchant is:
What is a Merchant?
Payment processors use the word "merchant" to refer to their clients. Customers, also known as merchants, are companies that accept credit card payments in person, online, or over the phone from their customers. A Merchant Services Provider provides goods and systems that aid in the smooth operation of those businesses.
These products and services often combine with existing business tools. For example, your payment provider could connect to your retail store's POS system or to QuickBooks Online for reconciliation. Customer support, inventory systems, and payment reporting are all services that Merchant Service Providers may offer.
When a customer uses a credit or debit card to purchase something from you, merchant services are what happens behind the scenes to make the transaction possible.
Your merchant service provider can be thought of as the messenger who sends secure payment data between your store, the issuing bank, and your bank. Your MSP helps you to accept card purchases through managing payment processing—whether in-store on a physical point-of-sale terminal or online on your store's checkout page—so you can make further sales and boost your revenue. In other words, merchant services are the means by which your company is paying, and a merchant services provider's job is to handle such services.
Who is considered a merchant?
A merchant is an individual or business that sells products or services. A group that sells products or services exclusively over the internet is referred to as an eCommerce merchant. Wholesale and retail merchants are the two styles of merchants. With the rise in popularity of online shopping in an ever-growing digital environment, new forms of merchants known as eCommerce merchants have arisen.
Different types of merchants:
eCommerce Merchant
Retail Merchant
Wholesale Merchant
Affiliate Merchant
What is a merchant account?
A merchant account differs from a conventional bank account in many ways. Many company owners are confused about this basic idea. Merchant services accounts allow companies to accept credit and debit card transactions as well as other forms of electronic payment from consumers through the use of a payment gateway.
Additional fees and a number of services are often associated with merchant account services. Most merchant accounts enable the merchant to cover payment processors, credit card associations, and issuing bank processing fees. As a result, it could be more prudent for the merchant to search out a solution that will assist in lowering transaction costs. A low processing cost, on the other hand, does not guarantee long-term service and assistance.
How does Merchant Services work?
Merchant processing companies provide businesses and individuals with the tools and resources they need to accept credit cards, debit cards, and other forms of electronic payment. There are thousands of merchant service providers in the United States alone. From third-party merchant services providers including Square, Stripe, Paypal, and Fattmerchant to large bank-operated merchant services, each company offers its own tools, services, and fees (Bank of America, Wells Fargo, Chase Bank). Depending on the size of the business, one model will be more expensive than the other.
open a merchant services account?
A merchant services account creates a commercial arrangement between a business and a merchant services provider. This allows the company to accept debit and credit cards, as well as contactless payments like Apple Pay, eCommerce purchases, and more. To do business with some payment processing firms, such as Square, you don't need a merchant services account.
It's a risky decision to go without a merchant services account. Square and other payment processing companies also welcome higher-risk business clients that would not otherwise be eligible for a merchant account. This increases the payment processor's risk. If your company falls into this group, you're more likely to get those transactions put on hold. If the payment processor determines that it is no longer willing to take on the higher risk, they will simply terminate your account, leaving you unable to accept customer payments.
Merchant Services Products
The various resources available for payment processing are the next basic component of what makes up "merchant services." The services that merchant service providers provide to companies so that they can receive and process payments in a way that is convenient for both them and their customers.
Contactless Payments
Credit and debit cards, Apple Pay, Android Pay, Google Pay, Fitbit Pay, and other devices that use near field communication (NFC) or radio-frequency identification (RFID) are all examples of contactless payments (RFID).
Mobile Payments
A portable electronic device, such as a tablet or a mobile phone, is used to pay for a product or service. With apps like PayPal and Venmo, mobile payment technology can also be used to transfer money to friends and family.
Credit card terminals
A credit card terminal, also known as an EDC Terminal or Electronic Data Capture Terminal, is an electronic system that allows consumers to swipe, dip, or tap their credit or debit card to make a payment.
eCommerce
eCommerce refers to the electronic purchase and sale of goods through online services or the Internet. eCommerce solutions will help you cross the gap when in-person purchases aren't an option, from accepting credit and debit cards online to set up your own personalized web store.
Virtual Terminals
A virtual terminal is a piece of software that enables merchants to accept payment with a payment card, specifically a credit card, without the card being physically present.
POS (Point of Sale) Systems
Your customer makes a payment for goods or services at your shop using a point of sale device, or POS. Simply put, a customer completes a point of sale transaction every time they make a purchase at your shop.
Payment Gateways
A payment gateway is a piece of software that integrates with your website or online store to accept and process safe credit card payments.
Payment Processing
A Merchant Services Provider is a middleman who connects banks, businesses, and consumers. As a result, you can confidently accept your customers' preferred payment form. If you use a Merchant Services Provider, you can rely on this payment to arrive safely in your bank account.
When a customer swipes a card, the Merchant Services Provider transfers the funds from the customer's account to yours. Within 48 hours, the funds should appear in your bank account. Many companies are eligible for same-day financing and may receive payment much sooner.
You'll buy or rent credit card terminals and smartphone swipers from your Merchant Services Provider. They can easily integrate with your eCommerce store if you have an online company. You can accept payments online or over the phone using virtual terminals. Your Merchant Services Provider will assist you in determining which payment processing services are best for your business.
Payment Security
Payment security is critical for companies that process credit card transactions, accept online payments, and store card numbers. When it comes to taking payments nowadays, there can be a lot of dangers.
PCI compliance can be ensured with the assistance of your Merchant Services Provider. This ensures that your business's cardholder data, such as names and card numbers, is secure. Businesses can secure their data by using strong passwords and periodically upgrading their antivirus software.
Meanwhile, on the payment side of your market, your Merchant Services Provider will maintain PCI compliance. This includes tokenizing payment information and putting fraud protection measures in place to protect your company.
Technology Provider
A Merchant Services Provider gives you the technology and knowledge you need to run your company more efficiently. Payment data generated by your Merchant Services Provider can teach you a lot about your company.
Which Merchant Service is Best?
Every penny counts when it comes to enhancing the company's operations. This is why it's critical to find the best merchant service provider for your business. If you want to expand your company and reach your target market, you'll need to invest in merchant services. In the United States, there are over 1000 payment processing firms. Here are some things to think about when selecting payment processing platforms for your business.
With all of the changes in the economy, it's more important than ever to offer your customers a variety of payment options.
What must you search for in an exceedingly merchant services provider?
While trying to find a merchant services provider, ensure to require note of their costs. Depending upon the type of solutions you wish, you may presumably keep the subsequent charges in mind.
Setup Fee
Equipment Fee
Monthly Fee/Service Fee
Transaction Fee
Credit Card Processor Fee
Payment processing fees:
Flat rate: Suitable for tiny retail businesses and start-ups with a coffee sales volume, a flat rate may be a fixed percentage that's supported by a charge when processing payments. This pricing model is quick and straightforward to line up and has the most effective easy use
Interchange-plus:  Interchange fee works best for Mastercard transactions. Each Mastercard issuer like Mastercard and Visa has specific interchange rates for every card type whether it's CNP or Card present transactions.
Direct interchange: an instantaneous interchange fee is one where the merchant charges a one-off monthly fee with no percentage rate. It's not the simplest for little businesses that generate low volumes of sales.
Tiered rates: Tiered rates are grouped in several structures that separate each card type(Visa, Mastercard, Discover). It's not the foremost convenient for tiny to medium-sized businesses. Since the fees fluctuate this can be not a perfect option for B2C transactions.
Additional Fees to look at out for:
Account fees
Minimum processing fee
Statement fee
PCI-compliance fee
Account setup fee
Cancellation fee
Chargeback fees
NSF fee
We believe that each one of these convenient data should be placed within the hands of business owners such as you. you'll be able to increase your knowledge and make strategic decisions that will positively impact your business. That's why we built Merchant Service Provider, our all-in-one payment platform. With Merchant Service Provider, you'll be able to track payments, create payment links, and collect invoices in one place. Plus, you'll be able to also view detailed reports about the state of your business at any time.
Credit and Debit Card Transactions Payment Processing:
Your MSP is working hard to ensure you get paid from the moment a customer pays with their card before the funds are received in your merchant bank account. Here's a rundown of the payment processing process that MSPs assist with coordinating and maintaining.
A customer purchases something from your store using their credit or debit card (either online, in-person, or over the phone).
The acquiring bank receives the credit card or debit card details (the merchant bank).
The purchasing bank sends the payment information to the card association in a safe manner (Visa, AMEX, Mastercard, etc.).
The card association keeps in touch with the bank that issued the customer's credit card (the issuing bank).
The issuing bank either accepts or rejects the transaction and then assigns a code to it.
The code is sent back to the card association by the issuing bank.
The card association notifies the purchasing bank if the payment has been accepted, and if it has, the funds are released into the merchant account.
Does a Merchant Account Differ :
Opening a merchant account is not the same as opening a bank account for personal or company finances. Here are a few things to keep in mind when it comes to merchant accounts.
It's important to have a merchant account in order to run your company. A merchant account gives you a unique merchant ID that is linked to your company and allows you to process and monitor transactions securely.
When transactions are being processed, funds are kept in your merchant account. Not only do merchant services providers administer your account, but they also negotiate directly with credit card networks and banks on your behalf to ensure that each transaction is accepted before funds reach your merchant account.
Payments are made more secure with merchant accounts. Not only is it appropriate for your business to open a merchant account, but it also protects your customers and your company from fraud and privacy threats.
You must first choose a merchant services company and open a merchant account before you can accept credit or debit card payments. If you want to open a merchant account for your company, here are the simple steps to take.
Set Up a Merchant Account
The first step in getting a merchant account is deciding if you'll take credit cards. To put it another way, how do you want your customers to pay? If you have a physical location or all of your sales are done online will determine your response. If you own a physical store, you must decide whether to support mobile payments (such as Apple Pay) or stick with credit and debit cards.
If your business is primarily eCommerce, you'll need a payment gateway that enables consumers to safely enter credit card details on your platform.
Research and compare your options.
It's important to have the MSP right because it's one of the first major decisions you'll have to make to get your store up and running. Examine your options, which can include a variety of services and packages. Compare costs and contract terms, as well as how well each MSP suits the company's form and goals, such as current growth rates, sales volume, and future revenue.
Choose a merchant services provider.
Weigh your options and choose a provider that may meet your unique business needs and aligns along with your current reality. Consider that a high-growth startup experiencing exponential growth has very different payment processing needs than a tiny low mom-and-pop shop with minimal pedestrian traffic.
Apply to open an account.
The next step is to finish your application. betting on the merchant services provider you select, you may need to wait several days before you hear anything back. In a rush to open your merchant account? Maswipe guarantees approval within 12 hours (unless further information is required, during which case we'll contact you to get the total picture).
Start accepting payments!
After you've been approved, your MSP will work with you to urge your merchant account and payment gateway up and running. Once you're equipped up, it's time to start out selling! reckoning on your merchant services agreement, you'll be able to accept debit cards and credit cards in-store, online, or over the phone.
Key Factors to contemplate When Choosing a Merchant Services Provider
Choosing the proper merchant services provider could be a crucial step in launching a successful business. If you're undecided what to seem for, consider comparing these factors when choosing a merchant services provider.
Contract Terms
Before you enter into a contract with an MSP, confirm you recognize exactly what you're signing. How long is that the contract? Does it expire at a specific date or transaction threshold? Are you locked into the identical terms indefinitely or is there a choice to renegotiate after a specific period?
While a long-term contract may appear sort of a haggle upfront, getting locked into a contract can present challenges for a brand new business or high-growth startup – especially if you don't have a choice to renegotiate terms as you scale.
Cancellation Policy
We all know that things don't always go in step with a plan. For better or for worse, there's an opportunity that your payment processing needs will change before the terms of your contract are up for renegotiation. So, whether or not you're pleased with the contract terms, it's an honest idea to ask about their cancellation policy.
what proportion would it not cost you? If you're in an exceedingly particularly high-risk or volatile industry—or launching a fast-growing start-up—you should consider the advantages of a shorter contract or an MSP that provides a more flexible cancellation policy.
Pricing Structure
In any variety of partnerships, a scarcity of transparency may be a red flag. Plus, as a business owner yourself, you recognize what quantity customers hate confusing pricing models. confirm the MSP you select to figure with is upfront about costs and willing to debate any concerns before asking you to sign a contract. Confirm exactly what's included in your price and if anything is unclear, ask specifically about whether certain services cost extra.
But the great news is, you don't have to tolerate hidden fees. While MSPs use complicated fee structures to stay merchants on their toes, Get Payment guarantees transparent flat-rate pricing for all of our clients.
Types of Payments to Accept
MSPs are in charge of the technologies and interactions that enable payments to be transferred from your customer's credit card to your merchant bank account. It's important that you work with an MSP that can provide you with the payment processing services you need, including the appropriate hardware.
If you have a physical venue, you'll need a managed service provider (MSP) that can have a retail POS system that allows you to accept mobile and card payments in-store. If you sell a lot of things online, you'll need an online payment gateway that works with your store to provide safe and quick checkout.
Payout Times
MSPs not only communicate with banks to process card purchases, but they also keep your money in a safe holding account until it is accepted. If the payment is accepted, the funds are transferred to your merchant account.
So, when selecting an MSP, one of the most important things to remember is how easily payments can enter your merchant account. The longer an MSP takes to process transactions and release funds, the longer you'll be waiting for the money you've already won.
Reliable Customer Support
It's important that your MSP offers dependable tech support so you can reach out to a representative when you need it most. After all, time is money, and the longer it takes to address payment processing problems, the more likely you are to lose out on future sales due to your inability to accept credit cards.
Find out what kind of customer service an MSP provides before signing on the dotted line. When will their customer service team be available? Is there a different way to contact them (phone, email, Skype, etc.)? Is there an option for on-site visits? How long does it take them to answer merchant issues and fix them?
Choose Merchant Services Provider- Your Business Needs
You're making it as easy as possible for your customers to shop from you by working with a merchant services provider. However, it's critical to choose an MSP that makes payment processing easy for you as well.
That's why MA swipe offers every customer fast approval, straightforward flat-rate pricing, and live customer service from the United States.