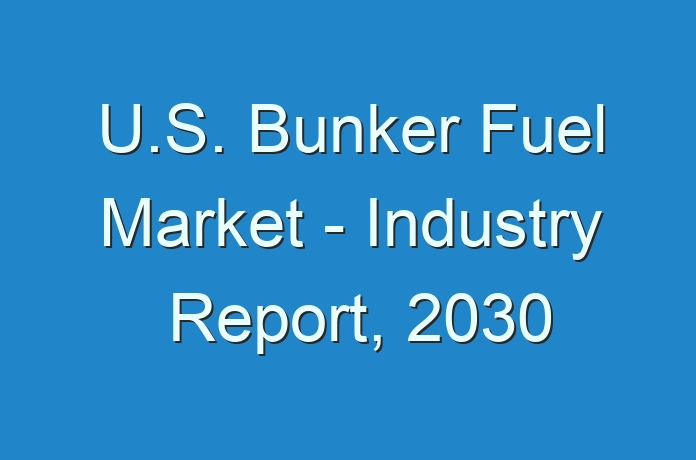 Growing Demand for Low Sulfur Bunker Fuels to Drive Market
The global economic status is one of the key influencers of the U.S. bunker fuel market. Bunker fuels are extensively used by marine vessels worldwide, and the significant rise in marine trading activities around the world over the past few years has played an imperative role in shaping the growth of the U.S. bunker fuel market. In the current scenario, bunker fuels are classified into different profiles based on vessel type, emission levels, etc. Over the past couple of decades, diesel has emerged as one of the most popular bunker fuels. However, mounting environmental concerns coupled with the evolving regulatory landscape are likely to have a negative impact on the overall growth of the U.S. bunker fuel market in the upcoming years.
Moreover, the catastrophic impact on human health, marine life, and the environment caused by frequent oil spills have resulted in the formation of stringent regulations and norms. Fluctuating price trends and violation of international conventions have also played a key role in hindering the growth prospects of the U.S. bunker fuel market during the forecast period. At present, market players are increasingly focusing on the production of sustainable and green bunker fuel due to which, innovations and technological advancements have garnered pace.
At the back of these factors, the U.S. bunker fuel market is expected to surpass the US$ 8.6 Bn by the end of 2027. In addition, considerable rise in offshore exploration activities, strategic deployment of bunkering divisions in various ports, and increasing bunkering requirements of offshore support vessels are other factors that are likely to influence the growth trajectory of the bunker fuel market during the assessment period.
Request a sample to get extensive insights into the U.S. Bunker Fuel Market
International Maritime Organization Specifications to Influence Consumption of Bunker Fuels
Amid mounting environmental concerns and increasing focus on reducing carbon emission to safeguard the environment, the International Convention for the Prevention of Pollution from Ships (MARPOL) has emphasized on the need to reduce sulfur content in marine bunker fuels from nearly 3.5% to 0.5%. At present, considerable research and development activities are focused on the discovery of bunker fuels with minimum sulfur content. The shipping industry is expected to comply with new fuel specifications laid down by the International Maritime Organization, which, in turn, is likely to lead to considerable changes in the marine industry. The evolving regulatory landscape is expected to have a strong impact on the refining industry– a shift in the product mix along with increasing the supply of low-sulfur bunker fuel are some of the major changes that are likely to be seen across the U.S. bunker fuel market during the forecast period. While the refining sector is expected to adjust to recent regulatory changes, the shipping industry is anticipated to work toward their compliance strategies.
The compliance method adopted by marine and shipping companies will largely rely on factors such as design, size, route, type, and vessel ownership. Scrubbers are expected to emerge as an economically attractive alternative beyond 2023 for large ships that consume large quantities of bunker fuels. In addition, the global marine industry is gradually shifting toward the adoption of liquid nitrogen gas (LNG), especially in newly constructed marine vessels. The demand and consumption of LNG bunker fuel are projected to rise– a factor that is expected to boost the U.S. bunker fuel market.
To understand how our report can bring difference to your business strategy, Ask for a brochure
Demand for Bunker Fuel to Decline amid COVID-19 Pandemic
As per Transparency Market Research, the demand for bunker fuel is expected to decline by around 5-10% in 2023, due to the COVID-19 pandemic. Restrictions on trade, slow cross-border trade, and minimal shipping activity are expected to stall the growth of the U.S. bunker fuel market in 2023. The U.S. bunker fuel market has witnessed considerable growth in the first quarter of 2023 due to the strong demand for low sulfur fuel oil. However, the onset of the novel COVID-19 pandemic has had a strong impact on the demand volume of bunker fuels in 2023 due to which, contraction of the U.S. bunker fuel market is expected.
Stuck in a neck-to-neck competition with other brands? Request a custom report on U.S. Bunker Fuel Market
Analysts' Viewpoint
The U.S. bunker fuel market is expected to expand at a sluggish CAGR of ~1% during the forecast period. Some of the key factors that are expected to drive the U.S. market for bunker fuel include increasing marine trade activities, advancements in refining technology, research and development, and rising number of offshore exploration activities. Moreover, the evolving regulatory landscape and increasing demand for low sulfur bunker fuels will have a strong impact on the growth of the global bunker fuel market, thus driving the U.S. market for bunker fuel. As market players focus on the production of green and sustainable bunker fuels, the demand for bunker fuel is expected to remain steady in the upcoming years.  
U.S. Bunker Fuel Market: Overview
Currently, fuel oilis widely used as bunker fuel. However, other middle distillate fuels are also utilized as bunker fuels.
Fuel oil employed as bunker fuel can be categorized into intermediate fuel oil (IFO), IFO 180, IFO 380, marine gas oil (MGO), marine diesel oil (MDO), low sulfur (LS) 380, and LS 180
Increase in globalization and urbanization has boosted the demand for various commodities in the U.S. Seaborne trade is economical; hence, it is widely practiced globally. Different types of ships such as tanker fleets, container fleets, and bulk & general cargo fleets are used for shipping purposes. Rise in shipping activities across the globe is anticipated to boost the bunker fuel market in the U.S.
Increase in Offshore Exploration & Production Activities to Drive U.S. Bunker Fuel Market
Providing bunker fuel and associated services to the oil & gas industry is a major business activity of companies engaged in bunker fuel trading
Rapid expansion of the exploration sector and increase in demand for new hydrocarbon reserves have led to a gradual shift from onshore to offshore reserves. This is boosting the bunker fuel market in the U.S.
The offshore oil & gas sector has been expanding significantly in the U.S. Currently, offshore locations account for significant portion of production of hydrocarbons. Rapid technological development has resulted in an increase in oil & gas exploration activities at deep offshore locations and other marginal oil and gas fields. This is augmenting the demand for bunker fuel.
Bunker supplying companies have strategically opened bunkering divisions at ports that are close to major offshore hydrocarbon basins, as bunkering requirements are significantly high for some offshore support vessels. Thus, increase in offshore exploration and production activities is likely to drive the bunker fuel market in the U.S.
LNG/LPG as Alternative Fuel Likely to Hamper U.S. Bunker Fuel Market
LNG fuel is a mature technology that may be used to comply with the upcoming MARPOL regulations, which impose restrictions on sulfur emissions from marine vessels
LNG bunkering is the only feasible option that enables compliance with the NOx Emission Control Area (NECA) and Sulfur Emission Control Area (SECA) requirements without the usage of the expensive marine gas oil
LNG Fuelled Vessels Working Group is a special group specifically established to encourage the use of LNG as marine fuel. The development of LNG bunkering infrastructure and enactment of emission control areas (ECAs) and other sulfur norms in each areas mentioned exhibit a high level of correlation.
Currently, LNG bunkering in the U.S. takes place in Jacksonville, Florida, and Port Fourchon, Louisiana. A third facility is under development in Tacoma, Washington. Bunkering of LNG-fueled cruise ships using barges is also planned for Port Canaveral, Florida.
Thus, availability of LNG/LPG as alternative fuel is anticipated to adversely affect the bunker fuel market in the U.S.
More Trending Reports by Transparency Market Research – https://www.prnewswire.com/news-releases/valuation-of-battery-pack-for-marine-hybrid-and-full-electric-propulsion-market-to-reach-usd-600-million-by-2030-tmr-301069362.html
Rise in Demand for Alternate or Low Sulfur Fuel
Heavy fuel oil is a widely used bunker fuel for ships. It is economical and easily available. It is obtained from crude oil distillation.
Crude oil contains sulfur, which ends up in ship emissions on combustion. Sulfur dioxide is harmful to human health. It can cause respiratory issues and lung diseases. It may also lead to acid rain and acidification of oceans.
Alternate fuel or low sulfur fuel oil needs to be used extensively to overcome the sulfur dioxide emission from ships. The International Maritime Organization, under the annex VI of the International Convention for the Prevention of Pollution from Ships (known as the MARPOL Convention), has implemented a regulation on sulfur emission from ships.
Sulfur emission from ships has been limited to 50%from January 01, 2023. This is estimated to significantly reduce the quantity of sulfur dioxide emission from ships.
Thus, ships need to use fuel oil with inherently low sulfur content in order to comply with the IMO MARPOL regulation. Refineries can add additives and blend the fuel oil to lower the sulfur content. Additives are also projected to enhance other properties such as lubricity.
Demand for LPG and LNG as alternate fuels is also increasing. LPG combustion results in lower CO2 emissions vis-à-vis oil-based fuels, due to its lower carbon-to-hydrogen ratio. LPG virtually eliminates sulfur emissions and can comply with low sulfur regulation.
Consequently, demand for low sulfur fuel oil and alternate fuel is likely to increase in the near future in order to comply with the emission norms
Recent Developments, Expansions, Acquisitions, and New Contracts in U.S> Bunker Fuel Market
On March 11, 2019, BP Marine announced that it would begin to retail low sulfur fuel that meets new MARPOL regulations, thus limiting sulfur content in marine fuels. The company also announced plans to introduce a new very low sulfur fuel oil (VLSFO), with maximum 5%sulfur content, with fuel manufactured and supplied by BP in Amsterdam/Rotterdam/Antwerp (ARA) and Singapore hubs.
East Coast Zone to be Highly Lucrative Region of U.S. Bunker Fuel Market
East coast zone is estimated to be a highly attractive zone of the bunker fuel market in the U.S. during the forecast period. The bunker fuel market in the zone is estimated to expand at a significant pace during the forecast period. The U.S. bunker fuel market in the east coast zone is being driven by rise in containerized shipments from East Asia. Charleston and Jacksonville have recorded large shipment gains among ports in the east coast zone.
West coast zone accounted for major share of the bunker fuel market in the U.S. in 2019. Furthermore, the west coast zone has largest and busiest ports in the U.S.
Request for covid19 Impact Analysis – https://www.transparencymarketresearch.com/sample/sample.php?flag=covid19&rep_id=78498
Highly Competitive U.S. Bunker Fuel Market
The bunker fuel market in the U.S. is highly fragmented. Large-sized, multinational, and small-sized players dominate the bunker fuel market in the country.
Key players operating in the bunker fuel market in the U.S. include –

BP
LUKOIL
BP SINOPEC MARINE FUELS.
Chevron U.S.A. Inc.
Exxon Mobil Corporation
Royal Dutch Shell plc
Aegean Marine Petroleum Network Inc.
World Fuel Services Corporation
GAC
BUNKER HOLDING
KPI BRIDGE OIL