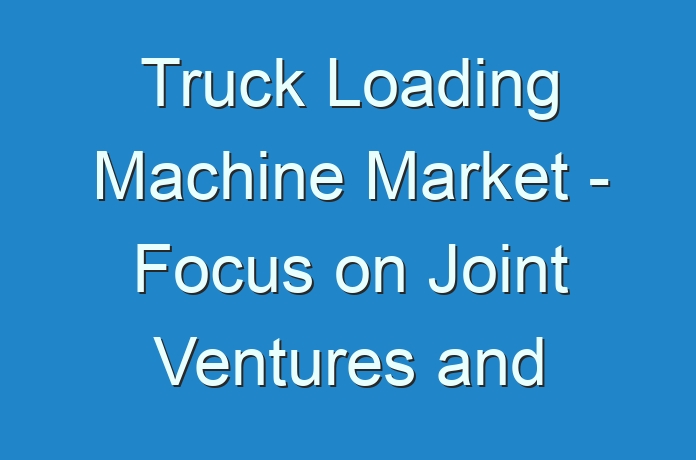 Truck Loading Machine Market: Introduction
A truck loading machine is used for loading/unloading materials on trucks using different kinds of engineered conveyor belt systems. Some of these conveyor belts are chain floors, cable floors, T-bars, trailer skates, roller tracks, powered cargo rollers, belt floors, slip chains, and many others. Truck loading machines are used to handle heavy materials such as recycled tires, cotton, sawdust, garbage, and agricultural products. The machine eases transportation via land, air, and sea by loading/unloading of materials. Truck loading machines reduce the workforce, prevents product damage, and reduces accidents and injuries related to lift-truck operations.
Want to know the obstructions to your company's growth in future? Request a brochure @ https://www.transparencymarketresearch.com/sample/sample.php?flag=S&rep_id=82120
Key Drivers of the Truck Loading Machine Market
Increased usage of truck loading machines in areas such as construction, textile, FMCG, mining, and warehouses is leading to rising demand for these machines. The huge requirement of loading/unloading by construction, mining companies etc. pushes the demand for truck loading machines globally. Moreover, truck loading machines are gaining popularity as they have adapted technological innovations such as remote-control features and low energy.
The rising popularity of e-commerce across the globe is contributing to the growth of truck loading machines, especially in countries such as India and Germany. Evolution of the industrial sector and urbanization have increased the need for truck loading machines for various operational tasks.
Demand for truck loading machines has increased due to growing trends in shipping and transportation industries, as it reduces damage to goods and equipment during the loading/unloading process.
Focus on Joint Ventures and Partnerships Creating Opportunities in the Truck Loading Machine Market
Increasing partnerships and joint ventures of companies such as Hiab, Palfinger, and Tandos with local companies to start manufacturing is creating new opportunities in the truck loading machine market.
Automatic truck loading and unloading systems, also known as ATLS, shifts products from standard systems to customized solutions, offering benefits such as requirement of fewer logistics personnel, fewer forklift trucks, fewer loading/unloading docks, and reduced damage to goods.
Weight Restriction Imposed by Ministry of Road Transport and Highways
Countries have to comply with changing regulations and norms related to truck loading machines mandated by their governments. For instance, on June 26, 2023, The Ministry of Road Transport and Highways, India, published a notification to amend Rule-93 relating to dimensions of motor vehicles under the Central Motor Vehicle Rules 1989, mentioning a restraint on truck loading. As stated, in case of truck-trailers/ tractor-trailers engaged by auto manufacturers to carry motor vehicles/ construction equipment, motor vehicle/ livestock / white goods with closed body or meant to carry indivisible loads, the overall height of the motor vehicle shall not exceed 4.75 meter. These amendments would provide standardizations and bring forth more customized space for extra carrying capacity within prescribed weights.
Asia Pacific the Dominant Market
Asia Pacific is the dominant region in the truck loading machine market. The growing demand for truck loading machines in Europe and increase in logistics and bulk transportation facilities in China are offering new opportunities to drive demand in these regions.
Purchase Premium Research Report @ https://www.transparencymarketresearch.com/checkout.php?rep_id=82120&ltype=S
Key Players Operating in the Global Market
Companies are working on product innovation and development to increase their customer base. Furthermore, key companies are adopting the merger and acquisition strategy to improve their market revenue at the global level. Some of the major companies identified in the truck loading machine market are:
Cargo Floor B.V.
Gebhardt Fordertechnik GmbH
Haver & Boecker Ohg
Joloda International Ltd.
Maschinenfabrik Mollers GmbH
Secon Components S.L.
Vdl Systems BV
Read Our Trending Press Release Below: https://www.prnewswire.com/news-releases/expanding-awareness-about-the-importance-of-early-disease-diagnosis-to-accelerate-the-growth-of-the-ai-in-medical-imaging-market-says-tmr-301304168.html