5G Wireless and Quantum Dot Technology Expediting Innovation in Optical Transceivers
The implementation of 5G wireless is anticipated to deliver new services in high-speed optical networks such as augmented reality and industrial IoT. As such, optical transceivers are projected to dominate the transceiver market with the highest revenue, estimated at a record ~US$ 36.8 billion by the end of 2027. Hence, manufacturers in the transceiver market are tapping into opportunities in machine learning, and the development of advanced drones and self-driving vehicles. The growing demand for 5G is catalyzing the demand for high-speed optical connectivity in cloud data centers.
On the other hand, manufacturers are innovating in new optical transceiver chiplets to integrate lasers with electro-photonic silicon chips. For instance, in September 2019, ADVA – a telecommunications company, announced the developing of novel optical transceiver chiplets to cater to the increasing demand for bandwidth in data center interconnect networks.
Companies in the transceiver market are adopting quantum dot technology to create compact-size devices. They are increasing focus on developing miniaturized optical transceivers that are cost-effective and support transmitter-receiver optical sub-assemblies for inter-data center applications.
Customization as per your requirement, Buy Now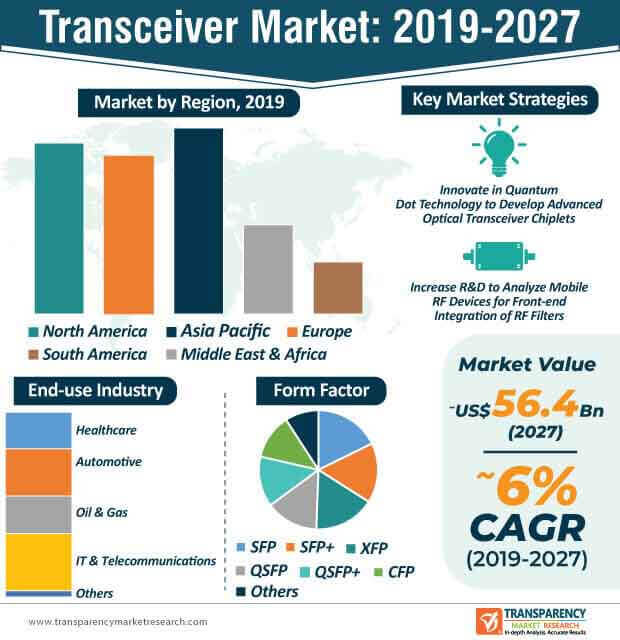 Increased Application of Transceivers in EW Systems and IT Boost Sales
The transceiver market is estimated to witness growth in electronic warfare and other applications. There is growing demand for transceivers that offer flexibility in electronic warfare (EW) systems. Companies in the transceiver market are introducing new wideband microwave transceivers that offer immediate-frequency bandwidth in RF (radio frequency) modules. Innovations in wideband microwave transceivers are benefitting stakeholders in the defense landscape by helping them deploy spectrum monitoring and beamforming in EW systems.
To understand how our report can bring difference to your business strategy, Ask for a brochure
Companies are increasing research efforts to maximize system flexibility by developing transceivers that integrate with multiple interfaces. They are increasing R&D to analyze mobile RF front-end architectures of smartphones to support global LTE (long term evolution) standards in the IT and telecommunications landscape. As such, IT and telecommunications accounts for the highest sale of transceivers, and is estimated to reach a value of ~US$ 12.7 billion by 2022, in the transceiver market.
Manufacturers are onboarding the best researchers to develop transceivers that offer quality communications and cost-efficient scalability. They are increasing production capacities to develop advanced transceivers that transform 5G wireless equipment, such as smartphones and tablets, and are being increasingly used in IoT applications. Companies are introducing new frequency bands in transceivers that support 5G applications.
Get More Press Releases by TMR: https://www.prnewswire.com/news-releases/process-innovations-and-demand-for-value-added-services-create-new-revenue-streams-in-property-tax-services-market-delivery-by-outsourcing-business-model-to-up-the-ante-for-service-providers—tmr-301296021.html
Tunable Transceivers Serve as Alternative to Static Counterparts to Reduce Downtime
There is growing demand for tunable devices in the rapidly expanding networking technology landscape. Manufacturers are innovating cutting-edge technology that provides on-site wavelength adjustment in tunable transceivers. Static transceivers require multiple backups to reduce downtime in the DWDM (dense wavelength division multiplexing) space. Hence, tunable transceivers are an efficient alternative to their static counterparts, since the former offer more flexibility in optical networking.
The burgeoning growth of networking technology is triggering the sales of tunable transceivers in the global transceiver market. However, tunable transceivers cost more than static transceivers. Tunable transceiver technology also presents a challenge for operators attempting to interface tunable transceivers with legacy equipment. To win over these limitations, companies are introducing transceiver management modules, AKA tuning boxes, to host tunable transceivers in various DWDM environments. The efficacy of tuning boxes is leveraged with the help of tuning software to reinforce on-the-go tuning through proprietary mobile tuning applications.
Contact us:
Transparency Market Research
State Tower,
90 State Street, Suite 700,
Albany NY – 12207,
United States
Tel: +1-518-618-1030
Site: https://todaysmarkettrends.wordpress.com