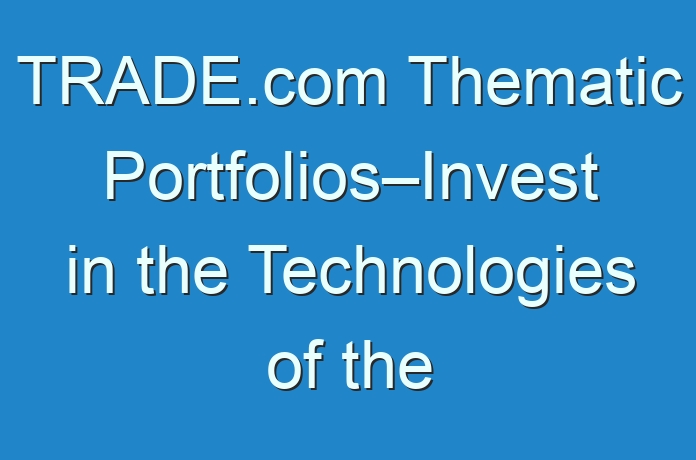 Navigating financial markets while also ensuring well-diversification is a challenging activity in 2022. TRADE.com provides a solution in the form of Thematic Portfolios, so clients can invest in a selection of stocks, reducing costs, and gaining the desired market exposure.
Diversification is one of the key requirements in an environment where uncertainty and volatility are the main concerns. Retail traders/investors must find ways to allocate capital to a well-structured list of assets, depending on their goals, risk profile, and personal schedule.
Because picking up stocks will be expensive and a meticulous activity, TRADE.com is one of the brokers that want to provide an alternative, in the form of Thematic Portfolios. Carefully handpicked by financial market wizards, this is an opportunity to invest in a selection of stocks, ranging from many different sectors.
Robotics & AI
After expanding to become a multi-asset broker, TRADE.com had gradually included well-rounded Thematic Portfolios, one of them being Robotics & AI. Referring to the design and construction of machines that can think and learn like humans, these two sectors (Artificial Intelligence and Robotics) are bound to reshape the global economy. With disruptive potential, they can have a meaningful impact on manufacturing, healthcare, security & defense, as well as environmental sectors.
With the Robotics & AI Thematic Portfolio provided by TRADE.com, clients are able to gain exposure on stocks such as Baidu Inc, Alphabet, Honeywell International Inc, Oracle, Advanced Micro Devices, Illumina, or IROBOT Corp, among others. All portfolios can be personalized depending on personal needs and customers get to choose the exact exposure on each sector part of the portfolio.
Alt-text: TRADE.com Thematic Portfolios
Contactless Delivery
Contactless Delivery is a new Thematic Portfolio that has been implemented, thanks to the growing need for new delivery options, as remote consumerism is picking up, now that the world is dealing with a global pandemic. Social distancing measures will remain in place in 2022 and very likely in 2022, considering the coronavirus is very contagious.
There are many companies that offer alternatives to people wanting to get the desired products at their place, some of them being Amazon.com, Uber, or Seamless and Grubhub, all part of the TRADE.com Thematic Portfolio.
Water Technology
Clean water has become an increasing issue around the world, but with the help of technology, companies can develop solutions. The combination of several drivers makes water and water scarcity issues an attractive investment for the long-term. At present, there are industrials, health care, utilities, or materials stocks, that can provide exposure to the growing water industry.
The TRADE.com Thematic Portfolio includes stocks like Sempra Energy, Tetra Tech Inc, Agilent Technologies Inc, IDEXX Laboratories Inc, American Water Works Co Inc, or Ecolab Inc, among others, providing the same adjustment options as all the other portfolios.
Social Media and Internet Advertising
After revolutionizing the way people communicate, capture media information, and make e-commerce, the social media industry entered a long-term path of growth, and now the number of social network users reached several billion. Companies part of the industry can develop various business models by taking advantage of social media and internet advertising potential.
As a result, the TRADE.com Social Media and Internet Advertising Thematic Portfolio seeks to provide an opportunity to invest in global stocks that have exposure to industries like interactive media or entertainment. Baidu Inc, Facebook, or Alphabet Inc Class A shares are part of the portfolio, among other companies that are involved in social media. This is a thematic portfolio providing 100% exposure to the communication services industry.
Biopharma
Considering the healthcare sector took a key part in shaping 2022, stocks related to biopharma were under increasing demand, as some companies showed promising results for vaccines and other therapeutics. Gilead Sciences Inc, AbbVie Inc, Johnson & Johnson, Sanofi, Takeda, and others are part of the TRADE.com Biopharma Thematic Portfolio, enabling exposure to one of the currently growing industries.
Many specialists are projecting the current coronavirus can't be eradicated, given the widespread, and as a result, the demand for cures will remain elevated for the foreseeable future, favoring biopharma, alongside the broad healthcare sector.
Summary
All of the above-mentioned thematic portfolios are at the frontier of technologies, incorporating companies that aim to provide solutions for fundamental issues the world needs to face. The TRADE.com Thematic Portfolios enable people to gain exposure on diversified baskets of stocks from popular markets, carefully picked to ensure diversification. Most of them, including the ones previously described, are thoughtfully designed in accordance with the development of the tech industry, this provides a convenient solution for responsible individuals aiming for rising valuations of stocks while keeping a close track of portfolio diversification and risk exposure.
The value of the Thematic Portfolios accounts can fall as well as rise, which could mean getting back less than you originally put in. You should consider whether you understand the financial products you wish to invest in and whether you can afford to risk losing your invested capital. If you don't understand any product, you should seek for independent financial advice. Past performance is no guarantee of future results. The Company provides no investment advice of any kind, nor gives advice or offers any opinion with respect to the nature, potential value or suitability of any particular securities transaction or investment strategy
Read also about : Email error [pii_email_037d07812f905a3927ae]