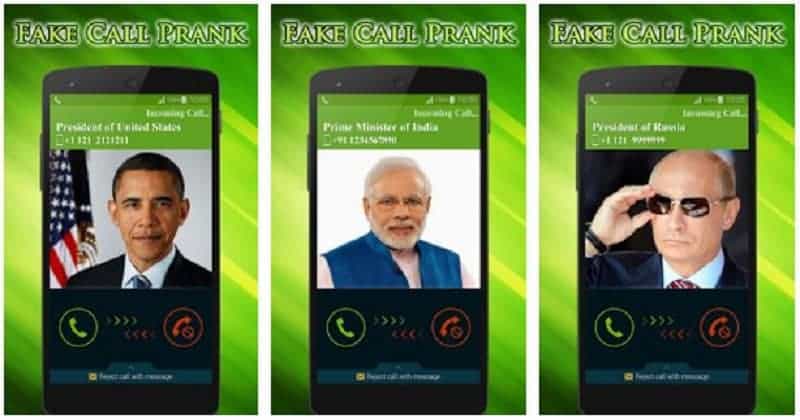 If you're a regular prankster who loves prank calling in particular, then you're in luck as we have found the very best prank calling apps you will ever need. 
With hundreds of different prank apps offered to download, it can be time-consuming and tedious to try and select the best ones. 
Below are our top 3 prank calling app essentials, let's begin!
Fake Call
Faking calling apps have really taken off as a practical way to prank friends and family with its unique incoming call feature. 
It has a variety of uses, but its most common use occurs in social situations i.e. a boring party or date where a fake incoming call can let a person conveniently leave while giving a valid excuse.
Fake Call markets itself as a fake prank caller app but it has the unique distinction of having a phoney SMS feature as well, this is certainly not the norm with similar apps.
Its bogus SMS feature lets you customize a text message and sends you the SMS at a moment's notice where you decide its name, number and message content. 
Fake text messages can also be saved , meaning you can use the same contact to message you repeatedly, saved contacts also apply to both SMS and Incoming callers. 
If you prefer longer more elaborate pranks i.e. lying to your parents that you have a love interest for the long haul, you can use the same fake contact.
Fake Call also has an option to include pre-recordings during phone calls which can be customized; listening to a pre-recording ensures conversations appear more natural and fluent as it feels like you're talking to someone on the line. 
All fake calls and SMS are then saved into your all call history where you can view them at any time for reference.
Additional Features
App is fully optimized to run smoothly

Fake calling screen will match with your phone brand ie Samsung UI, Sony, HTC etc

Ringtones and photos for incoming callers can be optimized
Ownage Pranks
If you enjoy the hilarious prank calling youtube channel known as Ownage Pranks then you're going to love their app even more!
The Ownage Pranks app is most certainly one of the best pre-scripted prank call apps of its generation as its pre-recordings are second to none offering innovative prank script creativity and superb voice acting. 
All you have to do is browse their enormous selection of prank scripts which are divided into different subheadings such as Dating & Love, Work, Top-Performing, Neighbours, Featured and many more. 
After you've chosen, select the contact you wish to prank and call them, pre-recordings are automated at the start of a phone call. They are also surprisingly convincing as they can adapt to real-time dialogue responding at the best times during a call. 
Since prank scripts are regularly added let's take a look at a couple of the newer pre-recording examples: 
'Number Left For Waitress': A female employee from a restaurant claims that your supposedly interested victim left his phone number on a receipt. She then refuses to go out with him due to his low paying tips. 
'Angry Convenience Store Owner': Sam from the community market store accuses your victim from stealing candy from his store and demands $500 for damages. 
RoboVox Voice Changer Pro
A great voice changing app can really elevate prank calling enjoyment as not only can you transform your voice into multiple hilarious sound effects but you will also have complete anonymity.
RoboVox Voice Changer Pro is a sure standout offering a vast selection of voice options, with 32 different voice styles available it is among the very largest among its competition today. 
Although you will initially only receive ten free voices, with in-app purchases, you will be able to unlock the rest. In terms of design RoboVox has a cool technological look to it, and its straightforward UI makes it very easy to use. 
Its voice recorder function is a simple concept but allows for a high degree of customization to your voice. Not only can you transform your voice into the various effects available, i.e. Robot, Tincan, Ghoul etc. but you can take it a step further and modify its pitch and modulation settings. 
RoboVox also has a fun feature called parrot mode where it will repeat whatever you say and play it back in a different tone. 
Once you are satisfied with your new recording, it can be saved and shared via email and SoundCloud. Pre-recordings can also be played during prank calls similar to pre-recordings offered by the Ownage Pranks app, the main difference being the material and choice of voice is your own. 
RoboVox Features:
32 voice styles such as Chipmunk, Helium voice, Exorcist, Cylon, Dalek, HAL, Prophet and many more.

Voice recordings can be used as a ringtone

Three primary modes: real-time, parrot and recording