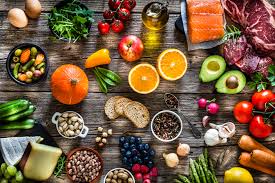 Biotech Flavors Market – Manufacturers Focus on Less Harvest-dependent Production Techniques
The food and beverage industry has always been under pressure to create products that are great in taste and beneficial for health and the environment. As a result, biotech flavors are emerging as a solution to enhance food flavors without causing damage to the environment and health.
With the increasing demand for fruity flavors, the biotech flavors market is expected to witness volume sales of ~134 metric tons by the year 2029. As such, manufacturers operating in the biotech flavors market are producing fruity flavors and fragrances that are less harvest-dependent. They are producing valencene, a sesquiterpene that tastes and smells just like oranges. Thus, manufacturers can increase the production of other flavors produced in this manner, such as grapefruit, bergamot, and ginger. Alternative methods to harvest-dependent procedures are helping players of the biotech flavors market escape the supply and price fluctuations of raw materials and extreme natural situations such as crop diseases and droughts.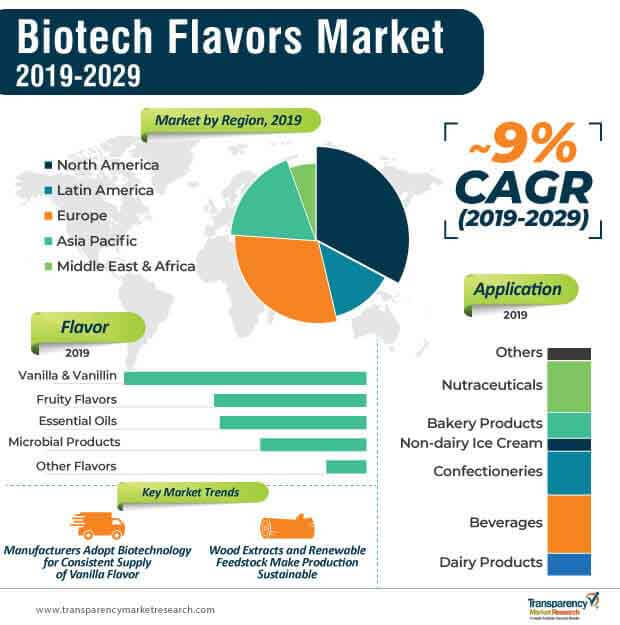 To understand how our report can bring difference to your business strategy, Ask for a brochure
Flavored Milk and AI Gain Popularity to Sustain the Competitive Environment of the Biotech Flavors Market
Flavored milk is gaining increased popularity amongst consumers. Dairy and plant-based industries are increasing their focus on the production of thickened milk products that are introduced with innovative biotech flavors. An increasing number of health-conscious consumers are demanding nutritious dairy products that have great taste, such as milkshake-style flavored milk. Manufacturers operating in the biotech flavors market are also innovating on banana flavored milk combined with the tropical flavor of strawberries to provide a rich and creamy texture in milk products.
Manufacturers in the biotech flavors market are adopting artificial intelligence (AI) and machine learning for the discovery of new flavors. The chemical profile of biotech flavors is being used to determine the combination of edible ingredients in various food and beverage products. AI-based technology and analytics using sensory sciences and aroma profiles of ingredients help derive combinations in edible food and beverages. Thus, AI is helping manufacturers discover new biotech flavors, and provides insights on the potential market value of the flavors to excel in the competitive landscape. AI also analyzes data on consumer preferences through reviews and social media posts. As such, a lot of companies are developing flavor discovery platforms that enable food pairing to produce environmentally-friendly plant-based food products.
Request a sample to get extensive insights into the Biotech Flavors Market
Improved Chemicals and Sustainability Empower Market Players
One of the major challenges that manufacturers in the biotech flavors landscape come across is instability in the supply of ingredients due to changing seasonal conditions. Fluctuating weather conditions result in fluctuations in the production, quality, and prices of raw materials. Due to the inconsistencies in the supply of raw materials, many products made with biotech flavors have high cost price, which leads to the fluctuation of sales in the market.
For example, significant changes in weather conditions during the cultivation of vanilla affects the harvest and creates a shortage of the ingredients used in dairy products, beverages, and confectionaries. As such, manufacturers are overcoming these challenges by improving the production of chemicals used in industrial biotechnology.
Another challenge that manufacturers experience in the biotech flavors market is the environmental pressure on natural resources. The cultivation of vanilla has led to many cases of deforestation. Also, the processing of vanilla beans creates toxic wastewater. Thus, manufacturers are adopting sustainable measures for the production of biotech flavors with the help of wood extracts and renewable feedstock.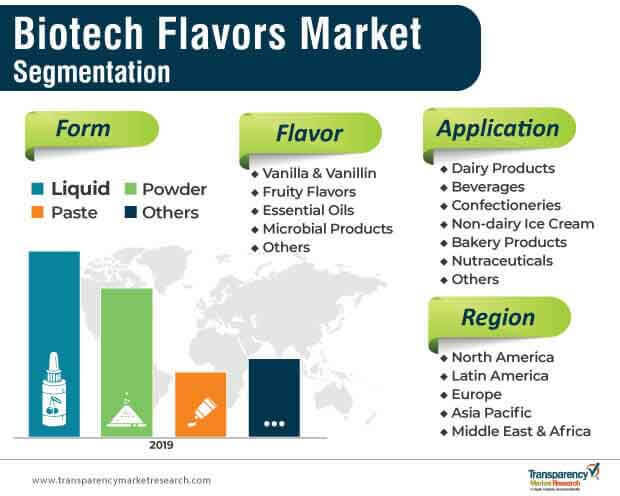 Stuck in a neck-to-neck competition with other brands? Request a custom report on "Biotech Flavors Market"
Analysts' Viewpoint
The biotech flavors market is projected to exponentially grow during the forecast period. Manufacturers are developing biotech flavors that are alternatives to sugar, through the fermentation of stevia — a sweetener used in beverages and bakery products. They are also developing biological methods to extract natural compounds that can be used as sweeteners from sugar beet and sugarcane. In the bakery space, manufacturers are innovating with enzymes and biotech flavors to intensify bread flavor and crust color. However, the cultivation of fruity biotech flavors, such as orange, creates a stress on the water resources during cultivation, along with the added cost of the transportation of water to regions with arid climate. Hence, manufacturers are using plant-based sugar for fermentation to produce fruity flavors that contribute towards a circular bioeconomy. Market players should focus on developing efficient chemical methods that help reduce the prices of end-use products that otherwise are high due to production fluctuations and instability of raw materials.
REQUEST FOR COVID19 IMPACT ANALYSIS –
https://www.transparencymarketresearch.com/sample/sample.php?flag=covid19&rep_id=16178
Global Biotech Flavors Market: Snapshot
The global biotech flavors market has significantly gained impetus due to increasing awareness among consumers, particularly in developed countries, owing to the negative impact caused by artificially-produced food flavors on human health.
The increasing health conscious population all across the world has augmented the growth of the global biotech flavors market, as there is significant shift in preference from artificial to natural flavors. Rising awareness regarding the benefits associated with biotech flavors is favoring the growth of the biotech flavors market.
These days it has been noticed that, consumers are more aware regarding the nutritional value of vegetables and fruits. Increasing antioxidant levels are accompanied with reduced risks of metabolic diseases. Rising cases of obesity and diabetes across the world has stimulated consumers to do away with junk food and uptake biotech flavors. These factors have increased the sales of biotech flavors.
The biotech process, which mainly consists of microbial fermentation, tissue culture, bio-conversion, and plant tissue, enables the conversion of vegetable and fruit ingredients to desired flavors without impacting the nutritional value. This factor has made global consumers prefer biotech flavors.
The global biotech flavors market is anticipated to expand at a CAGR of ~9% during the forecast period of 2019-2029. The biotech flavors market is expected to be worth ~US$ 3 Bn by the end of the assessed period. In terms of volume, the biotech flavors market is expected to touch 134,422 tons by the end forecast year of 2029.
Fruity Flavor to Grow Significantly Owing to High Demand for Processed Food & Beverages
The global biotech market has various types of flavors, which lures customers, such as fruity, vanilla and vanillin, essential oil, microbial products, and other flavors. It has been noticed that, fruit and vanilla and vanillin flavors are the most sough-after in the market.
It is anticipated that, the demand for fruity flavors is going to rise further, owing to the high demand for processed food and beverages around the world. The demand for biotech flavors is seen majorly from dairy products, bakery products, nutraceuticals, non-dairy ice cream, beverages, and confectionary products.
Amongst these, it has been duly noted that, biotech flavors are majorly used for beverages. The demand for flavored beverages has also favored growth of the biotech flavors market.
However, it has been noticed that, low shelf life along with stability issues might deter the growth of the biotech flavors market.
Growing Awareness Regarding Benefits of Biotech Flavors in North America
The global biotech flavors market is stretched across Middle East and Africa, Asia pacific, Europe, Latin America, and North America.
Amongst these, North America holds a major share of the global biotech flavors market, owing to considerable awareness among consumers regarding the advantages associated with biotech flavors.
Europe holds a considerate share in the global biotech flavors market, but it is expected that, North America will be at the first position in the global biotech flavors market in the years to come.
On the other side, Asia Pacific is expecting to witness a surge in the demand for biotech flavors from developing countries in the region, such as India and China. The wellness and health trend is likely to be seen in the region, which is likely to boost the growth of the biotech flavors market in this region.
Manufacturers are focusing on innovating new flavors for beverages, as they are in high demand in the region. This is likely to lead to the rising demand for biotech flavors in the region.
New Marketing Approaches Driving Global Market Growth
Consumer preference for biotechnology-based products has been witnessing significant increase over the past few years. Manufacturers and suppliers of food & beverage products are optimizing product offerings according to consumer demand. This phenomenon is more prominent among consumers in developed countries, particularly in Europe.
In 2015, out of every seven new beverage products launched, one was labeled 'natural'. Products that were labelled 'biotech' have been witnessing increasing sales revenue, which has also prompted manufacturers to develop and introduce new and innovative product ranges with natural ingredients, including flavors, in these markets.
Flavor is one of the high growth segments in the overall food ingredients market. Consumer preference for natural and biotech flavors, coupled with manufacturers leveraging opportunity arising from this niche consumer segment is expected to result in a significant increase in demand for biotech flavors across the globe in the near future.
Various manufacturers are increasingly entering the biotech flavors market owing to high profit margins. Many companies are expected to launch biotech-flavored products in the next five to six years. Additionally, manufacturers are also expected to market their products with natural and biotech labels, to attract existing and increase new customers. The entry of new players is expected to drive the growth of the global biotech flavors market to a significant extent over the forecast period