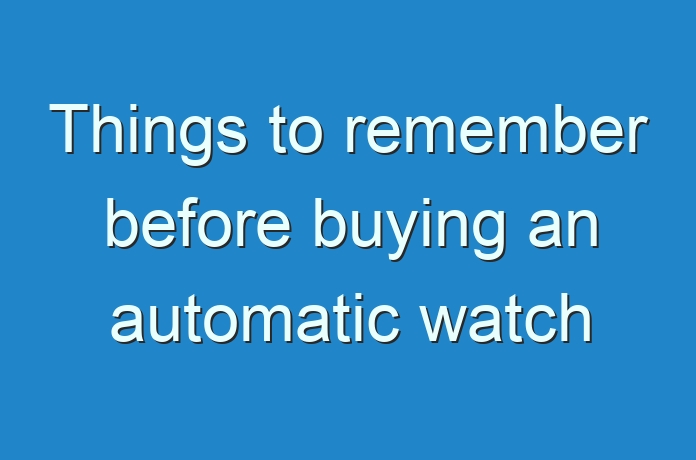 Due to the change in trend, the demand for everything got changed & the same happened for watches. People are now taking an interest in buying some affordable automatic watches, which can become very attractive. You can look for various online websites to buy such watches, such as Amazon, Myntra, Flipkart, etc. But remember multiple factors or aspects you need to keep in mind to make a better purchase & get the best quality of the product for yourself at an affordable rate.
Therefore, whenever you plan to buy your first automatic watch, try to purchase such stuff only for seeing time instead of making it as an addiction. The looks of such automatic watches are so attractive, which can make you buy a new watch every time whenever the company launches a new edition of the product with better & additional features.
You always think that one watch is sufficient for you & you love being thinking that "ok, I will just buy one watch," but that's not true sometimes due to its addiction towards new additions. You should understand that automatic watches are readily available online or offline, which are affordable to the people.
Things to keep in mind –
All the watches are the same as it helps you to know the time. Yes, it's true, but there are various factors of an automatic watch that make this watch more attractive among the regular watches.
1. It is always preferable to look for the quality of parts of your affordable automatic watchesfrom which it was made. Product quality plays a vital role, which can change customer preferences very frequently. Always look for an automatic watch, which is having a crystal or the glass which protects your watch & makes it more scratch-resistant and durable. Therefore, avoid getting a poor quality of watches at a lesser price & in a hurry.
2. Always look at the bracelet & the watch strap quality & convenience. You should seriously consider such aspects to get the best product, which can lead you to avoid any rashes problem on your skin when tying the strap on your wrist. Therefore, you should look at the end-links which are close to the watch & hold the spring bar, links which are the metal pieces that help in making the watch bracelet & the clasp, which helps in determining the quality of a metal bracelet.
3. It is excellent if you look at the glow & the water-resistant features of an automatic machine to get a fantastic product with excellent quality. Lume features can make the watch more attractive as it helps in getting some glow on your watch in the dark & water-resistant feature can protect your watch from the water. Therefore, try & get a watch which seems to be different among others but with amazing features.
Conclusion –
The things mentioned above can help you make a better choice & get affordable automatic watches with better quality. Therefore, choose the availability of various brands & products to get an attractive one for you.