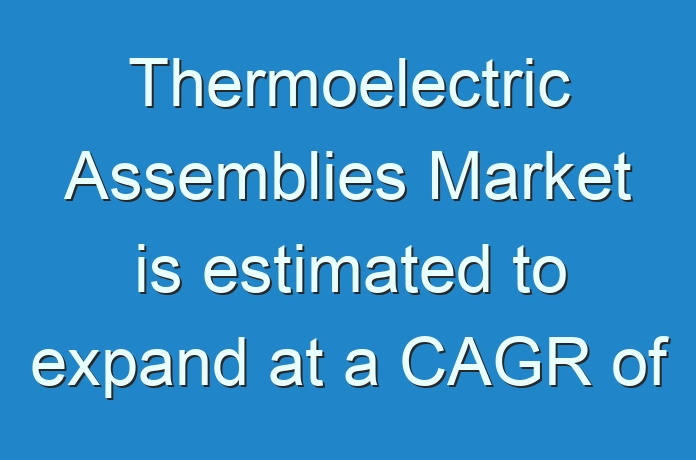 As industrial growth becomes the touchstone to gauge a country's economic vigor, governments of numerous countries divert their focus towards enhancing industrial efficiency. The thermoelectric assembly remains one such attractive proposition for energy scavenging from the heat accumulated by various industrial processes, with almost negligible greenhouse gas emission.
Rapid adoption of thermoelectric assemblies in numerous industries – telecom, automotive, healthcare, consumer electronics, and aerospace and defense – has, in turn, brought about stringent quality filters. For instance, for the adoption of thermoelectric assemblies in the telecommunication industry, they need to conform to Telcordia's guidelines. This has caused a stir in the manufacturing approach of thermoelectric assemblies, and the trend of smart-sized devices has further offered the required momentum for their high adoption.
Sensing the impressive ROI potential in the thermoelectric assemblies market for stakeholders, Transparency Market Research (TMR), in its recent report, identifies the key trends and measures their impact, in order to help stakeholders devise sustainable business strategies.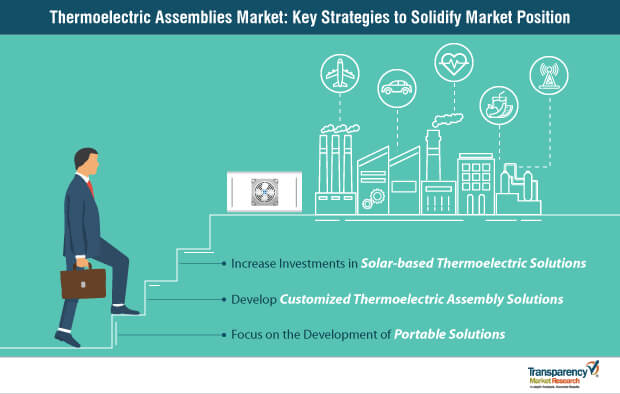 Planning to lay down future strategy? Perfect your plan with our report brochure here
Historical Analysis and Future Scope of the Thermoelectric Assemblies Market
Thermoelectric assemblies surfaced as a result of the limitations encountered by industrialists with the employment of conventional compressor-based systems. Existing thermoelectric assemblies exhibit flexibility with their compact size, low weight, and reduced noise and vibration, which makes them viable in industrial applications to cater to the required reliability and performance specifications. On account of their competency, in 2018, the sales of thermoelectric assemblies registered a value of ~ US$ 3.1 Bn, and with technological leaps, the market is likely to grow at a steady pace through to 2027.
As manufacturers scramble towards adopting green technology for the generation of electric power, solar-based thermoelectric solutions are gaining prominence in industries that operate amid scarce availability of electricity. With 'portability' exerting its influence in the adoption of industrial equipment, manufacturers can follow suit for the production of thermoelectric assemblies. However, manufacturers' capabilities have been put to the test in optimizing their processes to reduce operational costs, as thermoelectric assemblies are cost-prohibitive as compared to conventional cooling and refrigeration systems.
Want to know the obstructions to your company's growth in future? Request a PDF sample here
Healthcare Sector to Boost Market Revenue
The demand for thermoelectric assemblies in surgical centers and hospitals has been on a surge, as medical devices require strict temperature controls. These devices also offer immunoassay reagent cooling and temperature control for in-vitro diagnostics specimens in the healthcare industry for effective storage and transportation of human organs, insulin, and tissues. On the whole, the healthcare industry is likely to remain a leading revenue generating end-use industry, with a market share of ~ 20%.
Read Latest Press Release By TMR:
https://www.prnewswire.com/news-releases/continued-ravage-of-covid-19-extends-tremendous-opportunities-in-disinfectant-wipes-market-valuation-projected-to-exceed-us-16-7-bn-by-2030—tmr-301285688.html