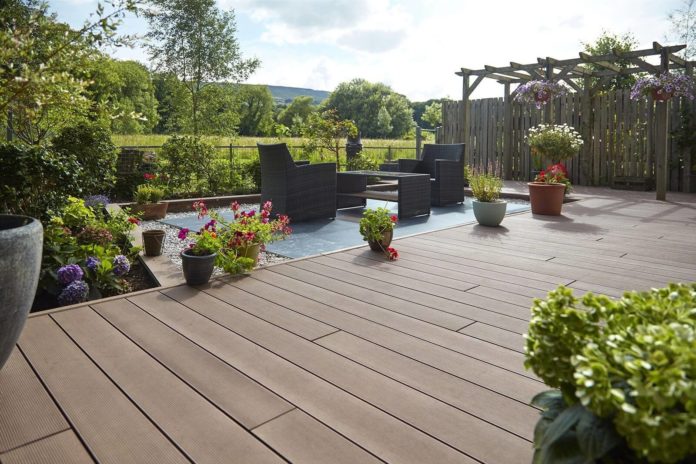 Traditionally, wood has been the go-to decking material in the UK's construction industry for quite some time now. However, with the recent inception of the composite decking board as a decking material, there has been a massive shift from the use of wood decking in the construction to composite decking boards. This has mostly been influenced by a number of reasons, but the major factor is because the decking boards afford professionals and homeowners the beauty of modern decks with ease of maintenance. Read more at activemyhome
The fact that composites are the outcome of a combination of recycled plastic and wood fibres/sawdust/chippings make these decking materials a lot friendlier to the environment compared to their wood counterparts. They are mostly made of Polyvinyl Chloride or Polyethylene.
They are the preferred option by architects, landscapers and other practitioners in the construction industry since it is a future-proof solution because of the boards' proven durability requiring just little to none in terms of maintenance. When compared to wood boards, it is evident that these boards need just some basic form of cleaning or scrubs to give them a fresh breath of life with the ability to handle any weathering, splintering, algae, resistance to moisture and UV-stable. Hence it is a desirable option, especially for commercial and residential applications. Read more
Applications of Composite Decking Boards in the UK's Construction Industry
The decking boards are rapidly gaining momentum in the construction industry with the applications being witnessed in different aspects of the construction industry including landscaping, gardening, terraces and balconies, institutions, swimming pools, boardwalk and the hospitality industry among other applications.
There are a number of decking options available for terraces and balconies. The beauty of these decking boards always makes them a better choice than wood decking boards because of their robustness, appeal, ease of maintenance, solid performance all through the year. Be it a residential or commercial balcony or terrace project; these boards will definitely do the trick with the vast section of decking board colourways and profiles.
Some of the boards come with specific screws, beams and substructure bearers for podium decks installation. These beams and holders are made with high material stability to ensure that they don't contract or expand regardless of the outdoor weather of temperature. For terraces, the boards are created with products that are barefoot friendly with anti-slip capabilities. All these things place these boards in an advantageous position in the construction industry.
The underlying factor that makes them a better option in gardens is that they are a more eco-friendly choice than wood boards. They can be installed alongside other complementary hedge varieties that are low maintenance plus potted plants that will provide a haven for trees, butterflies, important fauna and birds. Homeowners can choose from a choice of several colours and finishes depending on the theme that they want to achieve in their garden spaces.
The WPCs often have an appealing wood appearance suitable for any garden area, and homeowners can spend time relaxing at the garden deck instead of spending a lot of time cleaning it. The traditional drawbacks of wood decking boards like being slippery when wet, staining and fading are all the reasons why composites boards are taking their place in the construction industry.
Any decking board made from composites can be designed to be the excellent fit for commercial applications like boardwalk decking because they are easy to keep in good condition. These boards are often exposed to all kinds of weather conditions and direct sunlight; thus, wood boards would not be the suitable option for boardwalk decking because they can easily be weathered, easily splinter and fade.
Professionals in the UK's construction industry rely on composites because they are UV-stable and have a much higher resistance to such weather elements. It cannot warp, splinter or rot, making them stay appealing for a very long time. Just like balcony decks and terraces, they are designed to be barefoot friendly with anti-slip technology. Depending on the theme a construction professional seeks to achieve on boardwalk decking, they can just choose from the variety of finishes and colours available.
The growing number of swimming pools in both commercial and residential areas has given the growth of composite decking a huge boost because they are low in maintenance and bear anti-slip technology. The technology behind the boards makes them inherently perfect for the swimming pool area because they easily complement the space without any issues that could otherwise be associated with traditional wood decking.
Composites have a much lower water absorption rate compared to wood decking boards meaning that any water on the surface will quickly evaporate rather than seeping through which could lead to the growth of algae, mildew or slippery mould. Such boards do not warp or splinter thus the perfect choice for swimming pool decking. Also read at bhtnews.com
The demand for composite decking board in the hospitality industry like bars, restaurants, parks, clubhouses and hotels among other areas has gone up in the last few years favouring the use of such boards in the UK's construction industry. You don't have to worry about unsafe or slippery surfaces, especially in terms of safety and health, which can be a massive hindrance in such an industry. The below surface fixings make these boards leisure decking desirable since they are barefoot friendly and you don't have to worry about any exposed screws or nails.
Composite decking boards are characterised by a mixture of recycled plastic and wood chippings or sawdust that make them long-lasting, stronger and denser that make them ideal for these applications in the construction industry among other application including marine and watersides, landscaping, learning institutions and events among many other applications. All these applications have increasingly played a part in making these boards earn a strategic position in the UK's construction industry with a promising future. Source here