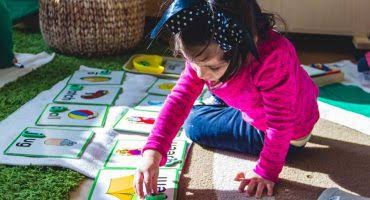 The Covid-19 pandemic disrupted the school year across the globe and forced many countries to close schools, parents struggled to keep their children's education on track while trying to adapt to their new remote-work routine. Stuck at home without teachers to supervise them, many younger and older students found it hard to complete their coursework and feel a sense of connection to the subjects they were studying. The problems posed by remote learning forced many parents to face complex questions about motivation and the purpose of education.
During this period of forced at-home learning, alternative education methodologies gained popularity. In particular, many parents adopted or explored educational methods and philosophies that promote a child-centered approach to learning and focus on independence and self-motivation to make at-home learning a fun experience for their children.
Maria Montessori. A Short Biography.
The Montessori Method is one of the pedagogies that have made their way to the homes of parents of preschoolers and young grade-schoolers. The Montessori Method is a pedagogy and education philosophy developed by Italian Doctor Maria Montessori in the first half of the 20th century. Dr. Montessori, who broke gender barriers and expectations when she enrolled in medical school in Rome, developed the pedagogy that bears her name in times of great upheaval. She witnessed two world wars, the Spanish flu pandemic, the Fascist regime, and many natural calamities. Dr. Montessori started developing her educational theory and methods when she worked with children with cognitive disabilities during her two-year tenure as co-director of the Scuola Magistrale Ortofrenica (Orthophrenic School). Her work with children with mental disabilities received national and international attention when many students passed standard exams given in Italian public schools.
In 1906, Maria Montessori was invited to create a childcare and education center for children of low-income families in San Lorenzo, a poor inner-city district of Rome. The center, called Casa dei Bambini – Italian for 'Children's House' – opened the following year and allowed Dr. Montessori to adapt her methods to general education students. In this first classroom, Dr. Montessori implemented materials and practices that became the key tenets of her pedagogy. The success of her school and innovative methods attracted the attention of prominent educators and Dr. Montessori began to offer international training courses to students eager to learn her philosophy of education. Within a few years, Montessori schools were being established around the world and her work was published internationally.
In 1911, the first Montessori school opened in the U.S., where her ideas spread quickly. However, the enthusiasm for the Montessori Movement started to fade when William Kilpatrick, a prominent educator, harshly criticized and dismissed her philosophy. The Montessori Method of education did not make a resurgence in the U.S. until the 1960s, when Nancy Rambush, an aspiring teacher, started to promote her ideas. According to the American Montessori Society, there are approximately 5,000 Montessori schools in the U.S. today. This year, the Montessori community and educators around the globe celebrated the 150th anniversary of Dr. Maria Montessori's birth.
The Montessori Method.
The Montessori Method is a pedagogy premised on the belief that children are naturally eager for knowledge and have an innate tendency to act for optimal growth in all areas of development – cognitive, mental, social, and physical. Dr. Montessori explained her model of childhood development in her 1949 book The Absorbent Mind, where she stated that "the child has a mind able to absorb knowledge. He has the power to teach himself." The key tenet of her method of education is that children, especially under the age of six, learn by interacting with a thoughtfully prepared environment where materials are within their reach and appropriate in size. All Montessori classrooms are equipped with child-size furniture. The materials the children work with are placed on low, accessible shelves.
The Montessori education is child-led and self-paced, and emphasizes independence. During her observations and experimentations with children, Dr. Montessori came to believe that by working independently and taking ownership of their education children would become confident in their abilities and reach higher levels of understanding of themselves as well as the world. As a result, Dr. Montessori believed that teachers should observe how children interact with the environment and pay attention to the specific characteristic and personality of each student rather than trying to adapt them to external standards.
The Covid-19 Pandemic and Alternative Education.
"The Covid-19 pandemic has disrupted education systems across the globe and has exacerbated pre-existing disparities. This is true with our Seattle, Washington school systems. Challenges will continue to come our way, but we are ready to face them. For example, we provided a device for every student during remote learning by collapsing a 3-year one-to-one device rollout project into 6 months. We lifted 8 family technology centers and a family technology hotline, serving thousands of families," says Denise Juneau – Superintendent of Seattle, WA public schools. Closures of schools in many countries had enormous social and economic implications and prevented the most vulnerable children and students from continuing their education and accessing other essential services. On the other hand, the pandemic has changed the way schools deliver education and has made many parents reconsider what kind of education and school experience they want for their children.
During the months of forced distance-learning, parents became more deeply acquainted with the ways their children learn and engage with the learning materials at their disposal. Many parents found juggling working from home and trying to motivate their children to learn and complete their assignments very frustrating.
The Montessori Method at Home.
Incorporating Montessori practices into their children's daily learning routine may provide much-needed breathing room to parents struggling to balance work and home-schooling. Encouraging children to learn basic daily-life skills, such as preparing snacks, cleaning up after themselves, and taking care of plants and animals, will also help them develop into capable adults with a strong sense of self-reliance.
Parents may easily implement the Montessori principle at home by providing their children with an environment for hands-on and independent exploration and offering them age-appropriate objects to work with. Older children may teach their younger siblings to do simple tasks around the house. Montessori pedagogy is also based on the belief that adults should let children makes mistakes and nurture their inner motivation by using external rewards sparingly.
Education Beyond the Pandemic.
Though the Covid-19 pandemic has made a growing number of parents consider alternatives to the traditional school system, educators point out that it is too early to know whether the interest in alternative educational methodologies will continue when parents will no longer worry about exposing children to the virus. Some families might find private alternative schools too expensive and, in the long run, homeschooling may turn out to be unfeasible for many working parents.
While educators agree that Covid-19 has changed education forever, it is far too soon to tell how the innovations and distanced learning solutions developed during the pandemic will impact education systems and students' learning experiences across the globe in the following years. The months of forced remote learning made parents (and students) reflect more deeply about education. In this sense, the pandemic is a chance to open a conversation about the role of education in shaping future generations.
Dr. Montessori felt that allowing children to develop at their own pace and according to their personalities would give future generations the tools they need to build more peaceful, equal, and sustainable societies. In one of her speeches about peace she claimed that "an education capable of saving humanity is no small undertaking: it involves the spiritual development of man, the enhancement of his value as an individual, and the preparation of young people to understand the times in which they live."