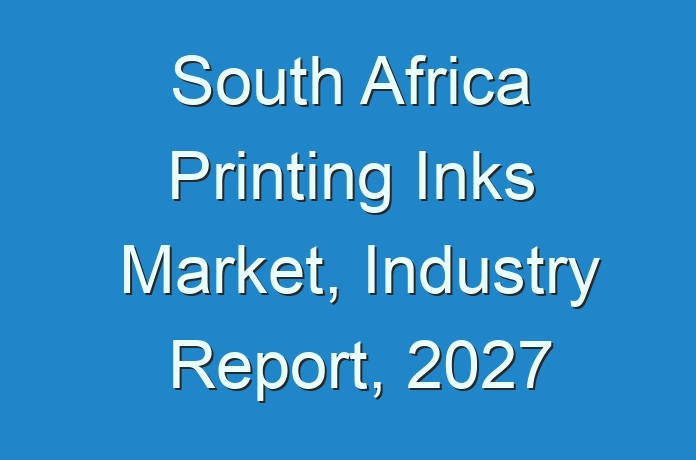 Printing Inks: Description 
Printing inks are basically colored pastes and liquids, which are mainly formulated for reproducing and transferring an image from a printing surface. Such inks provide protection, deliver message, and also offer a decorative image to substrate. Printing inks comprise of solutions of dyes and insoluble colorants. Such inks are distinguished by processes such as rotogravure, lithography, and flexography.
Growing demand for packaged products and rising need for printing inks in various industry such as packaging are driving the printing inks market. Apart from packaging, printing inks are majorly used in commercial printing, metal cans, textiles, and publication. Such USPs are also fueling the printing inks market.
Request a sample to get extensive insights into the Printing Inks Market
What are Key Growth Drivers of South Africa Printing Inks Market?
Wide use of printing inks in newspaper industry is stimulating the growth of the South Africa printing inks market. The key purpose of printing ink is to reproduce and transfer an image from a printing surface. Printing inks can be described as colored pastes and liquids that deliver message together with making substrate decorative. Printing inks are made up of solutions of dyes and insoluble colors.
In South Africa, there is increased inclination toward using packaged products. This trend is responsible for rise in demand for printing inks in South Africa packaging sector. As a result, the vendors in the South Africa printing inks market have numerous growth avenues.
To understand how our report can bring difference to your business strategy, Ask for a brochure
What are Key Challenges for South Africa Printing Inks Market?
Flexographic and gravure printing inks are primarily used with solvents as base materials. These printing methods are widely employed in flexible packaging, especially in food and beverages applications.
Solvent-based inks consist of inorganic solvents and toxic metals such as cadmium, hexavalent chromium, lead, and mercury. These lead to various health hazards when they come into direct contact with edibles.
The number of safety regulations in South Africa has increased in order to avoid adverse health consequences from the intake of toxic substances. This is likely to hamper the printing inks market in South Africa.
Stuck in a neck-to-neck competition with other brands? Request a custom report on Printing Inks Market
Lucrative Opportunities for Players in South Africa Printing Inks Market 
Petroleum-based solvents are primarily employed in traditional inks. These emit volatile organic compounds while drying, and are thus harmful to the environment.
Bio based solvents are ideal solvents to these inks. Bio based solvents primarily include naturally available materials instead of petroleum-based materials.
Inks produced from bio based solvents are currently gaining importance owing to the several environmental issues associated with petroleum-based solvent inks. Thus, increase in environmental-based regulations are expected to impact the demand for petroleum-based solvent inks.
The market for bio based printing inks is estimated to expand in the near future as these inks do not contain hazardous chemicals
The bio based printing inks market is expanding due to the constant experimentation in the usage of soy as a solvent in printing inks. Furthermore, inks manufactured using soy oil allow ink pigments to penetrate the substrates completely, thereby exhibiting better vibrancy in colors on printing. This, in turn, creates immense opportunities for bio based solvents, as they are environmentally-friendly.
Thus, the solvent-based inks market is likely to experience radical transformation over the next decade.
More Trending Reports by Transparency Market Research – https://www.prnewswire.com/news-releases/inks-market-to-reach-a-valuation-of-us-21-2-bn-by-2027-increasing-demand-from-packaging-industry-to-offer-lucrative-growth-opportunities-observes-tmr-300999345.html
Leading Players in South Africa Printing Inks Market
The list of key players in the South Africa printing inks market includes –

Hi-Tech inks PTY Limited
Flint group South Africa Limited
New Africa inks Limited
Hostmann-Steinberg South Africa (Pty) Limited
Constantia Printing Inks
NUtecb Digital Ink (Pty) Ltd.

Presence of well-established players indicates the intense competitive landscape of the South Africa printing inks market.
Key players operating in the printing inks market such as Flint group and Huber Group are developing inks based on natural raw materials such as soy, rice bran oil, sugars, dextrin, and polysaccharides are being tested for printing abilities.
Key vendors in the South Africa printing inks market are chasing diverse strategies to attract new customer base for their products. Growing new product launch activities is one of the representatives of such strategies.
Request for covid19 Impact Analysis – https://www.transparencymarketresearch.com/sample/sample.php?flag=covid19&rep_id=15815