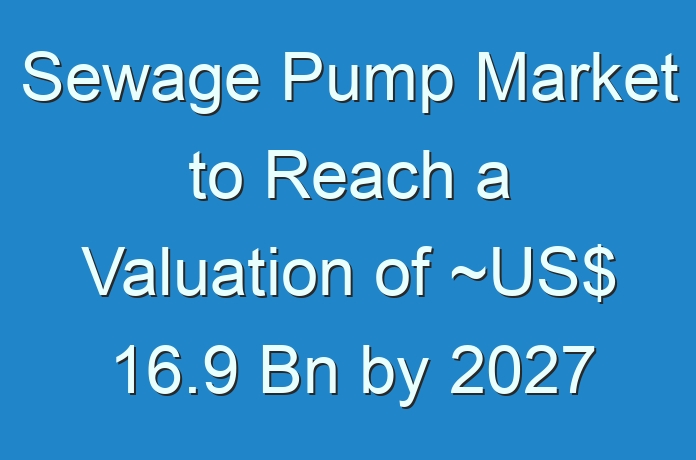 Sewage Pump Market to Ride of the Coattails of Wastewater Treatment Industry's Growth
The wastewater treatment industry has witnessed continuous growth, with advanced pumping solutions taking center stage, and propelling the demand for sewage pumps across a variety of applications. Wastewater treatment is one of the largest end-use industries for sewage pumps, contributing to the rise in the sales of sewage pumps, globally.
The worldwide trend for efficient and large sewage and wastewater treatment plants has led to an upsurge in the requirement for larger pumps. Key players are extending their existing products to include extra-large sizes of the pumps to meet this need. For instance, in October 2018, KSB SE & KGaA, a leading manufacturer of pumps, announced that it had extended its product range to include bigger sizes to its Sewatec pump series. Tsurumi Manufacturing Co. Ltd. has been investing in the production of the BZ series pumps, which are heavy-duty, submergible sewage and wastewater pumps that can be used in sewerage and wastewater treatment plants, as well as in rain water drainage, flood water removal, and factory wastewater drainage systems.
Want to know the obstructions to your company's growth in future? Request a brochure @ https://www.transparencymarketresearch.com/sample/sample.php?flag=S&rep_id=61893
Within the sewage pump industry, players have also been working on integrating technology into sewage pump stations, which enables efficiency. For instance, in May 2018, a German manufacturer of pumps and pump systems, Wilo SE, launched a new product mid-2018, the Smart Sewage Pump Station with Nexos Intelligence, as a way of making these pumps energy-efficient, and improving operational reliability and connectivity.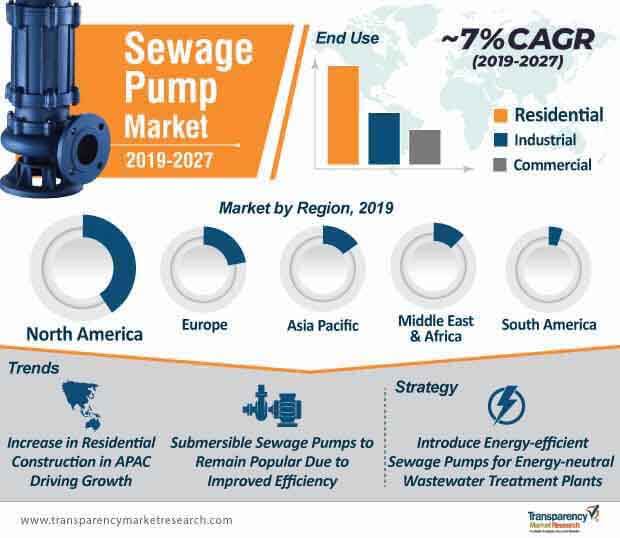 Energy-neutral Wastewater Treatment Gaining Traction
Wastewater treatment plants are some of the largest consumers of energy, triggering energy-saving activities and innovation in energy-efficient sewage pumps. According to the European Commission, in Europe, municipal water treatment systems consume as much energy as two power plants in a year. However, studies show that, these wastewater treatment plants can achieve energy-neutrality without compromising on the performance of various components used in water treatment plants, including sewage pumps.
This aligns with the United Nation's Sustainable Development Goals 6, which focuses on halving the proportion of untreated wastewater, thereby reducing water pollution. With the incorporation of technology into the industry, companies are looking at various avenues to achieve energy-neutrality by using biogas, solar energy, and even thermal and hydro power.
This is opening up scope for players in the sewage pump market to manufacture products that are engineered to not just focus on hydraulic efficacy but also be energy-efficient. Stakeholders in the market are working towards performance reliability in products offering maximum uptime, while being highly energy-efficient. The attempt to make these pumps energy-efficient also includes making them viable for integrating them into sewage systems that run on green energy.
The incorporation of technology has also been an important aspect in improving the efficacy of pumps. Players in the market are now using technology to monitor and improve the health of pumps, in turn, reducing operating costs and extending the equipment's life.
Looking for exclusive market insights from business experts? Request a Custom Report 
Awareness of Impact of Untreated Water on the Environment to Drive Market Growth
The World Health Organization's report on the progress on water treatment says that, with only around 55% of domestic water being collected getting effectively treated, it poses a risk to the environment and the health of millions of people who live near polluted water sources. Increase in awareness about this issue has led governments and municipal organizations to take steps towards building infrastructure for the proper management of wastewater. This has given impetus to the sewage pump market, as stakeholders are looking at manufacturing innovative and efficient pumps across the residential, commercial, and industrial sectors.
The growing demand for clean water, along with the underlying mega-trend of population growth, is enhancing the demand for sewage pumps around the world. As of 2018, the value of the sewage pump market was US$ ~9.5 Bn, and it is expected to reach US$ ~16.9 Bn by 2027.
Read Our Trending Press Release Below: https://www.prnewswire.com/news-releases/increasing-demand-from-semiconductors-to-invite-extensive-growth-for-epi-wafer-market-through-forecast-period-of-2020-2030-301177165.html