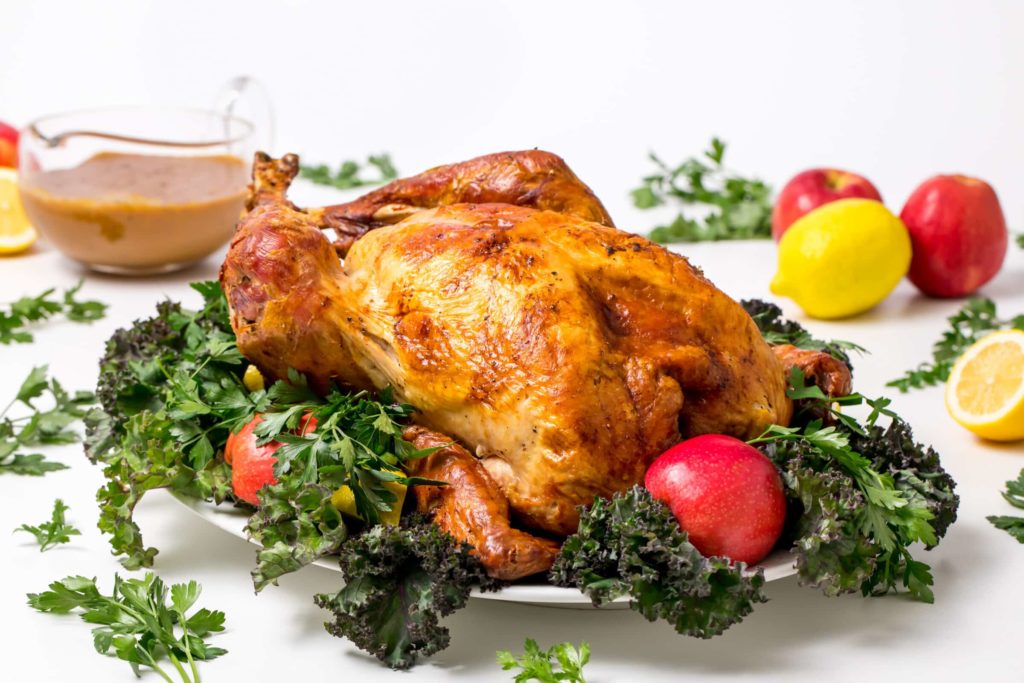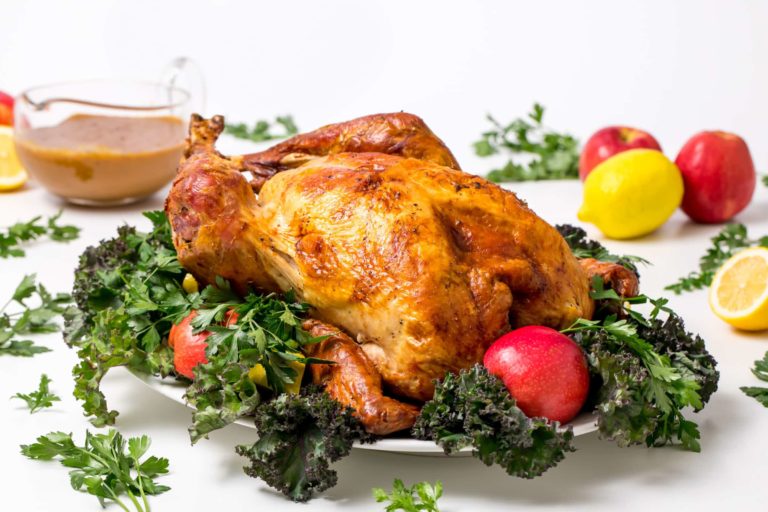 Turkey Roll with Spinach Stuffing
Spinach stuffing
1.6-pound turkey breast boned, halved and skinned (reserve skin)
1 teaspoon salt ¼ cup butter or margarine, melted
Gravy:
2 cups water, 2 tablespoons all-purpose flour, ½ teaspoon salt, 1/8 teaspoon pepper
Instructions:
1. Prepare for stuff. Place each half-breast, cut side up, onboard. Starting at long side, cut horizontally in half, but not all the way through; open out meat like a butterfly
2. Spread meat open. With meat mallet or dull edge of French knife, pound until about 10′ by 9′ and ¼ inch thick.
3. Sprinkle with half of the salt then cover with half of the stuffing. Starting at the narrow end, roll up jelly-roll fashion. Place one piece of skin on top of the roll.
4. Tie the roll with string. Repeat steps 2-4 with remaining half breast.
5. Place rolls, skin side up, on the rack in roasting pan. Brush with butter. Insert meat thermometer in the center of one roll.
6. Roast at 325'F. Until thermometer reads 185′ F., about 1 ¾ hour; remove the strings.
7. Make the gravy: Pour drippings into 4 cup measure; let stand until fat separates. Pour 2 tablespoons fat into 1-quart saucepan; skim off and discard remaining fat. Add water to roasting pan; stip to loosen brown bits; add to meat juice in the cup. Into fat in a saucepan, over medium heat, stir flour, salt, pepper, and meat-juice; cook, stirring until the gravy is thick.
NB: You need the best air fryer oven to make that recipe.
Roast Chicken with Sausage – Apple Stuffing
Sausage- Apple Stuffing
15- to 5 ½ pound roasting chicken
salad oil, butter or margarine
Instructions:
1. Prepare the stuffing. Remove giblets and neck from the inside bird. Rinse the bird with running cold water and drain well. Spoon some stuffing lightly into the neck cavity. Fold neck skin over stuffing.
2. Spoon remaining stuffing into the body cavity; fold the skin over opening; rub the bird with salad oil. Bake any leftover stuffing in covered, greased small casserole during last 30 minutes of roasting
chicken.
3. Insert meat thermometer into the thickest part of meat between breast and thigh (do not touch bone). Place chicken, breast side up, on the rack in the open roasting pan.
Roast, uncovered, in 325'F. oven 2 ½ to 3 hours.
4. When chicken turns golden cover loosely with a "tent" of folded foil. Remove foil during last hour drippings, oil or melted butter. Chicken is done when the thermometer reads 180′ to 185'F.
Herb-roasted Capon
16- to 8- pound capon ¼ cup salt
1 teaspoon parsley flakes ¾ teaspoon thyme leaves
½ teaspoon rubbed sage 1/8 teaspoon cracked pepper
salad oil
Instructions:
1. Prepare capon as for Roast Chicken (above) but do not stuff. Mix salt and next 4 ingredients and rub over outside and in the body cavity. Cover and refrigerate at least 12 hours or overnight.
2. Brush skin with oil, roast, uncovered, in 325'F. oven 3 to 4 hours, basting frequently.
Chicken Delhi
2-3-pound broiler-fryers
1 ½ teaspoon ground ginger
1/8 teaspoon ground coriander
1/8 teaspoon pepper
3 tablespoons butter
1 cup minced onions
1 cup plain yogurt
1 cup half-and-half
1 tablespoon turmeric
1 ½ teaspoons salt about 6 cups hot cooked rice
Instructions:
1. Remove giblets and neck from chickens. (Use giblets and neck for broth, if you like.) Rinse and drain chicken well. With string, tie legs and tail of each chicken together. Combine ginger, coriander, and pepper; rub into birds and place in an open roasting pan.
2. In 2 quart saucepan over medium heat, melt butter; stir in next 5 ingredients; pour over birds. Roast in 325'F. oven about 2 hours or until fork-tender, basting frequently.
3. Lift chickens to warm platter; remove strings. Spoon pan sauce over rice; serve with chicken.