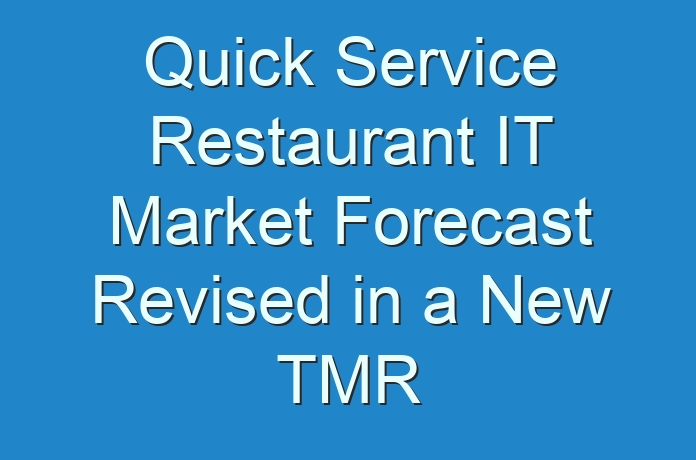 The U.S. market for quick service restaurant is witnessing a rapid digital transformation. Technological advancements are making inroads in the restaurant industry in the U.S., with restaurateurs increasingly integrating tech gadgets in the internal systems to monitor, control, and undertake a number of core operations.
The use of electronic gadgets and systems in the quick service restaurant industry, where timely delivery of orders forms the core of success and good relations with customers, has demonstrated excellent improvements in delivery times and revenues. Tech savvy consumers are also favoring places that are capable of linking the technologies they use to ensure quicker delivery of meals and bill payments.
Realization of such manifold benefits of technological intervention in the U.S. QSR IT market will prompt a large number of restaurant owners to allocate a larger share of their budgets for technology in the next few years. Transparency Market Research estimates that the U.S. quick service restaurants IT market will expand at a healthy CAGR of 7.4% over the period between 2016 and 2024. The market, which had a valuation of US$ 3,208.76 mn in 2015, will rise to a valuation of US$ 6,221.37 mn by 2024.
Planning to lay down future strategy? Perfect your plan with our report brochure here https://www.transparencymarketresearch.com/sample/sample.php?flag=B&rep_id=13919
Handheld Devices to Lead as their Use in Daily Operations Rise
Of the three key components of a typical IT solution for QSRs, the hardware segment is the largest contributor to the overall revenue of the U.S. QSR IT market. The segment contributed about US$ 1,994.64 mn to the market's overall revenues in 2015. Products such as digital signage systems, point of sale, digital menu cards, handheld devices, kiosks, and drive-through terminals come under the purview of this segment. Of these, the segment of digital signage systems accounted for a nearly 34% share in the market in 2015, followed by the segment of point of sale hardware with a 21% share. The high initial costs of digital signage contributed prominently to the growth in the market's revenues owing to the increased adoption of these products.
However, the segment of handheld devices, which are being increasingly used across numerous operations in restaurants, is expected to witness growth at the fastest pace in the market. From 2016 to 2024, the segment is expected to expand at a 10.5% CAGR.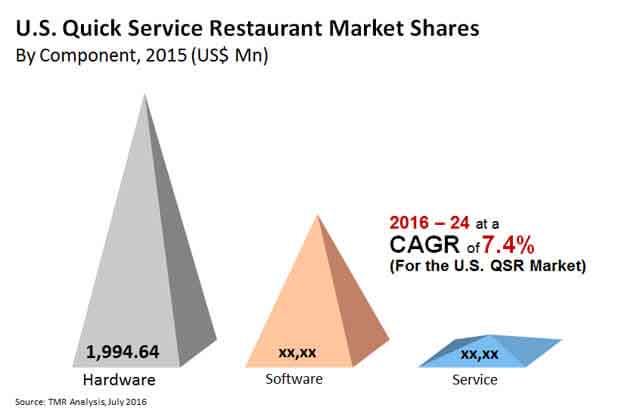 Front-of-house Software to Benefit from Rise in Online Food Ordering
The software segment is expected to expand at the fastest CAGR of 9.9% over the period between 2016 and 2024. Usage of IT solutions for operations such as inventory management, franchise management, human resources management, data analytics, marketing, and customer support is becoming a norm for QSRs in the U.S.
In the next few years, the front-of-house segment, which includes solutions supporting online/mobile ordering will emerge as a key revenue generator in the U.S. QSR IT market. The sub segment of mobile ordering will witness the fastest growth owing to the mounting usage of smartphones in the country; the mobile ordering segment will expand at a CAGR of 10.8% from 2016 to 2024.
Looking for exclusive market insights from business experts? Request a Custom Report here https://www.transparencymarketresearch.com/sample/sample.php?flag=B&rep_id=13919
Cost-sensitive Small-sized QSRs Drive Demand for Economic Solutions
The market features a high level of fragmentation and intense competitive rivalry. In 2015, the top five companies accounted for a share of mere 25% in the overall market. The presence of a large number of software providers in the market has positioned buyers at a commanding position. However, base installation costs, post installation maintenance costs, high costs of hardware products, and upgradation costs still make digitization a costly affair and hinders its expansion across small-sized QSRs in the U.S.
To overcome this challenge and expand their consumer base, vendors in the market are focusing on offering economic and customizable solutions that can make use of pre-existing IT infrastructure. Cloud-based solutions and extended financing and warranty options in collaboration with financial institutions are also being offered by a large number of companies in the market to appeal to this group of end user.
Some of the prominent vendors in the market are NCR Corporation, Panasonic Corporation, HM Electronics, Inc., PAR Technology Corporation, NEC Display Solutions of America, Inc., Oracle Corporation, and Revel Systems, Inc.