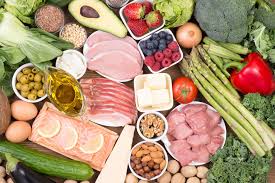 Protein Ingredients Market: Dairy Processors Increase Applications of High-quality Protein Ingredients
Extensive amount of research and development, technical innovation, and a shift in consumer preferences have added flexibility for manufacturers to develop intrinsic protein-based products.
Likewise, manufacturers in the protein ingredients market are extending their production capacities towards dairy products. Increased options in protein ingredients are empowering dairy processors to innovate new products that attract more customers. For individuals suffering from lactose intolerance, plant-based protein ingredients involving peas, lentils, and pumpkin seeds add greater nutritional value. The plant-based revolution has also led to sustainable and greener trends, which have improved the processing technology for manufacturers in the protein ingredients market. These technologies have enhanced the flavor, texture, and solubility of plant proteins in dairy food and beverage products.
Protein ingredients are gaining wide expansion in applications, right from ready-to-mix shakes to innovative offerings such as protein water, juices, energy bar, and even ice creams. Consumer preferences for pea protein are shifting from beverages and nutritional supplements to dairy alternatives and snacks. Also, the increasing functionality of protein has led to popular applications in puddings, desserts, and yogurts. All the mentioned factors are contributing to the growth of the protein ingredients market.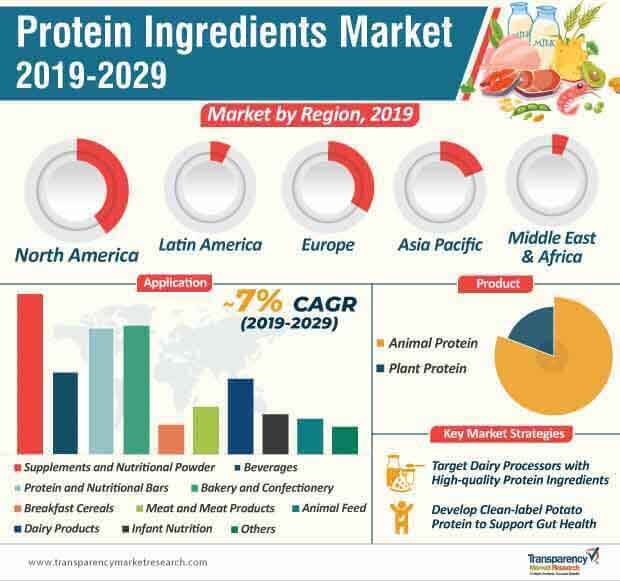 To understand how our report can bring difference to your business strategy, Ask for a brochure
Clean label Protein and Whey Isolates Increase Consumer Preference for Vegetarian Proteins
Clean-label potato protein ingredients are being used by manufacturers to promote greater health value amongst customers. Novel enzyme-treated potato starch serves as a food fiber that supports gut health. Increasing demand for vegetarian protein ingredients and the strong nutritional profile of potato protein have catalyzed the need for clean-label protein ingredients. Also, increasing awareness about potential food allergens has increased the demand for potato protein ingredients, as such, boosting the growth of the protein ingredients market.
Proteins derived from soy and wheat pose as a threat to vegetarian meat and dairy alternatives. Manufacturers are doubling their production capacities of potato proteins, as they serve as a high-quality protein source amongst other vegetarian sources. Also, functional potato protein has helped manufacturers develop gelling, texturizing, and emulsifying properties in various products.
Bioactive whey peptide fractions show strong potential in nutraceutical formulations. Whey protein isolates are transforming performance and lifestyle nutrition amongst consumers with clean-tasting and nutritionally-balanced protein water and other clear-drink applications. Increased research and development has yielded minimally-processed and high-performance isolates that drive innovation for high protein ingredient products. High protein drinks and waters resonate with consumers in serving their convenience and ready-to-go options.
Request a sample to get extensive insights into the Protein Ingredients Market?
Protein Ingredients Market: High Demand for Plant-based Protein Alternatives
Protein ingredients in supplements and nutritional powders have offered many dietary benefits, especially to athletes in the sports nutrition space. However, the consumption of protein powder over a prolonged period of time has increased health risks such as nausea, cramps, and bloating. The consumption of protein powder also adds pressure on the functionality of the kidneys, which also leads to other complications such as calcium excretion and bone loss. Hence, manufacturers in the protein ingredients market are increasing the production of plant-based protein powders, such as pea protein, that are well tolerated, relatively low in fiber, and have fewer side effects.
REQUEST FOR COVID19 IMPACT ANALYSIS –
https://www.transparencymarketresearch.com/sample/sample.php?flag=covid19&rep_id=4582
Due to increasing consumer demand for plant-based proteins, manufacturers are diversifying on great tasting, sustainable, and label-friendly pea protein for customers in North America and across the globe. For instance, in August 2019, Cargill — a leading American food and nutrition conglomerate, announced a US$ 75 million investment deal with PURIS — one of the largest producer of pea protein, to increase its portfolio in high-quality protein ingredients.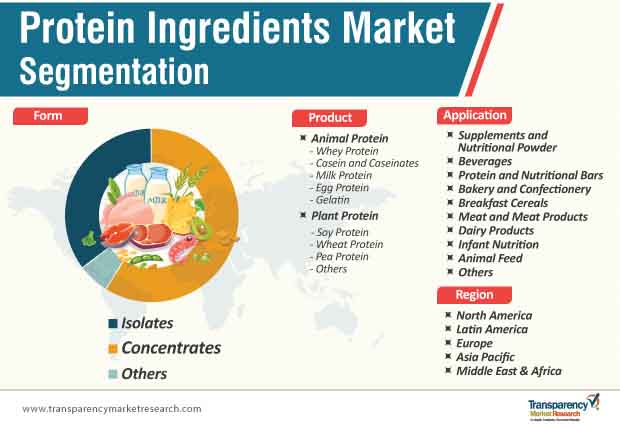 Stuck in a neck-to-neck competition with other brands? Request a custom report on "Protein Ingredients Market"
Protein Ingredients Market: Analysts' Viewpoint
The protein ingredients market is favorable for growth in high demand regions such as North America and Europe. Innovations such as membrane separation technology are important milestones in dairy protein. This technology provides an eco-friendly, energy-efficient, and sustainable option to produce high-quality protein ingredients for milk and milk-processing side streams. The dairy protein space is anticipated to grow with novel product offerings using plant-based ingredients for sports nutrition, and infant and senior nutrition. However, certain health limitations of protein powder consumption are estimated to affect market growth. For instance, added sugar, oil, and toxic chemicals in protein shakes result in increased weight gain. As such, manufacturers should focus on increasing the production of plant-based protein ingredients, such as whey and pea protein, that have fewer side effects. Manufacturers in the protein ingredients market must develop crops that regenerate the land and support soil health, which will help trigger the demand for great tasting plant-based products.
As per the latest report on the protein ingredients market by Transparency Market Research, the global protein ingredients market is expected to rise at a steady CAGR of ~7% during the period of 2019-2029. At this pace, the global protein ingredients market has been estimated to reach ~US$ 42.6 Bn in 2019. The global protein ingredients market is expected to reach a value of ~US$ 84 Bn by the year 2029.
The presence of numerous players owing to low entry barriers makes the global protein ingredients market highly fragmented and competitive. In order to thrive in such a cutthroat overcrowded space, nimble players in the protein ingredients market are seen banking on product development. This is definitely having a positive impact on the growth of the global protein ingredients market.
Apart from that, the increasing popularity of pea and soy proteins is also proving beneficial for the protein ingredients market. The growing demand for dairy products and eggs is benefitting the global protein ingredients market.
A noticeable trend in the market is the demand for 'purer' products with reduced processing. This has led to the development of newer products, namely native whey and micellar casein. This is further positively impacting the global protein ingredients market.
The rise of convenience foods with added nutrients and the growing preference for fortified foods are others factor that are helping increase the overall demand for protein ingredients.
One drawback that the protein ingredients market has to contend with is the comparatively reduced consumption of plant proteins and the harmful effects of gelatin.
Animal Proteins Lead Revenue Generation in Protein Ingredients Market
The two main types of products in the global protein ingredients market are animal protein and plant protein. Plant protein ingredients are mainly derived from wheat, soy, and peas. Meanwhile, animal protein ingredients are derived from eggs, caseinates, and animals.
Between the two, the segment of animal protein currently leads the protein ingredients market, with an outsize share in revenue generation. In 2019, as per the TMR report, it accounted for ~80% share in the protein ingredients market. This is because of the rising consumption of dairy products and eggs.
In the coming years, the demand for soy protein is predicted to rise at a high rate because of the increasing usage of concentrates, soy isolates, and texturized vegetable proteins.
Depending upon the form, the global protein ingredients market is segmented into concentrates and isolates. Between the two, protein ingredients in the concentrate form enjoy a greater share in the market.
Highly-developed Food and Beverage Industry in North America
From a geographical standpoint, the global protein ingredients market is spread across North America, Europe, Latin America, the Middle East and Africa, and Asia Pacific. Among them, North America accounts for a leading position in the global protein ingredients market, owing to the highly-developed food and beverage industry and increased spending capacity of people in the region.
In 2016, North America led the protein ingredients market with a revenue contribution of ~US$ 12 Bn. Going forward, the North America protein ingredients market is set to rise further to maintain its leading position, because of the high awareness among people about the health benefits of proteins.
Europe also holds a prominent position in the global protein ingredients market. However, both, the Europe and North America markets have become saturated. This has egged savvy players in these regions to go for product innovation to increase their sales in the protein ingredients landscape.
Meanwhile, this has also led most to turn their gaze upon Asia Pacific and Latin America, which are developing protein ingredient markets.
Protein Ingredients Market: Key Players
Some of the prominent participants in the global protein ingredients market are
Cargill Plc.
Glanbia Plc.
Archer Daniels Midland Co.
Solae LLC
Kerry Group Plc.