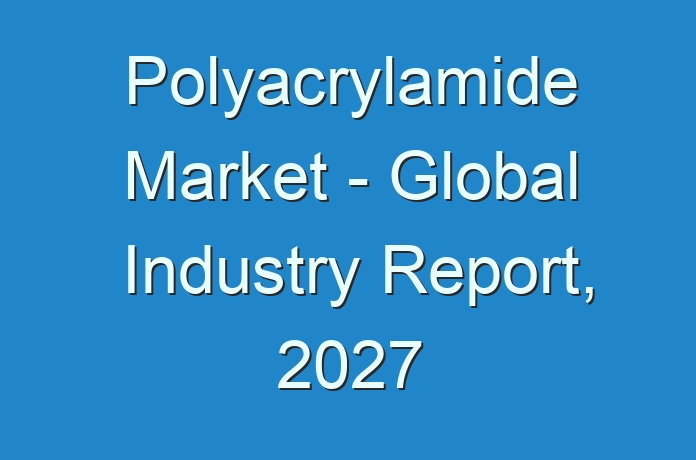 Polyacrylamide: Description
Polyacrylamide (PAM) is a synthetic resin prepared by polymerizing acrylamide. It is a white, solid, water-soluble polymer of acrylamide, mostly used as a flocculant, coagulant, and filtration aid in a whole range of applications that are determined by its physical form and its ionic type (nonionic, anionic, cationic, and Mannich).
It is utilized in secondary oil recovery, as a thickening agent, a flocculant, and an absorbent. Moreover, polyacrylamide is also employed to separate macromolecules of different molecular weights.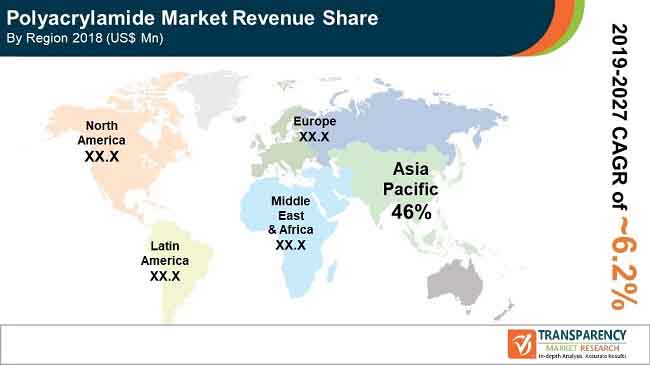 To gauge the scope of customization in our reports Ask for a Sample
What are Key Growth Drivers of Global Polyacrylamide Market?
The expanding global water and waste water treatment market is rapidly driving the global polyacrylamide market. Awareness regarding water and waste water treatment is rising. Regions such as Asia Pacific and Middle East & Africa are majorly focusing on waste water treatment due to the rising population in these regions.
The growth opportunities of the market are associated with the increasing demand for water desalination units and brackish water treatment.
Polluted water resources is a major concern that is being addressed by the government and environmental bodies. Treatment and protection of water & sewage is closely linked to the preservation of the environment and has received more attention from regulatory bodies. Thus, expanding use of polyacrylamide as a flocculants in waste water treatment is subjected to provide immense growth in the forecast period.
Get an idea about the offerings of our report from Report Brochure
What are Key Challenges for Global Polyacrylamide Market?
The polyacrylamide market is characterized by backward integration by polyacrylamide manufacturers to maximize profit margins. Manufacturers are likely to face challenges due to the environmental issues related to polyacrylamide and high raw materials prices. The price of polyacrylamide depends on its ionic type and content, as well as its physical form. Generally, the higher the anionic content of polyacrylamide, the more expensive it is.
Polyacrylamide is highly volatile in nature, which is a key concern for manufacturers, which in turn is expected to lower the production volumes. However, increasing end-use demand from mining and paper making industries is projected to drive the demand for polyacrylamide during the forecast period.
Lucrative Opportunities for Players in Global Polyacrylamide Market
Shale gas exploration is projected to present opportunities for the expansion of the polyacrylamide market across the globe.
Polyacrylamide is extensively utilized in the oil & gas industry to enhance oil recovery. The product has been used for polymer flooding in the oil & gas industry. The phenomenal progress of shale gas and wet shale gas production is anticipated to have a positive impact on the overall market.
Polyacrylamide is extensively employed in the oil and gas sector, as it improves oil recovery by reducing friction. Prevailing shale oil & gas resources in the U.S. have increased the demand for polyacrylamide for drilling activities.
According to estimates, the North America polyacrylamide market is anticipated to double its market value from US$ 1.5 Bn to US$ 2.5 Bn by 2027.
More Trending Reports by Transparency Market Research – https://www.prnewswire.com/news-releases/global-enzymes-market-to-grow-at-8-annually-to-reach-usd-12-2-billion-valuation-by-2027-transparency-market-research-301000183.html
Asia Pacific to Dominate Global Polyacrylamide Market
Asia Pacific region is a major producer and consumer of polyacrylamide across the globe. China is one of the major manufacturer and supplier of polyacrylamide. Large number of local manufacturers are operating in the region. It, currently, has more than 40 manufacturers of polyacrylamide.
Asia Pacific dominated the polyacrylamide market in 2018. Growing population and rising awareness regarding waste water treatment is anticipated to boost the share of the waste water treatment segment in the region during the forecast period.
New projects are being brought online by SNF, a major player in the polyacrylamide market. SNF's is expected to start new polyacrylamide plants in Australia, Indonesia, China, India, and other Asian countries.

PetroChina Company Ltd
Mitsubishi Rayon Co Ltd.
BASF
Anhui Jucheng Fine Chemicals Co. Ltd.
Xitao Polymer Co Ltd.
SNF Floerger Group, and Kemira

prominent players operating in the polyacrylamide market in Asia Pacific.
The North America and Europe follow Asia Pacific in terms of volumes. The U.S. accounted for a major share of the polyacrylamide market in North America in 2018, followed by Canada. Demand for polyacrylamide in the U.S. is observed to remain high due to the prevailing shale gas resources in the country.
Looking for Regional Analysis or Competitive Landscape in Polyacrylamide Market, ask for a customized report 
Leading Players in Global Polyacrylamide Market
The global polyacrylamide market is highly fragmented. Major players operating in the Polyacrylamide market are BASF SE, SNF Group, Ashland Inc., Bio-Rad Laboratories, Kemira Inc. and others.
Market players are developing new products to widen their consumer base. This is likely to intensify the competition in the global polyacrylamide market in the next few years.
Request for covid19 Impact Analysis – https://www.transparencymarketresearch.com/sample/sample.php?flag=covid19&rep_id=881