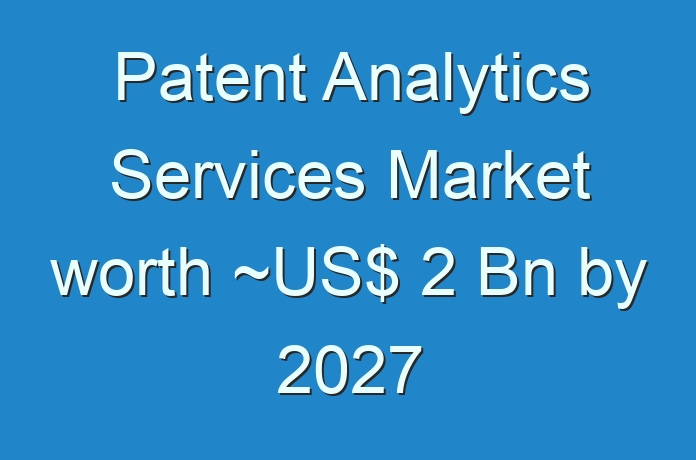 A patent is an exclusive right granted for a process, method, substance, or device that is new in the market. Patents are majorly used as a means to protect intellectual assets/property of companies and inventors. Patents have become a crucial factor for businesses in the light of changing times and increasing competition. Patent analytics help gather information for the relevant technology in order to forecast market needs, and help companies to formulate business strategies and investment plans. Patent analytics help companies to obtain an overview of technologies, which their competitors are working on. This helps companies to analyze their competitor's strengths, weaknesses, and business strategies. According to the World Bank Indicator, in 2018, 3.1 million patents were filed, up from 2.9 million in 2017. The increasing filing of patents in various industries has accelerated the demand for patent analytics services.
The global patent analytics services market is anticipated to expand at a CAGR of ~14% during the forecast period. The global market was valued at US$ 619.1 Mn in 2019.
Want to know the obstructions to your company's growth in future? Request a brochure @ https://www.transparencymarketresearch.com/sample/sample.php?flag=S&rep_id=63756
Increasing Application and Registration of Patents
Increasing volume of patent applications and registrations is a key factor driving the demand for patent analytics solutions/services by corporates in order to analyze competiveness and design market strategies. For instance, according to the World Intellectual Property Organization, in 2018, more than 3,326.3 applications were filed for patent registration. Patent registration increased by 5.2% in 2018 as compared to 2017. China, the U.S., Japan, Germany, India, Russia, Canada, Australia, Brazil, and the U.K. are among the top 10 countries that filed significantly high patent applications in 2018. Therefore, increased patent applications fuel the demand for patent analytics solutions and services from various corporate entities in order to gain competitive advantage.
Patent Analytics Services Market: Competition Dynamics
Some of the major players in the global patent analytics services market are Wynne-Jones IP Ltd, Ocean Tomo, LLC, IPlytics GmbH, PatSnap Pte. Ltd, CPA Global, Gridlogics Technologies Pvt Ltd, Minesoft Ltd, QUESTEL SAS, PatentSight GmbH, Dolcera Information Technology Services Pvt. Ltd, Einfolge Technologies Pvt Ltd., IDTechEx Ltd., IP Wagon Pvt. Ltd., Novel Patent Services Pvt Ltd, Talwar and Talwar Consultants Pvt. Ltd. Anaqua, Inc., Clarivate Analytics plc, and Harrity & Harrity, LLP.
Looking for exclusive market insights from business experts? Request a Custom Report 
Global Patent Analytics Services Market: Segmentation
Patent Analytics Services Market, by Service Type
Patent Landscapes/ White Space Analysis Services
Patent Portfolio Management Services
Patent Valuation Services
Patent Monitoring Services
Strategic Reporting Service
Patent Monetization Support Services
Patent Analytics Services Market, by Enterprise Size
Small & Medium Enterprises
Large Enterprises
Patent Analytics Services Market, by Industry
Automobile
BFSI
IT & Telecom
Healthcare
Media & Entertainment
Government
Semiconductor
Manufacturing
Others (Hospitality, Education)
You May Also Like PRNewswire on Luxury Folding Carton Market