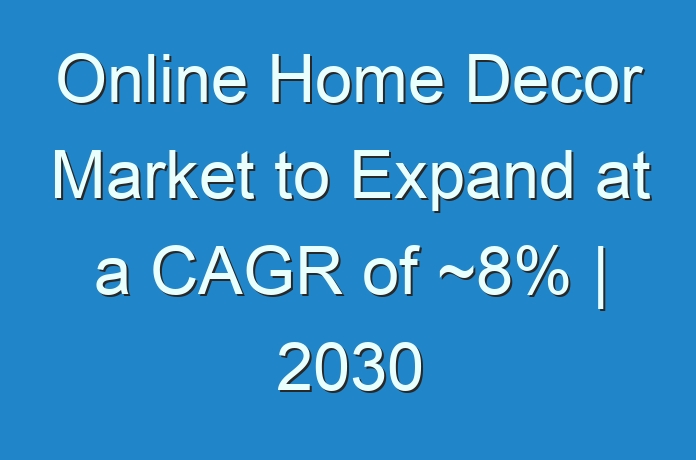 Work-from-home Policy during COVID-19 Drives Demand for Home Decor Products on e-Commerce Websites
Since most individuals are still abiding by the work-from-home (WFH) policy amidst the COVID-19 (coronavirus) outbreak, companies in the online home decor market have incorporated an elaborated list of WFH furniture on their websites. Many schools and colleges are under scrutiny for resuming their lectures during the pandemic. Hence, manufacturers are focusing on school essentials such as study tables, bean bags, and wall shelves.
Currently, the online home decor market is gradually picking pace in countries still struggling with the pandemic. However, between January 2020 and March 2023, the online furniture business experienced a drastic increase in traffic. The global traffic on furniture websites has witnessed an increase from January through March, since many people have been preferring office set-up at home. Brands, such as Pottery Barn, IKEA, and Home Depot have competed to provide customers with furniture services during the pandemic.
Request a sample to get extensive insights into the Online Home Decor Market
Vertical Gardens Hold Lucrative Growth Opportunities for Interior Designers
Home decor is an exciting activity for individuals who have recently bought apartments. With the growing digital influx, online home decor is undergoing a transformation to meet the demand of customers. Increasing number of startups are tapping incremental opportunities in the online home decor market. For instance, Green Drops is keen on expanding its business in vertical gardens to help create more oxygen and decorate the ambience of houses.
Every year, several students enter the business of interior designing with Fine Arts degree. This trend for wanting an exciting career in home decor has contributed toward the expansion of the market. The growing business of green walls is contributing to a collective and estimated revenue of ~US$ 128 Mn by 2030 for the online home decor market.
To understand how our report can bring difference to your business strategy, Ask for a brochure
Handmade Luxury Retail Items Gain Popularity
The concept of luxury home decor is growing popular among individuals. In this regard, Moon River Stop, an online one-stop shop, offers individuals with luxury décor options. Companies in the online home decor market are increasing their production capabilities to manufacture high-end luxury products with impressive designs and craftsmanship to lure customers. They are increasing product uptake for blue pottery, antiques, glass vases, metal bowls, and the likes.
Companies in the online home decor market are increasing efforts to combine traditional artistry with contemporary appeal to increase product uptake. They are catering to festive occasions to meet the needs of buyers. Graduation, house warming, and promotions are emerging categories that manufacturers are focusing on. On the other hand, manufacturers in India are setting the standard for luxury retail that highlights Indian heritage and quality craftsmanship. Handmade items are being highly preferred by customers.
Data Protection Laws Ensure Safe Purchase of Online Home Decor Products
One of the main disadvantages of online shopping is that the buyer is unable to touch and feel the product, which might lead to return of goods. In several cases, individuals feel that the item that they have ordered is completely different from what they saw online. Hence, companies in the online home decor market are investing in photoshoots for products so that customers do not feel misled during their buying experience. They are increasing efforts to mention detailed description of products to minimize return and exchange of goods.
Manufacturers in the online home decor market are creating awareness among customers to buy goods from trusted websites. Trusting an unknown seller with your personal details also raises the issue of malicious practices. Hence, manufacturers should increase awareness about data protection laws to ensure safe purchase of online home decor products.
Earth Tones and Biophilic Design Trends Create Business Opportunities for Companies
Popular e-Commerce giants such as Pepperfry and World Market are leveraging their digital marketing by writing blogs and articles about home styling. New interior design trends including Earth tones and multifunctional spaces are bolstering the growth of the online home decor market. As such, the market is slated to register a favorable CAGR of ~8% during the assessment period. Other interior design trends such as floral wallpapers and biophilic designs are creating business opportunities for manufacturers.
Manufacturers in the online home decor market are luring customers by offering discounts and offers on new room designing services. Registration and cashback offers are boosting product purchases. e-Commerce giants are collating their list of best-selling products to ensure repeat purchase of products. Candle holders, wall accents, and indoor plants are being highly publicized in the interior designing sector.