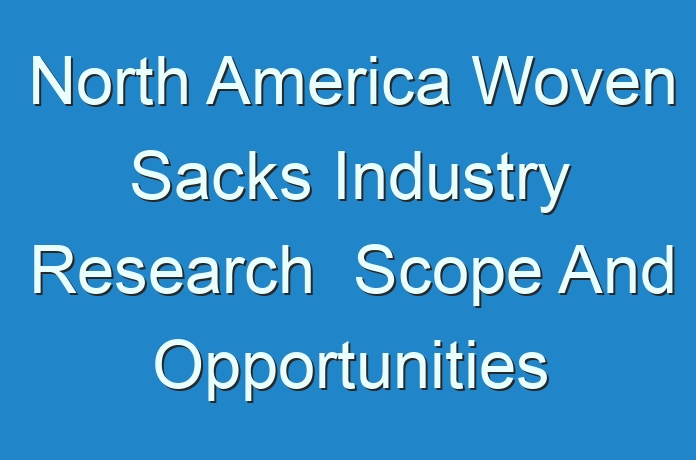 Woven Sacks Market: Overview
Woven sacks are manufactured with polyethylene or polypropylene materials and can be laminated or unlamented. These sacks are among the most versatile packaging solutions widely used in the packaging of fertilizers, building materials, food grains, chemicals, cattle feedstock and grocery products, among others. Woven sacks exhibit high strength and low seepage and are lightweight, moisture proof and durable. They are an economical solution as compared to their counterparts such as big bags & sacks, containers and other such products. The factor that makes woven sacks favorable among end users is recyclability. They can be used multiple times without any wear and tear. Woven sacks find application in the retail sector, owing to the growth of supermarkets, hypermarkets and convenience stores, where bulk products are in use and require easy storage and transportation. Overall, the outlook for the woven sacks market is expected to be positive during the next decade.
Woven Sacks Market: Dynamics
The woven sacks market is expected to witness huge demand from agriculture and building & construction industries. The preferred materials for the manufacturing of woven sacks are polypropylene and polyethylene; however, due to the non-toxic characteristics of polypropylene, it is the preferred choice among the two. Woven sacks are used in various industries including agriculture, horticulture, construction and other sectors as these sacks are quicker to pack and deliver. These factors are expected to drive the global woven sacks market during the forecast period.
Customization as per your requirement, Pre Book Now
Laminated woven sacks consist of piles of fabrics that have polypropylene or polyethylene strips. Here woven sacks are laminated by a ply of plastic film or paper, which provides superior printability to the sacks. This factor is expected to drive the growth of the global woven sacks market during the next decade. Woven sacks are non-toxic and can be reused, and are available in a wide range of capacities, owing to the demand from various end-use industries. Also, woven sacks comply with rising regulations and standards against the use of single-use plastic bags & sacks. These factors are expected to fuel the demand for woven sacks during the forecast period.
To gauge the scope of customization in our reports, Ask for a Sample
Woven Sacks Market: Segmentation
Globally, the woven sacks market has been segmented on the basis of material type, product type, sack type, capacity, end use and region:
On the basis of material type, the global woven sacks market has been segmented as:
Polypropylene
Polyethylene
On the basis of product type, the global woven sacks market has been segmented as:
Open Mouth Sack
Pinch Bottom Sack
Gusseted Sacks
Valve Sacks
Others
Get More Press Releases by TMR: https://www.prnewswire.com/news-releases/long-term-health-hazards-loss-of-natural-habitat-of-terrestrial-aquatic-animals-due-to-rise-in-air-pollution-levels-drives-growth-in-air-quality-monitoring-equipment-market-valuation-projected-to-surpass-us-4-7-bn-by-2031–opi-301284496.html
Contact us:
Transparency Market Research
State Tower,
90 State Street, Suite 700,
Albany NY – 12207,
United States
Tel: +1-518-618-1030 Site: https://todaysmarkettrends.wordpress.com