Global Nano Positioning Systems Market: Snapshot
In a fairly consolidated global nano positioning systems market, the top four players account for almost 75% share in the market. Product development and diversification are key tools that most players have been resorting to in order to further their market share.
Boosting the market for nano positioning systems is the surging demand for MEMS depending upon capacitive sensors in consumer electronics and wearables market, the increasing demand for ceramic technology for miniaturization, and the rising need of piezoelectric actuators in aerospace industry.
Acting as a restraint to the global nano positioning systems market, on the other hand, is the hysteresis loss and backlash which is negatively impacting the performance of position actuators. The dearth of flow of design and manufacturing information in mechatronic systems too is proving counterproductive to the market.
Purchase our Premium Research Report At:https://www.transparencymarketresearch.com/checkout.php?rep_id=23603&ltype=S
A report by Transparency Market Research forecasts the global market for nano positioning systems to expand at a robust 13.4% CAGR from 2017 to 2025 to become worth US$264.1 mn in 2025 from US$85.4 mn in 2016.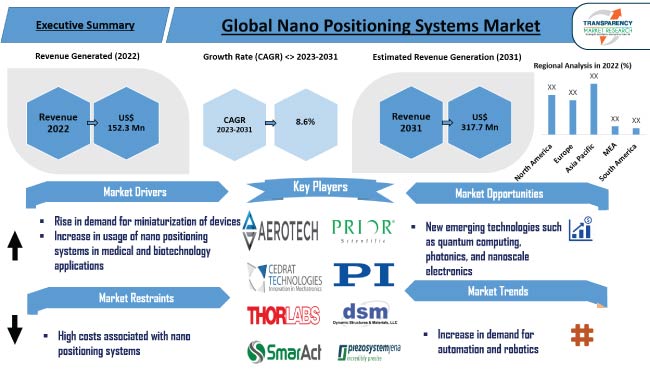 Piezo Actuators Dominate Market Owing to Their Ability to Speed Application
The global nano positioning systems market can be segmented by the type of actuator into MEMS-based electrostatic, Magneto-strictive, Electromagnetic, and Piezo Actuator, among others, including hydraulic and pneumatic actuators. Among them, the segment of Piezo actuators held the dominant market share of 37.15% in 2016 and will likely retain its leading position going forward too by expanding at a CAGR of 13.8% from 2017 to 2025. At this rate, the market for Piezo Actuator, which was worth US$31.7 mn will likely attain a value of US$101 mn by 2025. The mechanical integration of Piezo actuator speeds up their application.
In terms of market share, the electromagnetic actuators trails the Piezo actuators. In 2016, electromagnetic actuators accounted for a share of 22.19% and going forward, the segment is expected to increase that share marginally owing to their rising uptake in the aerospace and optics industry.
Get More Press Releases by TMR: https://www.prnewswire.com/news-releases/accepted-benefits-of-increased-vehicle-safety-improved-overall-on-the-road-quality-to-extend-copious-growth-opportunities-for-automotive-digital-key-market-growth-projected-at-outstanding-21-5-cagr-from-2021–2031–tmr-301313826.html
Demand for Ceramic Technology for Miniaturization Propels Europe Market
Geography-wise, the key segments of the global nano positioning systems market are Europe, North America, Asia Pacific, Latin America, and the Middle East and Africa. Europe, among them, dominates with most of the market share. In 2016, that leading market share stood at 33.77%. Rising at a CAGR of 13.7% from 2017 to 2025, it is expected to grow its leading share marginally. Helping the market in Europe to grow phenomenally is the growing demand for ceramic technology for miniaturization in different applications such as white light inferometry, precision laser machining, and increasing research in nano systems in the nations of France and Germany.
North America trails Europe in the global nano positioning systems market vis-à-vis market share. In 2016, North America accounted for 33.77% of the share in the market due to the pressing need for achieving higher speeds in defense nanotechnics and aerospace industry. The market for nano positioning system in North America was worth US$28.8 mn in 2016.
In terms of growth rate, however, Asia Pacific is expected to surpass all other regions, by clocking about 14.0% CAGR between 2017 and 2025, on the back of spike in demand for piezoelectric sensor type which are seeing widespread uptake in research and development in nano positioning goniometer and invertical lift and in "Z" stage nano positioner.
Physik Instrumente (PI), Aerotech, Inc., Prior Scientific Instruments, and Cedrat Technologies are to name a few of the dominant players in the market
To gauge the scope of customization in our reports, Ask for a Sample
Rising Popularity among Varied Applications to Accelerate the Growth of the Nano Positioning System Market
The utilization of nano positioning systems across a diverse range of end-users such as aerospace, advanced positioning systems, optics and photonics, aerospace, and others will bring tremendous growth opportunities between 2017 and 2025. The advantages attached to the nano positioning systems make them one of the most preferred devices among various applications. Thus, based on all these factors, the global nano positioning system market will expand extensively through the assessment period of 2017-2025.
Nano positioning systems comprise a unique sensor arrangement which offer accurate and flawless measurement of coordinate aces. These systems help in the positioning of devices at desired position with nanometer accuracy. Thus, these functionalities help the nano positioning system market to expand its growth aspects.
The ongoing research and development activities play a crucial role in magnifying the growth opportunities across the nano positioning system market. These activities help the manufacturers to explore novel insights and aspects that can help in tweaking the systems with more features, eventually increasing their revenues. The players are also involved in strategic collaborations. These collaborations help in cementing the foothold of the players in the nano positioning system market.
The growing demand for nano positioning systems across a massive number of industries will add extra stars of growth. The advancements in life sciences sector acts as a foundation of growth for the nano positioning system market.
The novel coronavirus pandemic has affected the growth trajectory of various businesses and sectors. The nano positioning system market is no exception to this loss. During the strict lockdown restrictions, all the manufacturing facilities and production units were closed. This factor affected the growth of the nano positioning system market to a certain extent. However, the relaxations in lockdown restrictions are serving as a boon for the players.
Contact us:
Transparency Market Research
State Tower,
90 State Street, Suite 700,
Albany NY – 12207,
United States
Tel: +1-518-618-1030 Email: [email protected]
Website: https://www.transparencymarketresearch.com
https://todaysmarkettrends.wordpress.com