Mozilla is making changes in mobile browsing with a new version of Firefox for Android . We have been testing the beta of this new Firefox, dubbed "Firefox Preview", and we are ready to inform you of everything you need to know about it: how fast and safe it is, and what are the best features it brings.
Why is Mozilla making a new Android app?
Firefox has a quite considerable niche in the desktop browser market, but it still occupies a more residual space in the mobile versions. Part of that is due to the almost omnipresence of Chrome, which is installed by default on Android, but even Mozilla admits that Firefox mobile could be much better.
Instead of trying to drastically change the course of the current mobile application, Mozilla opted to start from scratch with a new Firefox. This Firefox is based on the open source browser GeckoView, which, according to Mozilla, will make Firefox Preview twice as fast as the previous version for mobile, and will also bring many of the privacy features that are in the desktop version.
We have spent a good time testing Firefox Preview to see if the claims made by Mozilla are true or not, and discover for ourselves how different this new Firefox really is.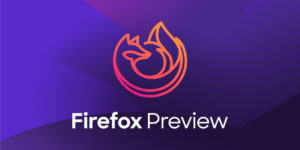 How does Firefox Preview work?
The main functionality of Firefox Preview is identical to that of any other mobile browser: you can open and change between several tabs, you have a private browsing mode and you can perform quick searches from the URL bar with your preferred search engine (which you can configure from the menu). Firefox veterans can log in and synchronize their bookmarks, browsing history and many other things (depending on what they want to synchronize, of course), but the differences between Firefox Mobile and Firefox Preview are immediately obvious.
One thing that everyone will notice is the improvement in the interface. Firefox Preview has a much simpler and more functional user interface compared to Firefox Mobile. It's much easier to go immediately to a page, and the home page is finally free of recommended articles and other elements that made Firefox Mobile seem crowded with things. The new navigation bar has been moved to the bottom of the application, and is barely seen while you scroll or read content.
Firefox Preview is also much faster in general. One of the things that Mozilla presumes is that Firefox Preview is twice as fast as the current version of Android. Firefox Preview seems somewhat faster, and thanks to the benchmark of Mozilla Kraken we have been able to confirm it.
Collections
One of our favorite changes to Firefox Preview is the 'Collections' feature. It is a kind of subfolder system to organize bookmarks, although the 'Collections' are different because not only allow you to save your pages in separate collections, but you can also save other things such as shopping cart in a web store or a search , and resume them in the future. The browser will make suggestions for you to add pages to your collections and allow you to share them with other people.
Another interesting feature that is worth noting is the dark mode. Many applications already have their own dark mode, but the current Firefox Mobile does not have, so it is appreciated that it brings one. You can configure Firefox Preview to always be displayed, or to change depending on your phone's display settings. Personally, I prefer to keep the dark mode all the time.
How to get Firefox Preview for Android
Anyone with an Android device can download the latest version of Firefox Preview from one of these two addresses:
Although we are impressed with Firefox Preview, you have to take into account the usual betas problems: it is likely that you will find bugs, and that certain functions or options will change with the new versions. If you have problems, send them to Mozilla to your Github bug wall , or send a description of the error you found at [email protected] .
Mozilla has also reported that it will continue to optimize and update Firefox Preview during this year, and that the release of the final version is scheduled for this fall, when it will land with more features and improvements than there are currently.