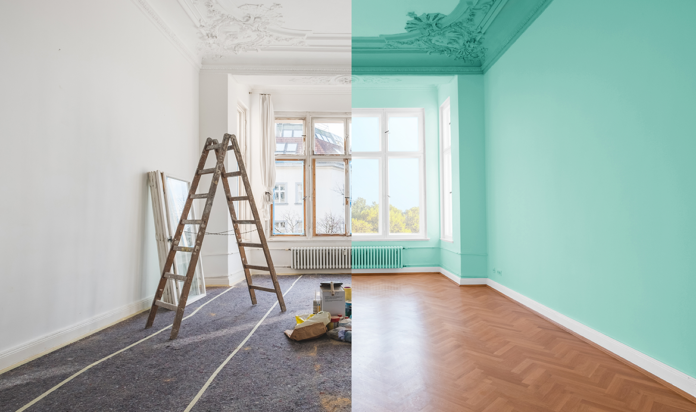 If your house looks lifeless, it could be because of the worn-out walls of your interiors. A coat of fresh paint is what your house needs to uplift its look and your mood. If you are new to the city of Banglore and don't know who to contact for your painting needs, a simple web search of painting services in Banglore will lead you to renowned companies thatprovide end-to-end home painting services for your interior and exterior walls.
Post painting, regular and right care is needed to preserve the charm of your newly painted walls for a long time. Read on for some tips.
Understand The Paint Type – Different paint finishes have different durability and need different methods of maintenance. High-gloss and semi-gloss painted walls can easily handle vigorous scrubbing without damaging the coat, while egg-shell or satin finish walls need a gentler cleaning routine. Hence you must get a first-hand understanding of the paint type on your walls to use the right upkeeping method.
Daily Dusting –When you dust your house daily, then why not the walls? This is the simplest way of maintaining your freshly painted wall and it requires lesser effort than you think. Use a feather brush or a soft cloth to gently remove the settled dust layer on the wall.
Don't Let Stains To Settle – The moment you notice a stain mark on your wall, take immediate action to remove it. Leaving the stain on for long can cause it to dry and later may require additional scrubbing. Most of the food stains can be removed with a wet sponge, but for more stubborn stains like that of chocolate and turmeric, you may have to use a mild detergent and warm water.
Scrub Gently– While you maybe on the mission to keep your walls spotless, be cautious not to srub the walls too hard or for too long. This may cause the paint coat to come off leaving an ugly discolored spot on your wall. Avoid using harsh materials like metal scrubbers to remove stains, rather settle for non-abrasive pads.
Clean Your Wall Evenly –Always begin cleaning with a small spot in the bottom corner. Observe how the paint is reacting to the detergent and water treatment, stop immediately if you notice that the paint looks faded after the wet spot dries up. Once your wall passes the swatch test, it is ready for complete cleaning. Use two separate sponges to clean your wall. Dip the first sponge in the detergent water and with circular motion clean the wall starting from the top and gradually move to the bottom. Now dip the second sponge in a clean water bucket, wring it properly and wipe off the detergent residue from the wall. Finally, clean the wall with a soft dry cloth to give it an extra shine.
Of all the paint types, it is the flat paint or matte paint walls that are most difficult to clean. The porous texture makes the dirt cling to it more firmly making plain water alone difficult to remove the stain. For such walls mix vinegar, baking soda, and dishwasher detergent in equal parts with warm water, use a soft sponge to scrub only that part of the wall which has a rigid stain on it.
We hope the above tips will make you a pro in keeping your freshly painted wall clean and stain-free for long, after all, we all appreciate clean walls as they add that extra sparkle to your house.