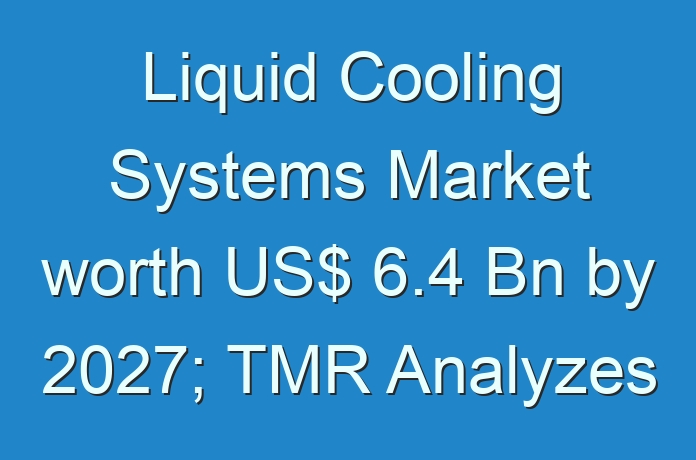 'Cool liquid media' is the foremost requirement for all industrial processes. Numerous industrial verticals such as food and beverages, healthcare, data centers, and telecommunications demand the control of liquid media within a defined temperature range for industrial operations. Moreover, there is a rising number of thermal management concerns in engineering applications such as nuclear reactors, industrial heat exchangers, micro machinery, and others. Liquid cooling systems have a pivotal role to play in achieving thermal management in dramatically high system power levels.
The proliferation of technologies such as the Internet of Things (IoT) and Artificial Intelligence (AI) create aggressive cooling requirements, thereby shifting consumer demand from conventional to advanced cooling systems offering better thermal performance. Moreover, product innovations spawned in the landscape of liquid cooling systems have further added a feather in the cap for the liquid cooling systems market, creating the need for in-depth research. In its latest study, Transparency Market Research offers credible insights on the key dynamics of the liquid cooling market, which help stakeholders take well-informed and data-driven business decisions.
Want to know the obstructions to your company's growth in future? Request a brochure @ https://www.transparencymarketresearch.com/sample/sample.php?flag=S&rep_id=69588
Evolutionary Landscape of the Liquid Cooling Systems Market
Liquid cooling technology is not a new sheep in the market; it has been used since decades to cool high-voltage transformers. Traditionally, liquid cooling systems were majorly used for supercomputers and mainframes. However, they have now seeped into enterprise data centers. They first grabbed the limelight back in 1964 when IBM explored immersion cooling for its System 360 mainframe. Ever since, the technology has evolved from being a 'fringe concept' to becoming a 'must-have' for numerous industries.
Air-based cooling systems no more suffice the cooling needs of new generation enterprise data centers with high power density. With the rise in consumer preference for liquid cooling, it is gradually becoming mainstream in the arena of data centers. According to TMR, the liquid cooling systems market is poised to rise at an astounding CAGR of ~ 13% during the forecast period of 2019 to 2027, and attain a valuation of ~ US$ 6.4 Bn by 2027. However, the high cost of liquid cooling systems still remains a longstanding challenge for the growth of the market.
Looking for exclusive market insights from business experts? Request a Custom Report 
Trends Redefining the Liquid Cooling Systems Landscape
Smartphones with Liquid Cooling Systems to Fetch Revenue Benefits
Smartphone manufacturers are going all out to turn smartphones into mini computers that fit in pocket. Smartphones are getting slimmer, but with in-built high-end processors generating massive amount of heat. Moreover, smartphones designed for gaming need advanced processors, creating the challenge of keeping the hardware cool. Sensing the high demand for smartphones and the need for thermal management, phone makers are increasingly integrating liquid cooling solutions in smartphones. For instance, Samsung developed a method of liquid cooling for the Galaxy S7 phone, which uses a copper thermal pipe to disperse heat away from the CPU. Further, in April 2019, Nubia Technology announced the launch of a gaming phone called Red Magic 2 with a liquid cooling function.
Rise in Deployment of Portable Liquid Cooling Systems
Data centers need to maintain the required thermal balance, as equipment is prone to damage due to heating issues. Although data centers are using permanent cooling units, there is always the need for maintenance. In such a scenario, a portable cooling unit may be necessary for the optimal functioning of a data center until a permanent cooling unit is up and running. Portable liquid cooling systems are increasingly taking center stage as the primary cooling systems for in-building server rooms and industries in areas with mild temperatures. They are also a cheaper alternative to permanent data center cooling units.
Read Our Trending Press Release Below: https://www.prnewswire.com/news-releases/covid-19-vaccine-storage-to-increase-growth-rate-of-pharmaceutical-glass-ampoules-market-between-2019-and-2027-tmr-301222233.html