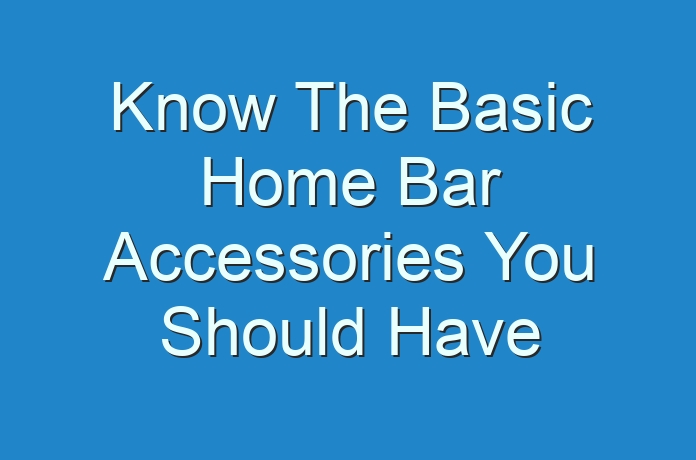 Many websites offer you home bar accessories to bring the world of the bartender to your home. They have recognized companies that allow you to obtain everything you need from tools and accessories from the best materials at the best price.
For each profession or trade, there are always a series of basic tools to be able to do the job. In the cocktail bar, you must have a series of basic accessories to make your drinks. In this way, you can become a professional mixologist or bartender.
All bar tools are made of 304 stainless steel, corrosion-resistant, also known as 18/8 stainless steel. That is why you should always choose the company that offers you high-quality products so that you always get the best.
You should also check to see if your purchase will be backed by a warranty if there is a problem with your purchase. Choose the website that allows you to get a unique and original design for your home bars.
The cocktail set has a unique design and comes in wood, making it the most stable, thick, and solid rod tool holder. You can find this bamboo stand to have a more prominent and attractive appearance with a 100% natural finish.
This type of stand will allow you to solve all the problems that exist in home bars; you can have: accessibility, quality, and easy access to tools.
The Best Bar Accessories To Have At Home
If you want to have a bar in your house, you must-have accessories that are basic to start on the right foot. The main thing is the cocktail shaker, but you must have a well-equipped home bar with the essential tools. To start, you must have the following accessories:
• Shaker
As mentioned above, the first thing you should have is the cocktail shaker. This is a critical tool for you to get started with making your drinks. It is made up of 2 cups that fit one on top of the other perfectly. It is used to stir drinks and to cool certain ingredients.
Bring a strainer lid that does not allow the ice and other ingredients to come out when serving the drink.
• Bar spoon
This bar spoon is used for many functions in the cocktail bar. They use it for mixing and layering and also for shaking cocktails. If you want a more comfortable spoon, you can use the spiral type. You can find three types of spoons, such as the European bar spoon, the bar spoon, and the Japanese bar spoon.
This is a metal spoon with a long, thin handle so you can mix drinks in the mixing glass or the glass directly.
• Cocktail strainer
This strainer is used to strain the drink, separates the solid and liquid ingredients in the cocktail. Its objective is to prevent the pulp, ice, and fruit puree from entering the drink when serving it. You can find three types of filters which are: Hawthorne strainer, julep strainer, and a fine-mesh strainer.
• Mortar
This is a very different cocktail tool than the one used in the kitchen. It is used to extract the juice from fruits or herbs, such as mojito or pina colada. You can use it in the same glass in which you are going to serve the drink.
If you want to obtain cocktail equipment, do not hesitate to search the Internet for the best website to buy them online.