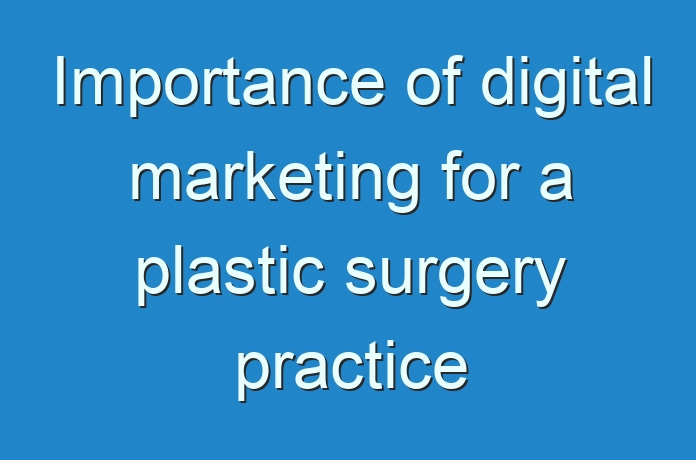 Digital Marketing plays a vital role
You may have any kind of business or services; it is mandatory to have a website to reach more customers in this digital era. The rise of the internet has changed the way of marketing for all businesses. If you have a plastic surgery clinic, you used to get patients regularly from your locality 2 decades before. But in the 21st century, the minimum requirement to sustain in any industry is to have an online presence. The most common online platform is having a professional website. Many companies do website design but a Plastic Surgery website design company that specializes in designing websites for plastic surgeons will yield better results. Going with a niche expert with proven results is your best option.
Having a website alone will not help to get patients. You should optimize your website to rank higher in search engines to get some traffic. For your plastic or cosmetic surgery website, you should do cosmetic surgery marketing to get more visibility in the online space. In this article, let us discuss some of the benefits of digital marketing for plastic surgeons.
Importance and benefits of digital marketing for plastic surgeons
You can reach a wider audience – The main goal of marketing is to reach out to more people and convert them into your patients. The same goes for a website also. If a person is looking for breast surgery, she will not go and search for a surgeon on the streets. The first thing she will do is to search on Google for the best surgeons in her locality. So, if you optimize your site for that keyword, you will get customers. Likewise, you can reach thousands of patients online through digital marketing.
You can build credibility – The best part of being online is to build trust in people. Once you showcase your testimonials, previous works, your patient's feedback, and experiences, you can attract more patients. Having a high ranking in search engines with high domain authority will automatically make your brand reliable to the visitors.
Get more patients through information – Most of the people search all of their doubts on search engines. If you create an informative blog that talks about various issues and remedies regarding cosmetic healthcare, you will get some customers through it. If their doubts are clarified through your blog, they will try surfing your site and may come to you for consultation.
Reach local patients – Search engine algorithms rank websites based on locality. If a person is looking for a plastic surgeon, those clinics in her locality will come up first. So, you can reach your local patients easily with a little effort in digital marketing.
Paid search rankings do miracles – Traditional ranking processes will take time. But if you need immediate results, you can opt for paid rankings in Google. If you pay for a specific keyword and win, your site will rank at the top whenever a person searches for it. You need not wait for the results.