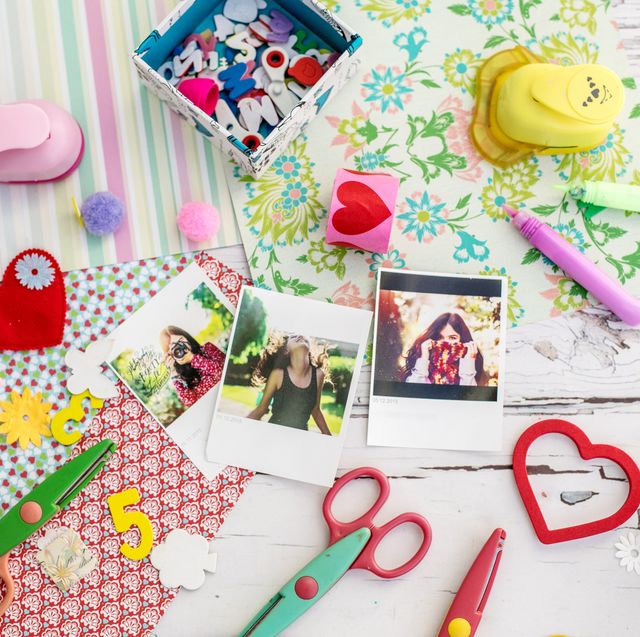 If you want to put together a creative scrapbook cover, why not challenge yourself to a unique project? Instead of going to the store to buy the cover the quick and easy way, you can create one on your own — for free!
Create a beautiful scrapbook cover to house the best scrapbooking ideas by merely following this super-easy tutorial.
The Scrapbook Supplies You Need for Your Best Scrapbooking Idea
Before you get started with your scrapbook ideas, you first need to gather the following supplies:
2 pieces of chipboard measuring 4.5 by 6 inches for the front and back of your scrapbook
1 piece of chipboard measuring 1.5 by 6 inches for the scrapbook spine
2 pieces of wall/patterned paper for covering
Glue
Scissors
Ruler
Optional Materials for Unique Scrapbook Ideas:
Embellishments such as letters, stickers, felt designs, and washi tape
Binder, ribbon, or elastic thread if you decide to make a scrapbook page that doubles as a TN cover
How to Make a DIY Scrapbook Cover
After preparing your scrapbook materials, you can proceed with this tutorial. As it comes with brilliant scrapbook ideas for beginners, you'll be able to follow the steps right away.
Cut your desired shape — circle, heart, or triangle — in the middle of your front scrapbook cover. You can use scissors or a paper cutter, depending on the design of your project. Remember to do this step on a scratch-proof surface.
Glue your cut scrapbook covers in the following sequence: From left to right, place the one for the front, the spine, and the back of the album, and stick them to the wrong side of the wall/patterned paper. Make sure to leave about 5 mm space between the three cards when you attach them. Scrape the back so that the glue is spread evenly. You don't want to get spots and on your scrapbook cover page.
Cut through the shape of your front scrapbook cover and glue the sides to the card stock.
Use a cutter and a ruler to remove the ends of the patterned paper, using the scrapbook cover edges as a reference.
Put glue on the backside of the cover and stick it to a piece of scrapbook paper. Trim the edges well.
Using a cutter, shape out and remove the paper that covers the shape of your front scrapbook cover.
Punch holes on the spine of the journal for your elastic thread, ribbon, or binders.
Design your album cover. Here, you can use washi tape on the sides, add travel stickers, and even post your family photos and other cherished memories.
Work on your scrapbook pages. Remember, the layout of the first page should be aligned to the shape of your cover. In case you're planning to put a photo, see to it that it's placed right smack at the opening. As for your other layouts, put some space for pictures and other paraphernalia.
More Journal and Scrapbooking Ideas for Beginners
If you want your unique ideas to come to life, you can always explore other fun scrapbook ideas. Instead of the usual chipboard, you can use different design types, such as:
Covers
Leather
This beautiful material is perfect if you like your book of memories to have a cohesive look. It's also effortless to clean, as all you need to do is wipe the dust off your travel scrapbook.
While it's best left bare, you can add photos and other scrapbooking elements if you want. Since it can be tricky to post anything on this journal, be careful when you manipulate each page.
Felt
Felt might be simple, but it's an exquisite material with which you can create unique layouts. You can put many things on this cover, be it photos, cards, and other journal elements.
With a video tutorial of scrapbook ideas, you can create great sketches for any type of book.
Photos
Instead of paper, you can make a cover layout using a digital photo assortment. You can be creative enough to print a family photo on your own, although you may always get your layouts printed by a digital professional.
With such scrapbooking ideas, you'll know what you'll be seeing as soon as you open the book.
Embellishments
If you're looking for beautiful and creative scrapbook ideas for beginners, don't forget to add embellishments to your page. While it uses a lot of cards and scrapbooking supplies, it's a fun way to design a wedding or baby photo album.
Just be careful when you store this though, as the designs may be detached if you organize it carelessly.
Spine Attachments
Ribbons
If you love to create a mini baby or Christmas photo journal, ribbons are the best scrapbook ideas for beginners like you. Not only is it durable, but it allows for scrapbook expansion as well.
With this, you can add more life memories, photos, and scrapbook pages as the years go on.
Binders
It's best to go for binders if you like to use a scrapbook page or photo protector. They also come in different sizes and colors, thus making them suitable for compiling every scrapbook page.
The only drawback to this design is that it can only accommodate a limited number of pages. So, if you want to add more photos or sketches to your Christmas scrapbook album, you have to keep looking for a new one.
Labels
Do you like to name your journal? A fun and great way to do so is to attach a label pull frame to the scrapbook spine.
The opportunities for labeling are endless, as you can use these on the front cover, as well as every other scrapbooking page. This is particularly good if you're working with a wide array of photos.
It's fun to create a scrapbook, especially if you get to make the cover and pages by yourself. With this tutorial, you can make a layout that truly reflects your personality and style.