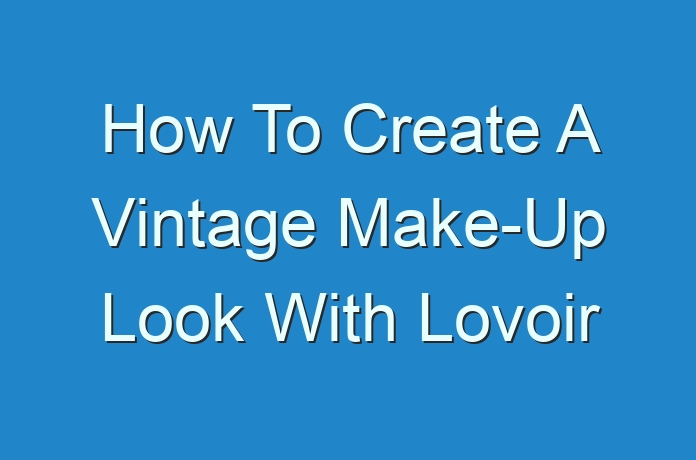 Feminine and glamorous, the vintage make-up style has never truly gone out of fashion, and creating this look for yourself is easy with the help of Lovoir. Here, we share how you can create the perfect 1950s complexion, explain which colour palettes you need, and share our secrets on how to achieve those key vintage eyeliner wings at home.
Start with a vintage complexion
In the 1950s, a pale complexion was in fashion, with women aiming to create a light canvas which they could add the rest of their make-up to. This base was achieved through using a soft shade of foundation topped with a peach or nude coloured powder. It may be that you can easily achieve this base using products that you already have, just avoid harsh tones or bold colours as these will not work with the overall vintage look. However, this doesn't mean that you can't create this look if you don't have a naturally pale skin tone. The main thing to aim for is a matte complexion, so leave your highlighting products in your make-up bag if you want to look truly vintage.
Vintage cheeks and lips
For the ultimate vintage make-up look, apply a delicate coloured blush to the apples of your cheeks to create a rosy glow that will subtly stand out from your pale complexion. In order to avoid overdoing your blusher, use a soft brush and ensure that you only sweep the product onto areas where you blush naturally. When it comes to your lips, a lipliner is definitely required for an authentic vintage look. Lipliners were just coming into fashion in the 1950s, and women loved to use them in order to make their lips stand out and look more feminine. The lipstick colour that you need really depends on your hair colour. Orange-red lipsticks were the top choice for blondes and redheads, whereas brunettes opted for darker purple-red tones.
Vintage eye make-up tips
As with your complexion, you want to aim for soft colours when it comes to eye make-up as the vintage look certainly wasn't about statement smoky eyes or bright and bold eyeshadows. Apply very little eyeshadow, if any at all, but don't be afraid to layer on mascara or use fake eyelashes. Long eyelashes were seen as being highly feminine, so these were very sought after in the 1950s. When it comes to your eyebrows, they should be full with a prominent arch to fit in with your vintage look. You can always use powder to create a fuller looking eyebrow should yours be on the skinny side, and many women in the 1950s actually used blusher to highlight their brows.
Of course, no vintage make-up look would be complete without a signature cat-eye, and this can be achieved with the help of @Lovoir's fabulous Flick Stick. The Flick Stick is an eyeliner wing stamp that will help you to create flawless, symmetrical eyeliner wings every time, perfectly completing your vintage style. Not only will this product help you to apply your eyeliner wings within seconds, but it will stay put all day thanks to its long-lasting formula. This smudge-proof, waterproof eyeliner wing stamp is super easy to use, even for those who have struggled to draw on freehand wings in the past, and its dual-ended design means that you have both the stamp and a liquid eyeliner pen too. Simply press the bottom of the stamp gently onto your face in line with your upper lash line, and use the liquid eyeliner to fill in the wing and continue it along your lash line – it really is that easy!
Now that you know how to create a vintage make-up look, it's time to start experimenting for yourself. Half of the fun is trying out different techniques and products to achieve the look that you want, but for perfect eyeliner wings you simply need to use Lovoir's Flick Stick. To purchase yours, head to lovoir.com where you can choose from three different flick sizes depending on how bold you want your vintage eyeliner wings to be.