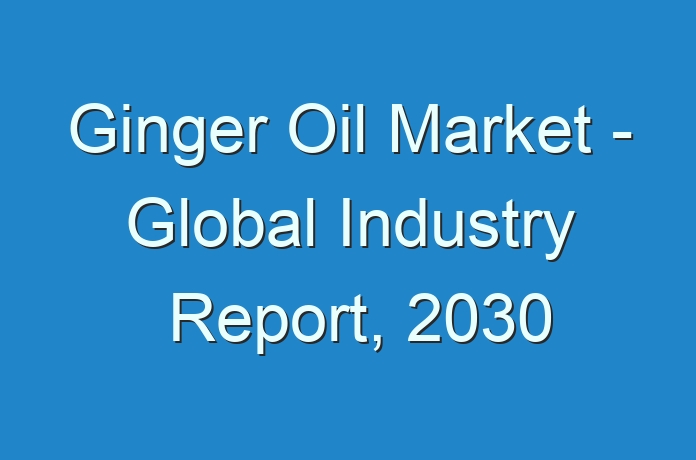 Ginger Oil Joins COVID-19 Supplement List for Individuals Seeking Optimum Immunity
The ongoing coronavirus (COVID-19) pandemic has caused major panic among individuals. People are resorting to Ayurveda for maintaining optimum immunity levels. Natural ginger, in its original form and as an essential oil, is a popular immunity booster, owing to its high antioxidant content. On the other hand, companies in the ginger oil market are increasing their production capacities to manufacture supplements that help free the airways of patients suffering from bronchitis and other respiratory ailments. Such supplements are in high demand, since coronavirus pathogens are found to deteriorate the respiratory functions of individuals.
The COVID-19 supplement list also involves herbal teas induced with ginger oil, which helps to boost immunity. Likewise, ginger, lemon, and turmeric have become top products for people seeking advice on maintaining optimum health amidst the COVID-19 pandemic.
Request a sample to get extensive insights into the Ginger Oil Market
Innovative Extraction Methods Generate Maximum Yield of Ginger Oil
Ginger oil, similar to most plant essential oils, is known for improving bowel movement, enhancing appetite, and eliminating toxins. Hence, companies in the ginger oil market are increasing their R&D activities to experiment with innovative extraction methods. As such, ginger oil is in high demand for the treatment of dyspepsia, diarrhea, and muscular disorders. This explains why the ginger oil market is slated to expand at a striking CAGR of 9.1% during the forecast period.
Ginger products are being commercialized in food and pharmaceutical processing. With more developments in the market, manufacturers are adopting the Soxhlet extraction method to develop ginger products such as essential oils and oleoresin. This method generates maximum yield of ginger oil. As such, steam distillation is predicted to dictate the highest revenue among all extraction methods in the market.
Therapeutic Ginger Oil Helps Ease Knee, Back, and Leg Problems
Companies in the ginger oil market are tapping into incremental opportunities via e-Commerce platforms, as ginger essential oil is being highly publicized for hair and skin care. For instance, Kazima Perfumers— a flavors, fragrances, and aromas supplier in Delhi, India, is boosting the uptake of its Kazima Ginger Essential Oil in its undiluted form to enhance hair and skin care. The ever-increasing cosmetics industry is creating stable revenue streams for ginger oil manufacturers.
To understand how our report can bring difference to your business strategy, Ask for a brochure
Natural and therapeutic grade ginger oil is being pervasively used for body and skin care. The ginger oil market is projected to be valued at US$ 33.6 Bn by the end of 2030. The market landscape is highly competitive, since several manufacturers have realized potential incremental opportunities with the sales of therapeutic ginger oil. Ayurvedic pain relief ginger oil is also attracting customers with knee, back, and leg problems.
Ginger Oil Gains Popularity Due to Proven Benefits for Skin
Pharmacological potentials of ginger oil are gaining awareness among customers. This oil has great anti-inflammatory and pain-relieving agent, which is being used typically by patients with arthritis and other joint ailments. Ginger oil is gaining popularity, owing to its various medical uses for the human body. As such, companies in the ginger oil market are increasing their production capabilities, since this oil is being used in DIY masks for skin and hair.
Other pharmacological applications of ginger oil involve use for relieving nausea and vomiting when consumed with herbal tea or water. Aromatherapy is another key driver, which is bolstering market growth, especially in countries of South and East Asia.
Pharmacological Potentials of Ginger Oil Play Instrumental Role in Minimizing Tumor Growth
Europe is anticipated to hold the lion's share of the ginger oil market. However, the side effects of ginger oil, such as abdominal pain and heartburn are being experienced by many individuals. Hence, companies in the ginger oil market are encouraging customers to seek medical advice before consumption or application of ginger oil. Manufacturers are adopting clean labels that prominently highlight ingredients and directions for use of ginger oil products.
Gingerol in ginger oil is found to open up airways of patients with bronchitis. When individuals administer ginger oil in the right quantity, it can help to deploy protective properties to the liver, thus improving patient quality of life. High antioxidant content in ginger oil helps to suppress free radical damage, which minimizes tumor growth. Manufacturers are increasing their production of product supplements for cough and cold that are essential during the monsoon season.
Experts and Education Teams Collaborate to Develop Products with High-concentrated Ginger Oil
Aromatherapy is emerging as a key market driver, which is fueling the demand for ginger oil. Decleor-a provider of aromatherapy products and treatments in Paris, is expanding its product portfolio in essential oils, which also involves ginger oil. Manufacturers in the ginger oil market are gaining proficiency in ingredient-led skincare. They are onboarding experts that design various skin and hair care products. Manufacturers are teaming up with therapists and establishing education teams that are focused on leveraging the power of facial and body treatments using ginger oil skincare products.
Companies in the ginger oil market are increasing their R&D efforts to develop highly concentrated ginger essential oils that are induced with active and powerful properties. Antioxidant properties of ginger oil help to protect the skin against free radicals.
Stuck in a neck-to-neck competition with other brands? Request a custom report on Ginger Oil Market
Analysts' Viewpoint
Government hospitals in India are treating coronavirus patients with hot boiled water mixed with ginger and lemon extracts. This has created awareness among common individuals to include ginger oil in their herbal tea to maintain optimum immunity levels. Astringent and anti-inflammatory properties of ginger oil are acquiring prominence in skincare products, since these properties repair the epidermis and reduce skin blemishes. However, topical or oral consumption of ginger oil can sometimes lead to serious side effects such as unusual bleeding and irregular heartbeat. Hence, manufacturers in the ginger oil market should advice individuals to seek medical advice before the consumption or application of the oil to avoid any adverse events.
Ginger Oil Market: Overview
Ginger oil is light yellow in color with pungent aroma and has thin consistency. The oil is extracted from ginger root (Zingiber officinale), which is a source for supplements and tinctures. Expo essential oil an Indian-based company produces ginger oil according to halal, kosher, organic, and ISO certification.
The Asia Pacific ginger oil market is expected to account for the highest revenue share, and projected to dominate the global market during the forecast period. This is due to high production of ginger oil in countries such as India and China in the Asia Pacific region. In addition, rising popularity of aromatherapy among individuals is another factor expected to boost growth of the market in the Asia Pacific region.
Phoenix Aromas, a U.S.-based company, supplies ginger oil to manufacturers for use in applications such as masking agents, perfume agents, skin conditioning, and tonic
The North America ginger oil market is expected to expand at a significant rate, in terms of revenue. Growing consumer preference for natural oil and increasing usage of ginger oil in pharmaceutical and cosmetic industries are factors expected to drive the market in this region.
The refreshing taste of ginger is ideal for use in carbonized soft drinks, beer mix, and energy drinks, and harmonizes with still drinks and tea beverages as well as syrup
WILD Flavors and Specialty Ingredients offer ginger preparation in liquid as well as in spray-dried form, to meet individual demands for different applications. Natural ginger flavors and ginger extracts complement the WILD Flavors and Specialty Ingredients portfolio.
More Trending Reports by Transparency Market Research – https://www.prnewswire.com/news-releases/coconut-syrup-market-to-reach-valuation-of-us-354-mn-by-2029-demand-for-organic-food-in-us-shall-propel-the-dominance-of-north-america-in-global-market-finds-tmr-301027365.html
Ginger Oil: Market Frontrunners
In terms of nature, the organic segment is expected to register the highest growth during the forecast period, owing to increasing demand for health-conscious consumers
Based on end use application, the food & beverages segment is expected to account for a major share of the global market. The pharmaceuticals end use application segment is expected to account for the second-highest share, in terms of revenue, of the market, owing to its therapeutic properties such as it helps in food digestion, heals infections, alleviates muscle pain, and offers other health related benefits.
Among distribution channels, the retail stores segment is anticipated to register significant growth over the upcoming years
Ginger Oil: Market Trends
Increase in the number of health conscious consumers, and rise in demands for natural oils and natural oil extracts-based products are driving the natural oils segment, thus fueling the expansion of the ginger oil market. Sensient flavors, a U.S.-based company, has launched its new natural flavor collection of ginger and different products in 2017, along with floral, spices, tea, and herbal extract.
The growth of natural personal care products industry is a driver for ginger oil market. Ayurveda treatments and aromatherapy are the latest trends in the market. Ginger oil is used in natural medicines as well as in aromatherapy with other essential oils. Synthite Group, a global leader in value-added spices, is venturing into the personal care segment with a slew of innovative products and will mainly focus on essential oils.
Overwhelming Market for Essential Oils
Concerns about climate change and desire for a stress-free life are driving the interest of consumers toward products made from plant-based ingredients. Prominent plant-based alternatives are expected to generate a revenue of over US$ 20 Bn by 2020. Manufacturers operating in the ginger oil market have the extensive opportunity, as ginger oil products can be used in aromatherapy and topical applications. It has been scientifically proved that the aroma of essential oils helps enhance cognitive function of adults.
Ginger Oil Market: Strategies
Key players are investing in research and development to produce innovative and unique ginger oil products
Major manufacturers of ginger oil are focusing on acquisitions, mergers, and partnerships to expand their business footprints and product portfolio
Multinational companies in the ginger oil market are acquiring local and regional companies for easy availability of raw material as well as to strengthen their supply chain
Request for covid19 Impact Analysis – https://www.transparencymarketresearch.com/sample/sample.php?flag=covid19&rep_id=78250
Target Region for Ginger Oil Market
In terms of value and volume, North America is expected to dominate the ginger oil market during the forecast period. Awareness about health and wellness is increasing in North America. The demand for ginger oil is increasing in the food & beverages industry and among health-conscious consumers in North America. This market in North America is expected to grow at a CAGR of 6.2% during the forecast period.
Ginger Oil Market Players
Key players operating in ginger oil market, as profiled in the study, include

Sensient Flavors
Katyani Exports
Universal Olioresins
AOS Product Pvt. Ltd.
Phoenix Aromas (Nanjing) Co. Ltd.
Alchem International Ltd.
Kancor Industries
Frutarom
Chr. Hansen
Biomax Life Sciences Limited
Firmenich, among others