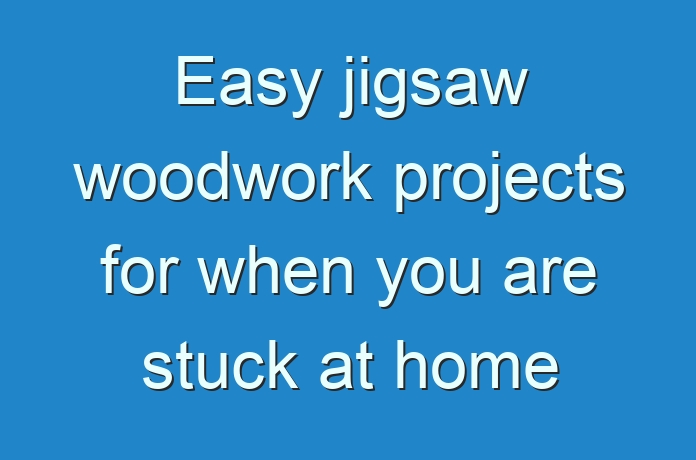 Being stuck at home can be boring unless you have some fun activities to do. Making some things with your jigsaw or other power tools can be a great and productive way to pass the time. You can also get next Christmas' presents sorted with some custom made wood products that you can proudly say that you made yourself.
The best thing about these woodworking projects is that they are easy & quick to build. Also, you can do them with not many tools, a basic cheap jigsaw will do. If you want to find a good cheap jigsaw you can buy one online you can read reviews of the best jigsaws for under $100 to help you find a jigsaw for home use. If you don't know how to use a jigsaw you should read this article about how to use a jigsaw.
Laptop stand
This is the laptop stand that is made to hold all your laptop related things. This is portable and a beautiful design that can be easily made. It can support any laptop and even has a keyboard stand. But the best part? You can do it in less than an hour with just a jigsaw.
Coffee machine pourer
This coffee machine makes an average cup in an instant and has a good looking design that is attractive. You can easily make it at home with a jigsaw or other saw.
Hexagonal shelves
Hexagonal or honeycomb shelves have become very popular in the DIY world recently. The reason is that they are designed in an interesting way, different from the norm and are incredibly easy to build. 
Modern birdhouse
This is a small good looking house is made of wood to attract birds. It looks so good in design and can be easily made at home within an hour with a jigsaw or other saw.
Floating shelf with a secret drawer
Here we have a floating shelf on a table that looks unique and you can easily hide your important thing under it. It is very useful and unique in the design. This can be easily designed at home.
Key holder in reclaimed wood
This will be seen by everyone who will enter your home as it is usually put near the front door. This looks unique and holds your keys and some important things like car keys, letters and some other things.
Speaker stands
Audiophiles are a group of people who can be extremely picky about how their speakers are displayed and used. Build these custom speaker mounts to make your speakers look and sound great.
The cord hook you need!
If you hang all your cords on one hook, you already know the problem: you have to remove a bunch of cords to get the one you want. You could have separate hooks for each rope, but that would waste too much of your valuable wall space. This cord holder is the perfect solution.
It stacks the cords to use space efficiently and allows you to instantly grab any cord without having to "dig".
Strip of magnetic knives
Storing things like knives can be difficult and can take up a lot of space. Not to mention your could cut your self whilst digging around in a draw with sharp knives in it. The solution, however, is incredibly simple. This knife strip will add a warm touch of wood and extra storage space to your kitchen. 
Invisible shelves
How would you reinvent the library? By removing the shelf of course! This project will completely reorganize your idea of ​​functional wall decoration. All you need are hook-and-loop fasteners, a few corner struts, and a few screws.