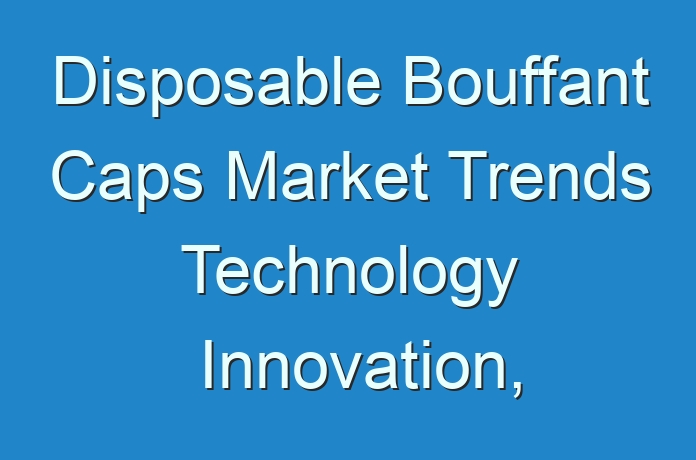 Disposable Bouffant Caps Market: An Overview
Disposable bouffant caps are also known as nurse caps or surgical caps. They are comfortable to wear, lightweight, cost-effective, easy to use, and provide effective protection against infection and product contamination. A bouffant cap is a disposable cap manufactured from non-woven 100% polypropylene material with soft thread elastic bands to keep the cap fit, comfortable and adjustable.
They have medical-grade finish quality, consisting of features like sweat absorption and shrink-resistance. One layer bouffant caps are comfortable for long durations, providing good ventilation to the head. The bouffant caps with three layers are made of heavyweight spun bound polypropylene or SMS (Spunbond/Meltblown/Spunbond) fabrics to provide additional strength, comfort, and ventilation.
The disposable bouffant caps are extremely helpful in the food industry to avoid food contamination due to hair fall during cooking and serving the food. In addition, disposable bouffant caps are beneficial in hospitals, clinics and diagnostic centres for doctors, and nurses during surgery and health checkup to protect the patient from any bacteria or viral infections. To avoid any surgical site infections during the surgeries, the Association of periOperative Registered Nurses (AORN) has recommended that all medical members should compulsorily wear bouffant caps during surgeries. The rising awareness of health and hygiene and the booming healthcare and personal care sector for disposable products is expected to propel the growth of the disposable bouffant caps market.
For More Industry Insight, Request Sample@ https://www.transparencymarketresearch.com/sample/sample.php?flag=S&rep_id=82293
Disposable Bouffant Caps Market: Dynamics
The COVID-19 outbreak has changed the mindset of the people towards health and hygiene. As a result, people have also become more health-conscious and hygiene-oriented. During the pandemic, the health workers, nurses, paramedical staff, doctors, and other medical-related people have to protect the patients from viruses, harmful bacteria, and infections, which resulted in the extensive use and increase of disposable bouffant caps products. Moreover, even disposable bouffant caps are widely used in dental clinics, medical labs, and research centres, to provide sanitary protection.
With the growing number of working employees, the demand for fast-food restaurants and ordering food from food processing outlets has increased substantially. The industrial food processing units and canteens have to serve the employees healthy and hygienic food. The people also prefer the hygienic and clean environment in the foodservice outlets, which is expected to increase the usage of disposable bouffant caps.
Disposable bouffant caps can keep the hair packed and out of the eyes during working on the machines and increase the safety and hygiene of the employees and increase the productivity of the industry. Due to its multi-faceted use and user-friendly nature, the market for disposable bouffant caps expects exponential growth.
Disposable Bouffant Caps Market: Segmentation
Disposable bouffant caps market can be segmented on the basis of material, cap size, cap structure, distribution channel, and end user.
By Material, disposable bouffant caps market can be segmented as
Plastic
Others (Cotton, non-woven fabrics, etc.)
By Cap size, disposable bouffant caps market can be segmented as
16 inch
18 inch
21 inch
24 inch
27 inch and Above
By Cap Structure, disposable bouffant caps market can be segmented as
1-layer Breathable Spunbond Fabrics
3-layer SMS (Spunbond/ Meltblown/ Spunbond) Fabrics
By Distribution Channel, disposable bouffant caps market can be segmented as
E-commerce
Medical Stores
Others