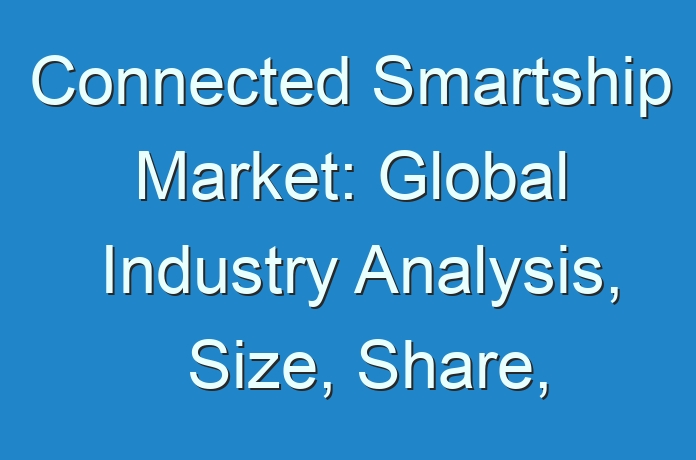 Connected Smartship: Introduction
Connected smartship enables ship owners to manage their fleets and achieve operational savings through the application of digital technologies. Connected smartship enables the owner to obtain real time information related to ocean current data, location, weather, on-board equipment, and cargo status data.
Key Drivers and Restraints of Connected Smartship Market
Rise in adoption of digital technology in the marine industry for obtaining real time information to improve efficiency of the vessel; and increase in seaborne trade activities are expected to drive the global connected smartship market. Connected smartship offers a model where vessels are tracked and managed via satellite, thus achieving streamlined reporting and optimized vessel operating efficiency (including fuel management).
Of late, demand for marine vessels has been rising due to increase in logistics, fishing, and recreational water activities, primarily in developing economies such as India, China, Mexico, and Brazil. Increase in number of marine vessel has strained the existing traffic management and control & monitoring infrastructure. This is projected to drive the demand for connected smartships during the forecast period, as ships connected to a network help onboard officers manage controlling and monitoring activities easily.
Insecure mode of data transmission, incompetency of software, and lack of investments in infrastructure are some of the factors estimated to hamper the connected smart ship market in the near future
Vessel Traffic Management Application Segment Expected to Hold Prominent Share of Global Market
The global connected smartship market can be segmented based on application, end-user  and region
Based on application, the global connected smartship market can be segregated into vessel traffic management, fleet operations & fleet health monitoring and others. The vessel traffic management segment held a major share in connected smart ship market in 2019. The Increase in demand to monitor and manage the vehicular traffic in the sea and oceanic water is anticipated to propel the demand for vessel traffic management application segment in connected smart ship market during the forecast period. Fleet operations include asset protection & inspection tasks, trade information management, and travel route decisions.
Based on end-user, the global connected smartship market can be segregated into defense and commercial. The defense segment is anticipated to expand significantly due to the increase in investment in designing of advanced and new connected submarines and ships by naval forces. Furthermore, increase in threats from terrorist organizations and pirate groups is likely to boost the defense segment of the connected smartship market during the forecast period.
Request PDF brochure:
https://www.transparencymarketresearch.com/sample/sample.php?flag=B&rep_id=77822
Asia Pacific Expected to Constitute Major Share of Global Connected Smartship Market
In terms of region, the global connected smartship market can be divided into Middle East & Africa, Latin America, Asia Pacific, Europe, and North America
Europe is projected to dominate the connected ship market during the forecast period. This can be ascribed to the rise in demand for autonomous ships and cruises in the region. Europe is one of the major consumers of marine electronic equipment, led by the presence of major ship manufacturers. The shipbuilding industry in Europe offers complex naval vessels such as dredgers (offshore vessels), submarines, mega yachts, cruises, and ferries. Hence, the region holds a strong position in the international market. Furthermore, rise in marine trade, especially through the Sea of Marmara and the Mediterranean Sea, is a major factor expected to propel the market.
The connected smartship market in Asia Pacific is expected to expand at a significant pace during the forecast period due to increase in spending in the development of shipbuilding infrastructure. Increase in shipbuilding activities in developing nations, including India, Japan, and China, is also projected to propel the market.
North America is also projected to hold vital share of the global market during the forecast period due to rise in focus on automation in the marine industry in the region
The connected smartship market in Latin America and Middle East & Africa is anticipated to expand at a sluggish pace during the forecast period
Request impact analysis on this market
https://www.transparencymarketresearch.com/sample/sample.php?flag=covid19&rep_id=77822
Key Players Operating in Global Market
Leading companies operating in the global connected smartship market include:
ABB
Emerson
GE
Hyundai Heavy Industries
MDC
KONGSBERG
Marlink
Northrop Grumman
RH Marine
Rockwell
Schneider Electric
Siemens
Wartsila
Request Methodology: