In the past few years, consumer perception regarding home automation has undergone a paradigm shift and it is no longer considered an exclusive luxury item. With time, home automation is expected to be considered as means of gaining a larger control over aspects such as saving on energy, security, and a measure of enhancing convenience. Availability of economical components for setting up a connected living room environment and rising adoption of digital devices and systems on the consumer end will spurt the demand for more of such products in the global market in the next few years.
Transparency Market Research estimates that the market will exhibit a promising 7.3% CAGR over the period between 2016 and 2024, rising from a valuation of US$518.92 bn in 2015 to US$984.51 bn by 2024.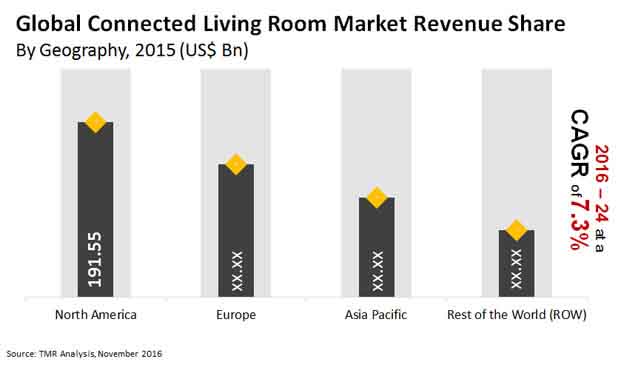 Request for a sample:
Rising Data Volumes and Connected Components to Drive Demand for Data Storage Systems
In terms of the key components used in connected living rooms, the market has been examined for sensors, thermostats, data storage systems, and communication devices. Of these, the segment of communication devices leads, accounting a marginally larger share as compared to the segment of sensors. Communication devices such as computer modems, and equipment for enabling Wi-Fi, Bluetooth, and infrared networks, and network interface cards are among the most commonly used components in connected living rooms. As a result, the segment accounts for a major chunk in the global market's revenues.
Over the forecast period, the increased use of smartphones in connected living rooms is expected to lead to the healthy growth of the communication devices segment in the global connected living room market. Although the segment will expand at a promising pace (an estimated 7.2% CAGR) over the period between 2016 and 2024, the segment will be trumped by the segment of data storage systems, which will exhibit a 7.8% CAGR over the said period.
Data storage systems for a key part of any connected digital system and are indispensable for purposes such as keeping files internally in the system, creating back-ups, transferring data to other connected devices, and data archiving. The rising number of components in connected living rooms will inevitably lead to the increased demand for additional capacity requirements and drive the market for data storage systems in the global market.
Thanks to High Rate of Affordability, Developed Regions Stay Ahead
Geographically, the North America market for connected living room dominated in 2015. High penetration rate of consumer electronics and significant funds invested by the population for undertaking timely transformation of living rooms are the key factors driving the market in the region. Moreover, North America has high adoption rate for latest technologies as consumers in the region actively invest in high-quality electronics such as smart TVs, home theaters, and wireless devices. Owing to these factors, the market in North America is expected to witness growth at a healthy pace over the forecast period as well.
Ask for brochure:
https://www.transparencymarketresearch.com/sample/sample.php?flag=B&rep_id=1933
Owing to high standards of living and rising per capita income, several countries across Europe also provide significant opportunities for the healthy development of the market for connected living room. The report states that the market is expected to experience steady growth during the forecast period, owing chiefly to the keenness of consumers to buy technologically advanced products in the category of digital and electronic gadgets.
The key players operating in the global connected living room market include Samsung Electronics Co. Ltd., Seimens AG, Eaton Corporation, Schneider Electric SE, General Electric, Emerson Electric Co., Rockwell Automation Inc., Littelfuse Inc., Toshiba Corp., and Hitachi, Ltd.