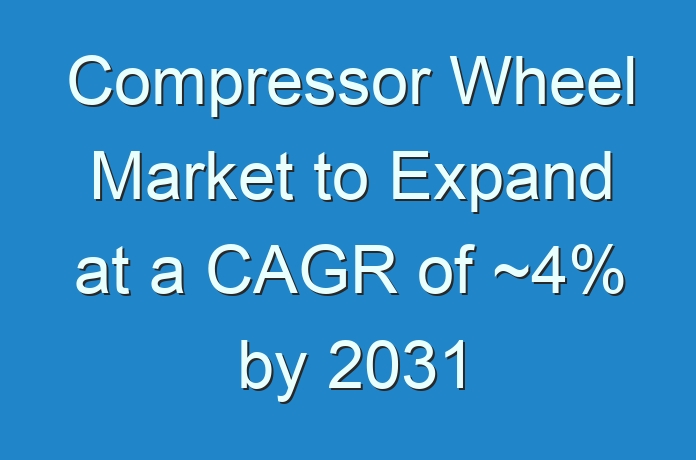 Mergers, Government Incentives to Keep Manufacturing Plants Functional During COVID-19 Crisis
The automotive industry landscape is undergoing varied scenarios in different regions of the world due to the COVID-19 pandemic. Recently, Vauxhall – the U.K.-based manufacturer of cars and vans announced to temporarily pause its car production at its Ellesmere Port plant, since the coronavirus outbreak has caused a slump in the demand. This is anticipated to affect the business of companies in the compressor wheel market.
Mergers and acquisitions are growing amid the ongoing pandemic in the compressor wheel market. Companies are asking for government support to keep manufacturing plants running. In order to offset the losses made in 2020, companies are seeking incentives from governments to make fully electric cars in the upcoming years.
Want to know the obstructions to your company's growth in future? Request a brochure @ https://www.transparencymarketresearch.com/sample/sample.php?flag=S&rep_id=74304
Variations in Design Help Decrease Load on Compressor Wheels
The compressor wheel market is projected to clock a modest CAGR of ~4% during the assessment period, as traditional designs in compressor wheels are affected by increased speeds at which the turbocharger rotates. This increases the force on the compressor wheel significantly. Hence, companies are introducing design variations such as the superback, which prevents excessive wear and tear of the exducer diameter of the compressor wheel. Superback designs help add more material to the highest stressed wheel area to cope with higher loads.
Companies in the compressor wheel market are developing exaggerated designs such as deep superback–extended tip, which facilitates greater airflow whilst providing a faster boost response at low engine speeds.
Electrification of Turbochargers with Electric Motors Improves Agility of Vehicles
The proliferation of electric turbochargers is expected to bring significant changes in the compressor wheel market. This explains why the market is projected to reach the revenue of US$ 27 Bn by the end of 2030. The future of Mercedes-AGM is turning electric with a key part of it, which focuses on the evolution of their new electric exhaust turbocharger. Such trends are translating into revenue opportunities for manufacturers in the compressor wheel market.
Exhaust gas turbochargers with integrated electric motors are predicted to improve the agility of automobiles. The electrification of the turbocharger significantly improves response from idle speed and the entire engine speed range. This is beneficial since delayed response of a conventional turbocharger is eliminated by the electric motor.
Titanium Impellers Meet Demanding Applications Compared to Aluminum Alloys
Companies in the compressor wheel market are participating in innovation challenges organized by government authorities to gain a competitive edge in the industry. They are focusing on innovations that include turbochargers, which help to increase the thermal efficiency and power density of engines. Lightweight turbocharger turbine wheels that meet or exceed the performance of automotive components have the ability of scale up in the market.
Modern commercial vehicle turbochargers are prone to very high loads of applications. Hence, companies in the compressor wheel market are increasing their production capabilities in titanium compressor impellers. Improvements in aluminum alloys are found to be insufficient as per today's demanding applications.
Looking for exclusive market insights from business experts? Request a Custom Report 
Durable Impellers with Superior Heat Dissipation, Rotational Characteristics Being Preferred
Cast compressor wheels are being highly publicized for their lightweight attributes. Ross Casting & Innovation LLC is gaining recognition for its affordable and mechanically sound compressor wheels. Manufacturers are increasing their R&D muscle to develop durable impellers with superior heat dissipation and rotational characteristics.
Apart from diesel engines, manufacturers in the compressor wheel market are increasing their focus on aerospace, marine, and watercraft industries. They are expanding their product portfolio in flatback, deep back, and superback contours. On the other hand, high-end solutions for engines using aluminum consist of milled compressor wheels. The increasing number of engine applications with high cyclical loads is a key driver for the market.
Read Our Trending Press Release Below: https://www.prnewswire.com/news-releases/rapid-industrialization-across-various-regions-to-bring-notable-growth-for-temperature–pressure-switches-market-across-forecast-period-of-2019-2027-tmr-301176071.html