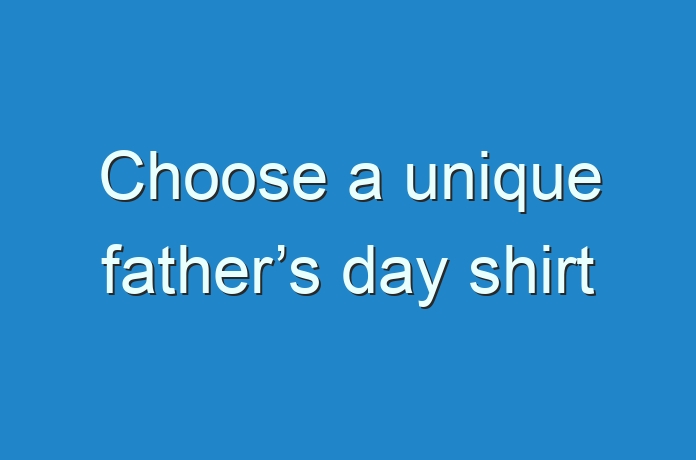 Father's day is a day for us to express our love to our fathers. Have you got any ideas of a gift for your father? A funny and thoughtful father's day shirt maybe a good idea.
What do you know about father's day?
Father's day is a day to celebrate our special people who play a fatherly role in our lives. Is that all what you know about this sweet summer holiday? Let's find out more about the real and quite touching meaning of this day before deciding a special gift to your father.
How to choose your dad a meaning gift? Source: Nepal24Hours.com
According to a widely accepted account, father's day originated more than a century ago by a woman in Spokane, Washington. This woman was Sonora Smart Dodd. After listening to a Mother's Day sermon in church, she came to an idea of honouring and celebrating her dad who was a widower and raised 6 children. She thought that it was important as well as fair to have a day to celebrate fathers.
Her idea came to action when she tried to establish an official equivalent to Mother's Day for fathers simply by seeking supports in local churches, the YMCA, shopkeepers and government officials. It worked firstly in her home of Washington and Washington became the first state to celebrate Father's Day on June 19, 1910. Since then, more and more states noticed and considered to celebrate this meaningful day. Finally, in 1924, President Calvin Coolidge decided to make that day an official day for fathers all over the nation. And today, Father's Days are celebrated on the third Sunday of June.
What to buy for your fathers in your budget?
Deciding a gift for your father seems to be not easy at all, especially when if you are still a student or if you have a limited budget. According to the National Retail Federation, 27% of dads want a gift of experience, for instance, a concert ticket, a meal or sports event. In order of most popular gifts, you can choose gift of experience, greeting cards, clothes, electronics, cologne and some personal care products, tools and home improvement supplies,…Is there any gift with reasonable price but meaningful? Father's Day shirt is what you are looking for.
I make cute babies T-shirt
I make cute babies tee. Source: Amazon.com
The tee declaring "I make cute babies" seems to be an ideal Father's Day gift for your dad. A wife can also buy it for the father of your children, too. Simple, comfortable and meaningful, it will be a perfect item for dad when he is on a picnic with your mother and your siblings.
A "dog on bike" shirt
One of the best-selling t-shirts last year is this hilarious "dog on bike" shirt. It is super soft and funny with a picture of a dog riding a bike. There are up to 15 breed designs are available, thus you can easily choose the dog that your dad love and buy him this funny tee. The designs include black lab, Boston terrier, corgi, golden retriever, french bulldog, beagle, English bulldog, Yorkie, chihuahua, jack Russell, Shih Tzu, husky, dachshund, rottweilrt and Pekingese.
World's best farter, I mean father
If someone lets off a fart during your family's dinner, you can be sure that it is your father. Just for laughs. This t-shirt will be an award certificate for your dad for his "best farter" and "best father". Giving this funny tee to your father, you will let others know that he is not only the best farter (just for fun) but he is also the best father. No matter how much gas released, the thing never changes is that he is the greatest father in the world.
This is what an amazing dad looks like
When it comes to a meaningful yet funny gift to your father, this tee says it all. Wearing this simple tee and your father can prove that he is an amazing dad, as he always is. There are 5 different colours so that you can choose the one that your father likes or the one that is suitable to his skin. These colours include black, navy, royal blue, cranberry and red.
Reel cool dad
Reel cool dad tee. Source: Teespring
Is your dad a fisherman or does he like spending hours by the lake to catch some fishes? If yes, this is a perfect t-shirt for him with the phrase "Reel Cool Dad" and a rod and a fish. This tee is also an ideal and meaningful gift to your stepdad who is not your biological dad but is willing to give you all his love. There are five colours available, including navy, royal blue, grass, brown and olive.
#1 Dad
If your dad is a fan of Star Wars' Rogue One, there is no need to hesitate but buying this piece of clothing immediately. This tee is printed the picture of Rogue One which was a massive hit in 2016, saying that people who wear it is the number 1 dad.
My favourite daughter gave me this shirt
This tee is a perfect gift for your dad on Father's Day. People often say that a daughter's first love is her dad and he will be the one showing her how she should be treated by a man. You can buy it for your awesome dad who likes to joke around with his daughters, expressing your love to your father and saying that you are his favourite daughter.
Best dad ever
Like what it says "Best dad ever", your father is the best dad in the world. Buying him this simple gift, you not only show your great love to him but also say how happy you are when having the Best Dad Ever. This will be a meaningful gift to your father and he can wear it with pride.
The walking dad
The walking dad tee. Source: Amazon.com
Inspired by the famous series "The Walking Dead", this shirt will be a perfect one for your dad, especially if he is a fan of this movie. "The Walking Dad" phrase is printed across the front along with a silhouette of a zombie dad and a baby. Not only it is meaningful but it is also unique. There are 5 different colours for you to choose, including black, navy, brown, asphalt and olive.
Father's Day is an occasion for you to express your love to your father. And a father's day t-shirt is an absolutely creative idea, not only because it is meaningful but also because it is within your limited budget and funny.