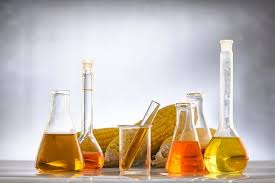 Being a renewable and clean-burning fuel, biodiesel is used on a large scale in various industries including marine, railway, automotive, power generation, mining, etc. Biodiesel is also helping various countries to decrease the dependency on foreign oil reserves as it is being produced domestically and used in a diesel engine with very little or no modification. The government across various countries are also introducing policies supporting the production of biodiesel to reduce emission and create positive economic impact.
As per the new study by Transparency Market Research (TMR), the global market for biodiesel is likely to witness substantial growth, registering 6.9% CAGR between 2017 and 2026. By 2026 end, the global market for biodiesel is projected to bring in US$ 64,497.4 million revenue.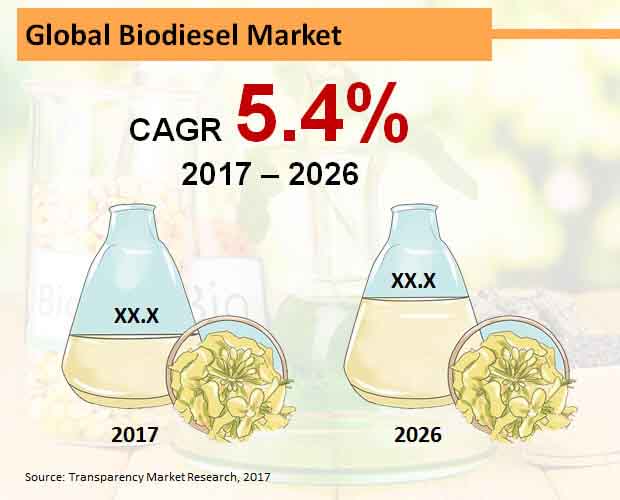 Soybean Oil to Emerge as the Largest Feedstock in the Global Market for Biodiesel
Compared to the various feedstock for biodiesel, soybean oil is likely to witness solid growth in terms of volume during 2017-2026. Soybean oil is projected to reach the volume surpassing 30,500 '000 liters by 2026 end. Soybean is one of the dominant feedstock for biodiesel. The U.S. is the largest producer of soybean and the increasing demand for biodiesel is influencing soybean farmers to produce soybean for biodiesel production.
Request Brochure @
https://www.transparencymarketresearch.com/sample/sample.php?flag=B&rep_id=291
The use of (Low Linolenic) LL soybean oil has increased in biodiesel production. Owing to properties in the oil that ensure better and high quality of biodiesel. The two main properties are CFPP and oxidative stability. Moreover, the price of soybean oil feedstock is one of the driving forces resulting in the use of soybean for biodiesel production.
REQUEST FOR COVID19 IMPACT ANALYSIS –
https://www.transparencymarketresearch.com/sample/sample.php?flag=covid19&rep_id=291
Biodiesel to Find Largest Application in Fuel
Biodiesel is likely to find the largest application in Fuel. Between 2017 and 2026, fuel is projected to account for nearly half of the volume share. Transportation fuel accounts for the major share in the global market for biodiesel. There has been an increase in demand for fuel in commercial vehicles because fuel is beneficial for the environment as it reduces greenhouse gas emission by emitting lower VOC content as compared to diesel. Moreover, biodiesel improves lubricity in fuel and keep moving parts from wearing prematurely. Biodiesel also causes far less damage to the environment as compared to the petroleum diesel in the case of spillage.
Europe to Dominate the Global Market for Biodiesel between 2017 and 2026
The European Union is the biggest producer of biodiesel, with France and Germany being the top biodiesel producers. In Europe to increase the use of biodiesel, the policy has been implemented that requires blending of biodiesel with fuels, it also includes penalties if the required rate of biodiesel in blending is not reached. Tax rebates are also being offered as an initiative for countries in Europe to continue the production of biofuels. Moreover, Europe's energy taxation regime has also resulted in the increasing use of biodiesel fuel.
Meanwhile, most of the countries in APEJ are also moving towards using biodiesel, for instance, Malaysia and Indonesia are committed to pursuing their biodiesel mandates, despite the low oil prices. The government in both the countries have also introduced a policy to support the production of biodiesel. The U.S. also accounts for the largest production of biodiesel using soybean oil. Many countries have their independent policies regarding the rebate and taxation of biodiesel production, use, and import.
Competition Tracking
Solvay SA, Mitsui, Ineos Group, Royal Dutch Shell plc, Louis Dreyfus, Bunge Limited, Wilmar International Limited, Archer Daniels Midland Company, Cargill, and TerraVia Holdings, are some of the key players in the global market for biodiesel.