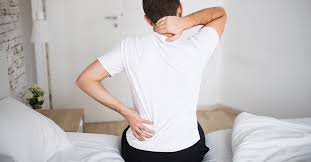 Which mattress to choose for back pain? A firm mattress? A comfortable mattress for the back? Or even a special back pain mattress? In this guide, we will present our ranking of the best back mattresses, whether you have low back pain or in your shoulder blades.
We have found that if better bedding can provide better sleep and reduce back pain, it does not replace medical treatment. In case of chronic back pain, it is strongly recommended to consult a health professional or a back specialist.
Top 5 mattresses for back pain
So what is the bets firm mattress for back pain? As with all our selections, we have grouped together for you the best choices from our editorial staff, classified according to different criteria and questions asked by readers with back pain. Here are our 5 favorite mattresses against back pain:
Hybrid for back pain – Simba Hybrid
Relieves pressure points – Emma Original
Lower back pain – Hypnia Wellbeing Supreme
Targeted support – Casper
Spinal alignment – Eve Classic
Also find at the end of this article a buying guide for how to choose your mattress for back pain. We will detail the most important criteria of a mattress for people who sleep on the back, as well as for those who have low back pain and other back pain. For more information, go to the bottom of the page to view this buying guide.
Hybrid for Backache – Simba Hybrid
The best brands of back mattresses are those that combine softness and firmness for quality support. These beds gently wrap the curves of the body and effectively remove pressure points, without sinking too far. Our favorite back pain mattress, the Simba Hybrid, has an innovative combination of several technologies that provides ideal support for sleepers.
The Simba mattress is a hybrid spring mattress composed of 5 comfort layers, including one of 2,500 conical pocket springs and one with shape memory. It offers a soft reception and support that is firm enough to keep the spine properly aligned. This hybrid composition, truly unique on the market, makes a strong impression on us for chronic back pain. Its superior ventilation is also a strong point for people who tend to get too hot at night.
Simba offers delivery and return in the event of dissatisfaction, as well as a 100-day trial period. The mattress is guaranteed for 10 years.
Recommended for:
Back pain
Those who want to sleep without being disturbed by the movements of the other
Sleepers who prefer softer mattresses
Sleep cool
Relieves Pressure Points – Emma Original
The most awarded mattress in Europe and the best choice UFC Que Choisir 2019, the Emma Original mattress is very effective against back pain. Its balanced firmness (6.5 / 10) is favored by a majority of sleepers, regardless of the sleeping position. Composed of 3 complementary layers of foam, including a memory foam, it relieves pressure points optimally and allows you to sleep comfortably.
Thanks to its point-to-point driving technology, the mattress adapts perfectly to the pressure that the body exerts on it. The spine thus remains aligned throughout the night. Its excellent sleeping independence makes it possible to avoid feeling the movements of the other when sleeping as a couple.
Emma offers 100 nights of trial at home for all of her mattresses, as well as a 10 year warranty. Delivery and return in the event of dissatisfaction are completely free.
Recommended for:
All types of sleepers (small, medium and large)
All sleep positions (back, stomach, side)
Back pain
Value for money
Lower Back Pain – Supreme Well Being Hypnia
The Hypnia Supreme Wellbeing model is our favorite lumbar back pain mattress. It consists of 3 different layers, including one with pocket springs. Its hybrid composition effectively relieves back pain, especially lower back pain. Rather firm (7.5 / 10), this bed is balanced by a layer of comfort in viscoelastic foam which offers a soft welcome to sleepers.
Its soul in pocket springs effectively supports the whole and provides quality support, even on the sides. Combined with its bamboo fiber cover with naturally breathable properties, it provides optimal ventilation for the mattress. This is an interesting point for sleepers who tend to sweat during the night.
Guaranteed 15 years, this high-end luxury mattress has materials that allow it to be very durable over time. Its delivery is free and its return possible for 120 days without charge.
Recommended for:
All types of sleepers (small, medium and large)
Sleep on your stomach and back
Couples
Back pain
Targeted Support – Le Casper
The Casper mattress combines 4 different layers of foam, including one with memory foam, to create a dynamic sleeping surface ideal for sleeping on your back. Both firm and plump, it is suitable for all types of sleepers, regardless of the preferred sleep position or size.
A little firmer than the average (7.5 / 10), the Casper remains balanced in terms of firmness. This level of firmness is often appreciated by people for good back support during their sleep. In addition, the mattress has a unique targeted support technology. This means that it is firmer at the pelvis and more flexible at the shoulders. This technology guarantees a more natural alignment of the spine, as well as better overall comfort.
The Casper mattress comes with a 100-day trial period and a 10-year warranty. Its delivery and return are completely free.
Recommended for:
All types of sleepers (small, medium and large)
Couples
Back pain
For the Spine – Eve Classic
Last year, Eve changed the composition of her Classic model by changing the two upper layers of foam. Firmer than the old version, it now has a very balanced firmness (7/10). Its upper layer of high resilience foam provides bounce and comfort, while the shape memory layer effectively removes pressure points.
Thanks to its medium firmness and the plumpness of the foam used, the Eve Classic mattress is ideal for all types of sleepers. It provides optimal support of the spine in its most natural position, whether you sleep on your back, on your stomach or on your side. In addition, its 7 comfort zones and its layer of memory foam help relieve pressure points.
The Eve Classic mattress comes with a guarantee valid for 10 years. Its delivery is free and its return possible for 100 days without charge.
Recommended for:
All types of sleepers (stomach, back, side)
Easily change position
Back pain
Buying guide – How to choose a mattress for back pain?
Note: the articles on the Sleeps site are not written by health professionals. Under no circumstances can we provide you with medical advice. We invite you to consult a doctor or a back specialist to optimize your sleep. To find out how to take care of your back, do not hesitate to consult the files on the Santé Magazine site, which contain a lot of serious and practical advice.
Support for low back pain
Low back pain – or lower back pain – can quickly turn your nights into nightmares. To recover well, it is essential to find a mattress that offers quality support. Again, we are not health specialists. Nevertheless, you can find below our impressions and advice for choosing your mattress for back pain.
First of all, it is important to emphasize that maintenance and firmness are two very distinct elements. A mattress can be flexible but have good support. Likewise, just because a mattress is firm does not mean that it will stay in place. In any case, the best mattress for back pain should be able to naturally accompany the movements and curvatures of the body, while keeping the spine aligned.
Also be careful not to confuse firm mattress and hard mattress. Indeed, comfort is as important as the correct alignment of the spine. If the mattress creates hyperpressures on the hips and shoulders, it may wake up back pain, thus canceling out the benefits of good support. The best back mattresses should keep the spine aligned when lying on it, while still being comfortable enough.