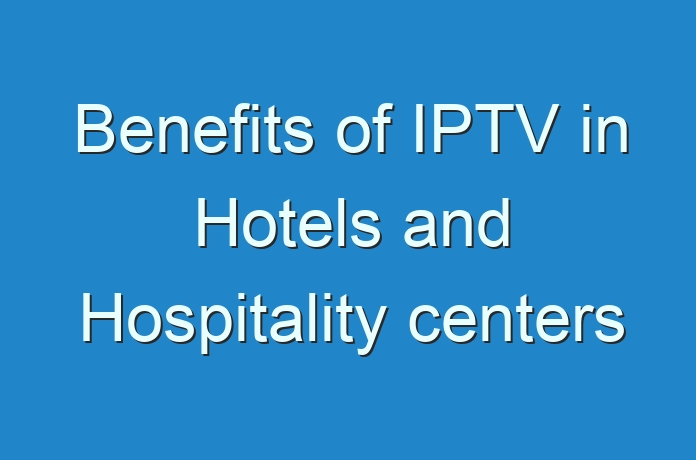 What is an IPTV?
IPTV stands for Internet Protocol Television that uses a private or public internet network to transfer the video content unlike a cable or satellite television. There will be a content head that stores all the video content. When a user requests for a program or video, it encodes the content into small data packets and send it over to telecast. An example for IPTV service can be a Swedish iptv that provides services for people in Sweden. Although it is based on Sweden, you can watch channels from all over the world. Apart from television programs, you can use IPTV for personal broadcasting such as inter-property services like guiding people inside a hotel, advertisement videos, etc.
IPTV for business
If you own a hotel or a resort, you would be looking for ways to satisfy your customers in every way possible. You should guide them with proper information, entertain them in some ways, show them your facilities and capabilities, and a lot more. IPTV installation has made it easy to do all these things with a single connection. Some of the benefits of IPTV systems in hotels and other accommodation centers are listed below.
Entertainment
More people will like to watch their favorite movies and tv shows while they rest in the hotel. It will be a great way to satisfy your customers by entertaining them with movies, video-on-demand services, and other shows through an IPTV. With an IPTV, you need not worry about the timings of the traditional broadcasters. Your customers can watch their favorite shows whenever they want. Since it is an on-demand system, they can watch whatever they like. This will increase your customer satisfaction and hence your ratings. You can also stream content made especially for making the hotel customers buy them, and can get an additional income.
Guide your customers and showcase your facilities
Your hotel or resort may have a beautiful swimming pool. What if the customer does not know it at all? Could you afford a spa without daily customers in your hotel? You can use these IPTV channels to showcase these facilities in every room of your hotel. Using these, they will get to know about your services and even get tempted to try them out. You can use these systems to guide your guests inside your hotel.
City guides
Most of your guests will be new to the town. So, you can increase your customer satisfaction by using these IPTV channels to guide them to explore the city. City guides in visual format will help your guests to narrow down their searches in the new city.
Advertising
What would be the reason for most of the hotel stays? It would be to explore the city. You may use these IPTV channels to advertise top tourist spots and centers in your locality. There will be theme parks, museums, waterfalls, etc. Many tourism companies will come forward to advertise their services to your guests. You can also use these services to promote your additional upgrades and facilities if any.