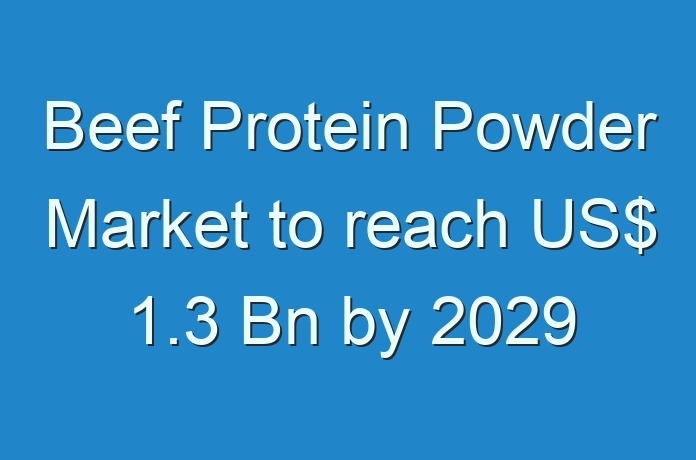 Beef Protein Powder Market: An Excellent Alternative for Bone Broth
Beef protein powder mimics the nutrient profile of bone broth. Bone broth is made from meat, poultry, and fish bones, and provides concentrated healing. However, consumers have an undesirable feeling towards the whole process of making bone broth, as it requires time, patience, and hours of simmering the bones and meat.
The beef protein powder market is anticipated to grow at a CAGR of ~6%, to reach a value of ~US$ 1.3 Bn by 2029. In the food and nutrition landscape, consumers are getting attracted to the beef protein powder market, as this powder doesn't require the tedious making of bone broth. It has similar nutrient profile like bone broth, and high amounts of collagen-specific amino acids. Beef-based collagen supplements support skin health and slow down the aging process.
The outlook of the beef protein powder market also looks positive since beef protein powder is highly recommended for consumers who aim to gain complete proteins from a paleo diet. This powder acts as an effective alternative for regular-day dairy products and legumes, and is also beneficial to individuals who want to consume beef protein without eating meat.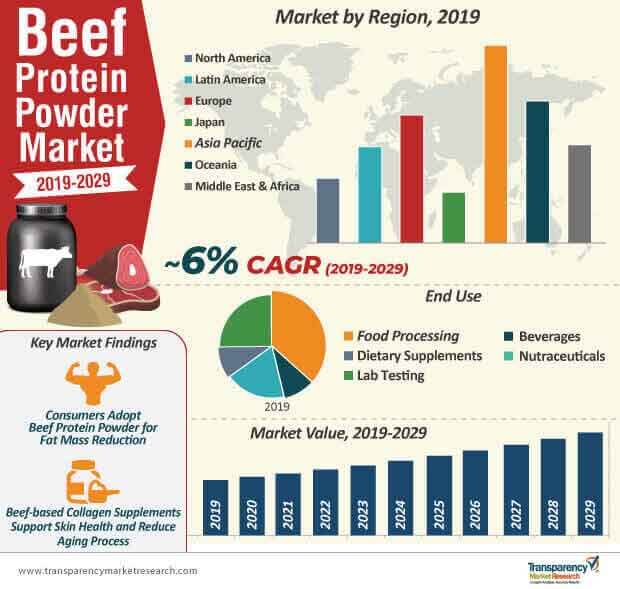 To understand how our report can bring difference to your business strategy, Ask for a brochure
Beef Protein Powder Market: Novelty Factor of Beef Protein Beneficial in Resistance Training and Vitamin Deficiencies
The impressive amino acid profile of beef protein powder is gaining consumer attention for increased muscle mass and fat loss. Compared to placebos, beef-based collagen peptide supplements combined with resistance training helps develop lean mass and strength, especially in elderly men. Since beef protein powder contains similar proportion of essential amino acids found in human the skeletal muscle, it is beneficial in acquiring a favorable body composition, thus contributing to the impressive growth of the beef protein powder market.
REQUEST FOR COVID19 IMPACT ANALYSIS –
https://www.transparencymarketresearch.com/sample/sample.php?flag=covid19&rep_id=73147
Beef protein powder also has higher protein content as compared to whey protein supplements and carbohydrates. This powder is highly recommended for individuals who combine resistance training with cardio sessions, as the beef protein isolate in supplements helps increase lean mass. Beef protein prevents muscle breakdown in individuals undergoing intense triathlon training. This powder boosts ferritin concentrations and leverages the iron status in athletes, which is less likely with the consumption of whey protein and carbohydrate sources.
Hydrolyzed beef protein is being consumed in shakes post workouts, which benefits consumers with extra zinc, folic acid, iron, and vitamin B12 (Cobalamin). Beef protein powder shakes help combat vitamin and mineral deficiencies commonly observed in athletes, which adds further value to increased muscle mass. All these factors are contributing to the growth of the beef protein powder market.
Request a sample to get extensive insights into the Beef Protein Powder market
Beef Protein Powder Market: Gluten-free and Sugar-free attributes Win over Competition with Whey Protein
Although beef protein powder serves as a powerhouse of proteins, the isolate and hydrolysate content in whey protein supplements is much higher as compared to beef protein. This is why consumers opt for whey protein to achieve improved digestion and support their immune system. Also, beef protein isolate contains lower bioavailability and lower leucine content as compared to whey protein. Whey protein tastes better than beef protein and provides better texture in shakes mixed with milk or water.
To overcome its limitations, beef protein powder market players are creating more awareness about the gluten-free and sugar-free attributes of beef protein. The consumption of beef protein isolate leads to minor side effects as compared to other protein powders, and is becoming more popular amongst lactose-intolerant consumers. Thus, beef protein provides value for money for individuals due to its high protein and less carbohydrate & fat content.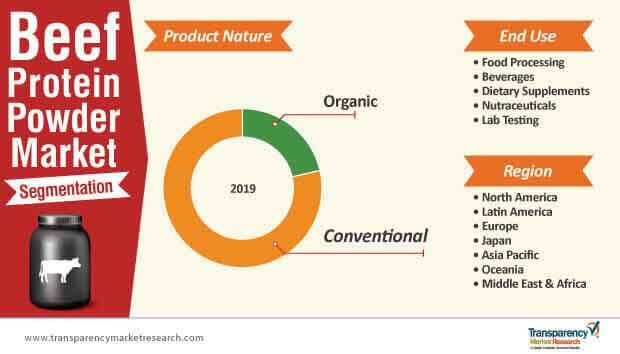 Stuck in a neck-to-neck competition with other brands? Request a custom report on "Beef Protein Powder market"
Beef Protein Powder Market:Analysts' Viewpoint
A comprehensive outlook of the beef protein powder market has been illustrated by the analysts of Transparency Market Research, who opine that, beef protein powder has high growth potential in food processing and dietary supplements, and supports improved research and development efforts for lab testing. A lot of bodybuilders and athletes opt for beef protein supplements, since it serves as a muscle-building protein. However, market players might come across tough competition with whey and casein protein powder due to their advantage regarding better immunity and taste. Stakeholders in the beef protein powder market can generate increased demand by creating awareness regarding the minor side effects it has on lactose-intolerant consumers, and how it helps reduce the intake of fat and cholesterol.
According to Transparency Market Research's latest market report on the beef protein powder market for the historical period of 2014-2018 and forecast period of 2019-2029, globally, revenue generated by the beef protein powder market has been estimated to reach ~700 million in 2019, and expected to expand at a CAGR of ~6% in terms of value throughout the forecast period.
Growing Consumption of Dietary Supplements Propelling Beef Protein Powder Demand
Any product that is intended to supplement the diet and has one or more dietary ingredients is termed as a dietary supplement. An increase in consciousness about diet among consumers has boosted the market growth of dietary supplements. Due to hectic lifestyles and irregular food habits, the demand for dietary supplements is increasing these days.
The United States has the highest number of dietary supplement consumers; the main reason behind this being busy lifestyles and inappropriate food habits.
According to the FAO data of meat production share, in 2017, the Americas stood at number one position with a 48.2% production share, whereas, Europe stood at number two with 20.9%. Asia held the third position with only 18.4% share across the globe.
Beef Protein Powder Market: Popularity of Organic and Natural Food Ingredients
Organic products are produced without using synthetic or chemical compounds. These are free from GMOs as they are produced using natural ingredients. Increasing awareness about health and focus on natural diets have accelerated the market for organic meats such as beef and related products.
For organic beef products, the livestock should be fed 100% organic/naturally grown feed. The use of synthetic growth promoters such as synthetic appetizers and other compounds should be avoided.
Beef Protein Powder Market – Profitable Business Opportunity
TMR's market research on the beef protein powder market finds that, the beef protein powder market is expected to be valued at ~US$ 700 Mn in 2019, and is estimated to record ~5% Y-o-Y growth in 2019. The beef protein powder market is expected to be a profitable business, owing to increasing demand from end-use industries.
Growing concerns regarding the quality of food products and increasing consciousness about well-being are the main reasons why consumers prefer using organic products. Organic products contain fewer pesticides and have negligible or no chemicals or additives. Hence, consuming them provides physical as well as mental fitness to consumers. The growing fitness trend among consumers is pushing manufacturers to include organic products in their product offerings. Due to such demand, manufacturers of beef protein powder are expected to witness significant market opportunity if they introduce organic beef protein powder into the consumer-driven market.
Change in Perception of Beef Protein Powder
The increasing shift in consumer preference for natural food products in daily diets is anticipated to drive the growth of the beef protein powder market. Consumers are getting more inclined towards products that are simple and contain less or no artificial ingredients. As such manufacturers in the beef protein powder market need to review and update their product offerings, and find ways to substitute or eliminate elements that have an undesirable effects on consumers.
With the help of e-Commerce, nowadays, consumers directly order products that they desire from the manufacturer, and payment is done with the help of the Internet. Increasing awareness about science and technology has also increased the market demand for beef protein powder. With the help of e-Commerce, beef protein powder manufacturers are expanding their markets internationally. e-Commerce provides better customer services, simplifies the business process, and makes it faster and more efficient.
Growing urbanization and hectic lifestyles cause various health issues and diseases. Improper food habits cause various gastrointestinal disorders among consumers. Due to all these reasons, the market demand for beef protein powder is increasing. Consumers are using preventive healthcare to avoid the onset of diseases. Due to these multi-purpose uses, the demand for beef protein powder is increasing day by day.
Due to an increase in awareness about health and fitness, the demand for beef protein powder, as a dietary supplement, is increasing rapidly. Also, beef protein powder helps in the reduction of fats, and finds application in weight management supplements. Due to an increase in health consciousness, the demand for beef protein-based nutraceutical products is increasing, globally. Hence, nutraceutical and supplement manufacturers such as ABH Pharma Inc., Proliant Inc., etc., have increased the production of beef-based health and dietary supplements.
Beef Protein Powder Market: Growing Demand for Proteinaceous Products across the Globe
Beef protein powder is an enriched source of 9 essential amino acids such as phenylalanine, lysine, tryptophan, methionine, threonine, valine, leucine, isoleucine, and histidine.
Other components such as zinc, selenium, iron, vitamin (B6 & B12), niacin, and phosphorus are also present in beef protein powder, due to which, it has multiple uses in several end-use industries. Beef protein powder is beneficial for those suffering from obesity. Obesity is one of the major health issues across the globe, and its causes include consuming junk food, inadequate sleep, etc., which are responsible for improper metabolism. According to a global report by WHO, 13% of the adult population was suffering from obesity in the year 2016. All these factors are driving the growth of the market for beef protein powder products.
Beef Protein Powder: Market Players
Key players operating in the beef protein powder market, as profiled in the study, include
Neogen Food Safety
Thermo Fisher Scientific Inc
Bio Basic Inc.
Griffith Foods International Inc.
JBS Global (UK) Ltd
Continental Foods (Liebig)
Colin Ingrédients
Activ International, Inc. (Givaudan)
BD Biosciences
ARIAKE JAPAN Co., Ltd.
A S Harrison & Co Pty Limited
Meioh Bussan Co., Ltd.
Nikken Foods Co., Ltd.
RP ROYAL DISTRIBUTION, SL, NH Foods Ltd.
HiMedia Laboratories
Ottogi Co., Ltd
ABH Pharma Inc.
Hardy Diagnostics
Proliant Inc.
​among others.