The typical Indian summer is already on.  So it's time to have footwear that allows the feet to breathe more. But we are forced to spend most of our time at home this summer. So footwear that is suitable both for indoor and outdoor are most suitable this season.  We need a pair of comfortable sandals/shoes that we can wear around the house as well as walk the dog or run small errands around. Home fashion is what we are looking for this summer. Staying home has optimized our wardrobe and fashion requirements to two things, sitting, mainly work from home, and shuffling about. So no wonder, one of the most searched premium footwear brands online is BIRKENSTOCK.
Why BIRKENSTOCK? How BIRKENSTOCK is Suitable?
Due to many benefits, BIRKENSTOCK is one of the most popular premium footwear brands in the summer. Dating back to a couple of centuries, BIRKENSTOCK, the German-crafted footwear is one of the most trusted brands in footwear industry.  It provides super comfort and style simultaneously because of all the premium materials used while making these sandals & shoes.  Nubuck leather, suede, BirkoFlor – a non-leather premium material, high-grade leather, etc is used to make the uppers, while the proprietary foot bed is uniquely designed for maximum comfort. These foot beds are one of the main features of any BIRKENSTOCK footwear.  They are anatomically designed insoles to provide maximum comfort and support to the feet.  The added cushioning and shock-absorbing soles play an important role in making BIRKENSTOCK immensely comfortable for all day long. Moreover, BIRKENSTOCK sandals are available in multiple colours and are extremely chic and stylish summer wear regardless of your age. They will complement all those summer outfits in your wardrobe and just go with both a pair of sweatpants at home and tailored trousers for a more formal outing.
Are you still undecided about a pair of BIRKENSTOCK for you this summer? Let's have a look at some of the most suitable designs.
Popular Arizona
Unsurprisingly, one of the most popular Birkenstock's is Arizona sandals, a sandal that is German-engineered for function, support, style and comfort. With two adjustable straps, an arch-supporting foot bed, and plenty of material options—from light waterproof EVA to premium suede—the unisex sandal is the ideal footwear for the summers. It's comfortable. It's practical. It's no fuss.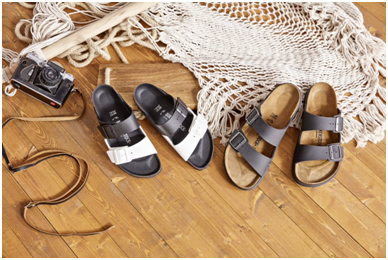 The water-friendly EVA
These super-light waterproof sandals made from EVA are soft and flexible, suitable for the whole family. These washable sandals are perfect for home, by the pool, and more. EVA sandals come in multiple styles. However, all the EVA styles have the signature molded foot bed from BIRKENSTOCK for maximum comfort. Over time they mold perfectly with the feet. Some of the popular EVA styles are Arizona, Gizeh, Barbados, Honululu, etc. Pick the one that suits you the best.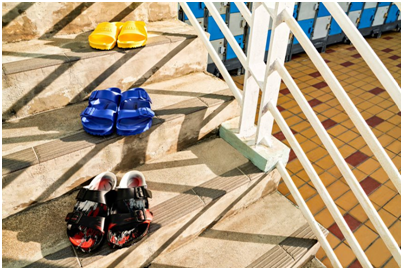 Sporty Tema
Sporty and casual sandal Tema is one of the refreshing styles from BIRKENSTOCK.  These everyday wear sandals with hook and loop single strap, are just right for all those summer casuals.  Moreover, the adjustable upper provides that perfect fit. Extremely comfortable with the original BIRKENSTOCK foot bed, this style is suitable for wearing all day long. The upper is made of microfiber and polyurethane combination and comes in attractive summer-ready colours. The colour coordinated foot bed sports a microfiber lining too.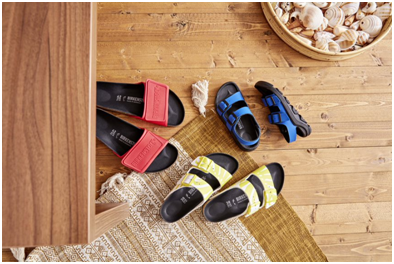 Final Words
BIRKENSTOCK sandals and casual sneakers are footwear that is the right summer allure. Go anywhere, or even if nowhere, wear anything, but don't forget your BIRKENSTOCKs!