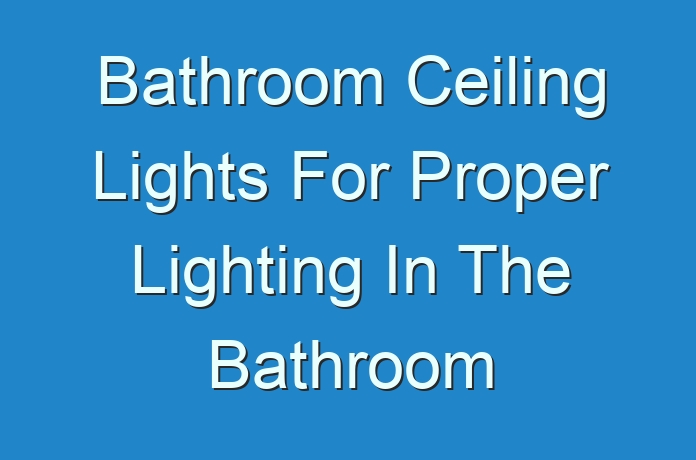 While the bathroom is one of the most important areas of a home, bathroom ceiling lights are maybe the most important installations that go in any bathroom. While there is a decorative aspect to it, there is also a highly function aspect that should not be easily dismissed.
Obviously the bathroom is used for many different things. Morning grooming, shaving, brushing your teeth, taking shower, or the afternoon or evening relaxing in a hot bath with a good book in your hands, all these are done in the bathroom.
And let's just consider some of the things you do in your bathroom where proper lighting is important.
First of all, morning grooming is crucial with best lighting. When you shave, put on your make-up or even dry and brush your hair, without good illumination, you might either cut yourself, or do a wrong make-up job or end up with your hair all frizzy and simply badly done. Not a good way to start the morning.
The afternoon and evening hours are also very relevant to proper lighting. Some people like to read or make crossword puzzles while sitting on the toilet. And if you find yourself grinning now, trust me, there are thousands of people with this past time enjoyment.
And let's not forget the ladies (mostly) who like to enjoy a good book while relaxing in a hot bath tub. If you don't have good lighting, you can't really see what you're reading and soon you loose interest of being there. Some people also like to simply sit in the bathtub and simply relax with a glass of wine nearby. Here a muted and soft lighting that does not glare in your face is important.
When taking showers, you have an overhead lighting that will give just enough amount of light to see what you're doing without adding that dreaded glare in your eyes. However coming back to the grooming part, maybe the area that needs the best lighting is the vanity or the mirror. It is very easy to install bathroom ceiling lights that remove those dark shadows formed by bad lighting from around your eyes and your face.
Maybe one of the best types of ceiling lights for the bathroom is the one that has a dimmer switch, as this will let you get the right ambient in the room for any task you are doing. This way you can achieve a strong task lighting or a soft ambient lighting with just a flicker of your fingers on the switch.
Currently there are many different types of ceiling light fixtures for the bathroom area, and the one you will end up buying strongly depends on your bathroom style, preferences and of course your budget. And yes, this brings me to the decorative aspect of the bathroom lighting. Ceiling lights are not only for task or mood illumination setting, but they can also bring out the best in this place. With all the time one spends here, who said that the bathroom should be a boring and bland place? It can easily become a cozy nook that everybody will enjoy spending their time in – time that they're spending anyway, so why not make the best out of it?
Some of the best types of bathroom ceiling lights are the flush mount lights that are sitting unobstrusively on the ceiling without taking much space. They are very waterproof and this is one reason why they are very popular with many homeowners. They also give the bathroom a modern and sleek, elegant look. Of course if you rather prefer to go for the bathroom semi-flush ceiling lights, this is also very easily achievable. There are many different types, colors and sizes to choose from, and they are made of a wide variety of materials such as glass, frosted glass or heavy plastic, with a satin nickel finish, polished brass or oil rubbed bronze among them being the most popular ones.
If you want to achieve an even better lighting, you can easily combine bathroom ceiling lights with wall lights for added effect.
And finally I'd like to suggest a very modern light fixture: using bathroom ceiling fan lights. This will add the benefit of using a fan to eliminate any nasty smells from your bathroom and also add in fresh air that is so needed to keep moisture, mold and mildew away from your walls and doors.