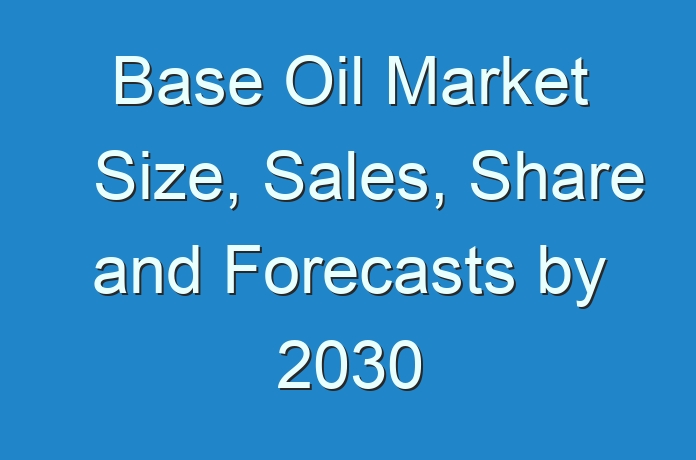 Base Oils Fortified with New Additive Combinations for Excellent Anti-wear Performance
There is a growing demand for ultra-high viscosity lubricants that are extensively used in heavily loaded, low speed open gears. This is evident since industrial oils are estimated to account for the second-highest revenue among all applications in the base oil market, where the global value is anticipated to reach ~US$ 42 Bn by the end of 2030. Hence, companies in the base oil market are increasing their production capabilities in supreme performance gear oils. For instance, global leader in bike and car engine oils is increasing its portfolio in lubricants and gear oils with Mobil SHC Gear 22M and 46M that are produced using proprietary additive combinations.
Base oils are being fortified with new additive combinations to deploy anti-wear performance and excellent gear scuffing protection in shock load situations. Such base oils are gaining increased acceptance by OEMs for customer field tests and other commercial end-use cases.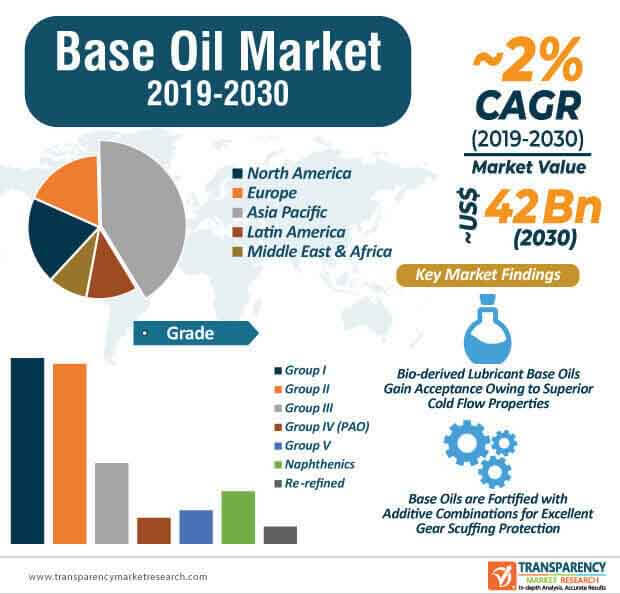 To gauge the scope of customization in our reports Ask for a Sample
Non-food Biomass Products Reduce Costs Associated with Making Renewable Lubricants
Lubricants are virtually used in most machines such as refrigerator compressors, engine gears, wind turbines, and the likes. Companies in the base oil market are increasing the availability of lubricants in crucial agricultural equipment, industrial machinery as well as home appliances to ensure proper functioning of machines. However, several base oils and lubricants are made from petroleum, which is a nonrenewable feedstock, resulting in increased greenhouse gas emissions. This explains why the base oil market is expected to progress at a sluggish CAGR of ~2% during the forecast period. Hence, researchers are tapping opportunities in renewable lubricants that are made from products such as wood, switchgrass, and sustainable organic wastes.
Get an idea about the offerings of our report from Report Brochure
Scientists at the Catalysis Center for Energy Innovation (CCEI) in the University of Delaware are innovating with non-food biomass products to reduce costs associated with the process of making renewable base oils and lubricants. Thus, companies should collaborate with scientists to explore new processes using fatty acids found in vegetable oils and animals.
Shipments Arrive While Plants Function at Low Operating Costs Due to Coronavirus Outbreak
The base oil market in China is bearing the brunt of coronavirus (COVID-19) restrictions, while companies in other countries are taking cautious steps. Base oils editors in Independent Commodity Intelligence Services (ICIS) opine that manufacturing plants in China have been temporarily shut as a direct consequence of the coronavirus outbreak. As such, trade activities in the Middle East have been limited, while local oil refiners of the base oil market in China have been forced to lower their operating costs. This has been carried out to reduce the pressure on inventories due to transportation restrictions in certain provinces of China.
On the other hand, some refiners in China are functioning in full capacities to capitalizing on the downtick in crude oil prices. Lowered prices of crude oil are generating increased sales, thus helping to revive economic growth. As such, there have been no delays in shipments to China from Asian suppliers. Analysts at Transparency Market Research (TMR) anticipate that companies in the Middle East will not face major setback due to coronavirus however, with a slight increase in Group I prices due to tight supply chain restrictions out of Iran.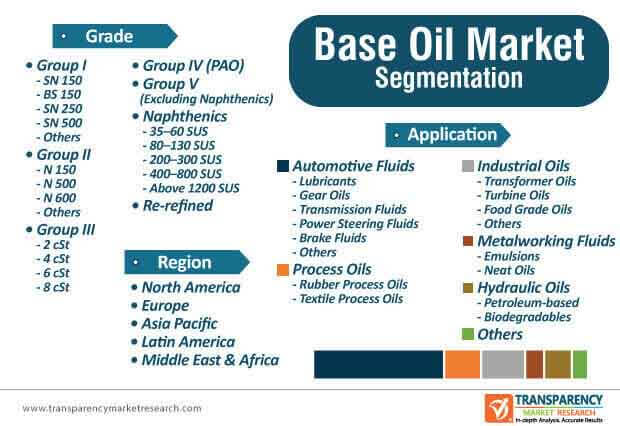 Looking for Regional Analysis or Competitive Landscape in Base Oil Market , ask for a customized report 
Analysts' Viewpoint
European Group 1 exporters are widening their price range, while some exporters are offering base oils at discounted rates in order to encourage sales amidst the coronavirus pandemic. On the other hand, scientists are increasing efforts to lower processing costs associated with renewable lubricants by developing efficient catalytic reaction channels for the creation of lubricants with tunable characteristics. 
Apart from automotive and industrial oils, manufacturers in the base oil market are tapping into opportunities in the bio-lubricant industry of the food sector. However, manufacturers need to meet stringent safety and purity specifications to introduce food grade lubricants in direct consumer-use products. Hence, manufacturers should increase the availability of H1, H2, and H3 food grade lubricants that are gaining acceptance in food processing environments.
Base Oil Market: Overview
Base oils are lubricant-grade oils that are produced either through crude oil refining (for instance, mineral base oil) or chemical synthesis processes (for instance, synthetic base oil). Depending on their chemical structure, base oils can be classified into paraffinic and naphthenic.
Base oils are generally obtained from secondary processing units in refineries. After production, base oils are sent to lubricant blending plants, where they are used for manufacture of finished lubricants.
Increase in Industrialization in Developing Economies to Drive Base Oil Market
Rapid industrialization has boosted the demand for lubricants among various end users. Growth of sectors such as industrial machinery, automotive, and energy in developing economies, such as China, India, Brazil, and South Africa is driving the demand for lubricants and its derivatives such as finished lubricants.
Demand for eco-friendly synthetic hydraulic oils or hydraulic fluids has been increasing, owing to depletion of crude oil levels and rise in focus on protection of the environment. These oils are employed in various end use industries such as aviation, manufacturing, construction, and automotive. Hydraulic fluids transfer power; perform lubrication; prevent corrosion and wear of machines; and act as a heat transfer medium. Rapid industrialization and mechanization of industries is boosting the demand for hydraulic fluids. This, in turn, is driving the global base oil market.
More Trending Reports by Transparency Market Research – http://www.prnewswire.com/news-releases/rising-demand-for-glass-bottles-in-food-and-beverage-sector-to-drive-us4-6-bn-valuation-for-recycled-glass-market–transparency-market-research-301009727.html
Increase in Demand for Group II and III Base Oils for Manufacture of Lubricants Boosts Base Oil Market
Over the last few years, the demand for Group I base oils has been decreasing continuously and the production capacity for Group II, III, and IV oils has been rising rapidly. According to Lube-tech, a Europe-based lubricant industry magazine, the global production of paraffinic Group I base oil declined to 54% in 2012 from 60% in 2010. Decrease in the demand for Group I base oils is estimated to create substantial opportunities for lubricant manufacturers in the near future.
Demand for high-solvency power-based oils is high in various industrial applications, where solvency plays an important role. The lubricant industry needs high viscosity as well as high solvency due to requirement for high additive load in formulations. The solvency power of Group I paraffinic oils is low. Hence, the produced lubricant may not be able to keep the machinery free from deposits. Furthermore, it may not be able to dissolve contaminants. Group II and III base oils possess higher oxidation stability and lower sulfur content and volatility as compared to Group I base oils. Additionally, they have higher solvency power than that of Group I oils. Thus, Group II and III base oils are suitable for use in the formulation of lubricants, typically for passenger cars, heavy-duty vehicles, and automatic transmission engines. These characteristics of Group II and III base oils are likely to propel the demand for these oils during the forecast period. This, in turn, would boost the global base oil market during the forecast period.
Volatility in Prices of Crude Oil Restrains Base Oil Market
Prices of crude oil are affected by events that can potentially disrupt the supply of oil and gas. These include geopolitical and weather-related issues. Geopolitical events can create uncertainty about the demand for and supply of oil and gas. This can lead to high volatility in prices of oil and gas.
The Middle East accounts for a prominent share of the global oil & gas industry. It is a highly unstable region, due to political issues. After the price decline in 2014, prices of oil and gas have been rising steadily since 2016.
Crude oil is a raw material directly used for base oil production. Hence, price fluctuation is directly reflected in base oil prices. This has created volatility in prices of and demand for base oils and lubricants. This hampers the global base oil market.
Expansions, Acquisitions, and New Contracts in Base Oil Market
In September 2019, Repsol signed an agreement for purchase of 40% stake in United Oil Company, a Singapore-based lubricant manufacturer that produces and supplies Repsol's products in Singapore, Indonesia, Malaysia, and Vietnam. The agreement would allow the former to expand its presence in Southeast Asia, one of the world's largest and most rapidly expanding industries for lubricants.
In April 2018, Petrobras Distribuidora SA, a subsidiary of SAC Petrobras S.A., announced its plans to expand its Duque de Caixas lubricants plant in Rio de Janeiro to increase its production capacity by 55%, reaching 42 million liters per annum
In May 2017, Calumet Specialty Products Partners, L.P. launched group III base oils under the brand name of CALPAR 4GIII. The product is a high-quality paraffinic base oil manufactured by the company's in-house team of R&D and technical refining engineers. It conforms to requirements of the American Petroleum Institute (API) regarding Group-III base oils. API group III base oils have viscosity index levels of above 120 and high saturated content. The launch of the new product has broadened the company's portfolio to include Group I, Group II, Group III, Group IV, and Group V base oils.
Automotive Fluids Application to Offer Lucrative Opportunities in Base Oil Market
Based on application, the global base oil market has been segmented into automotive fluids, process oils, industrial oils, metalworking fluids, hydraulic oils, and others. The automotive fluids segment constituted a major share of the global base oil market in 2019. In the automotive industry, base oils are widely employed to manufacture lubricants. Lubricants play a vital role in automotive engine, transmission and steering mechanisms by reducing friction and heat generation. In some cases, these lubricants simultaneously cool automobile components.
Hydraulic oils is another major segment of the global base oil market. Hydraulic oils are widely used in excavators, backhoes, brakes, power steering systems, transmissions, garbage trucks, and aircraft flight control systems, as these provide superior thermal and oxidation stability, low pour points, high viscosity index, and superior heat transfer.
Request for covid19 Impact Analysis – https://www.transparencymarketresearch.com/sample/sample.php?flag=covid19&rep_id=288
Asia Pacific Dominates Base Oil Market
Asia Pacific dominated the global base oil market in 2019. The market in the region is likely to expand at a significant pace during the forecast period, due to rise in the disposable income of people, rapid growth of the automotive industry, and increase in the demand for electric vehicles in the region.
North America is the second-largest market for base oils. Demand for lubricants in the U.S. is rising moderately, due to increase in government spending to impose emission standards, rise in consumer inclination toward high-quality lubricants, and constant research in automation technologies in the field of blended lubricants in the region. Nearly 80% of harmful emissions come from manufacturing units, mines, and thermal power plants. Increase in pressure by governments for maintaining the air quality is boosting the demand for lubricants in the industrial segment of the market in the region. This, in turn, is augmenting the base oil market in North America.
Middle East & Africa held a minimal share of the global base oil market in 2019
Highly Competitive Base Oil Market
The global base oil market is highly fragmented, with the presence of a large number of local, regional and global players
Key players operating in the global base oil market are

PetroChina Company Limited
Royal Dutch Shell Plc
Nynas AB
S-OIL CORPORATION
Refinery (India) Limited
Repsol
Calumet Specialty Products Partners
 L.P
SAC Petrobras S.A.
Apar Industries Ltd.
Gulf Petrochem FZC
Resolute Oil, LLC
UniSource Energy, Inc.