Negative ramifications of the coronavirus (COVID-19) pandemic are reflecting in the automotive head-up display (HUD) market. Manufacturers have encountered a downtick in HUD sales in the past couple of months, since governments had put commute, travel, and transportation restrictions. Plant shutdowns worldwide have severely affected the sales of vehicles. As such, several European and Asia Pacific countries, such as Germany, Italy, China, and Japan are keen on resuming production activities in full force. However, new COVID-19 cases in major revenue generating countries such as India and Russia are predicted to hamper market growth.
Moreover, cash flow in the automotive head-up display (HUD) market has been severely affected due to the cancellation and postponement of global trade events.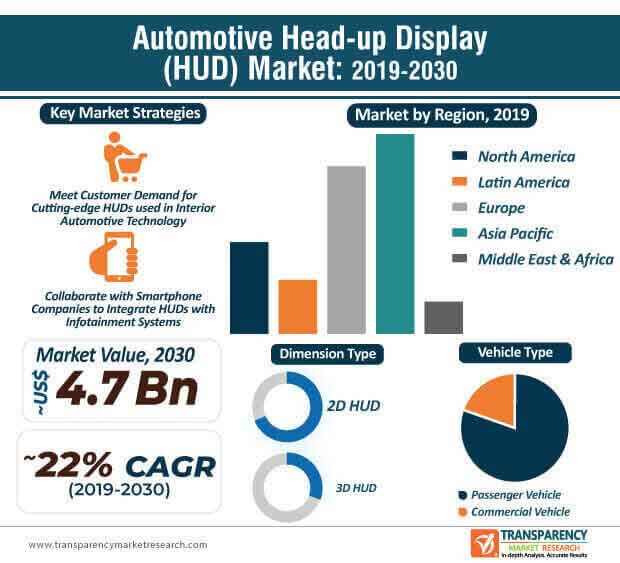 Request a sample to get extensive insights into the Automotive Head-up Display Market
Automotive Head-up Displays Form Important Aspect of Interior Automotive Technology
Automotive manufacturers are introducing reality into fiction by innovating in 2D and 3D head-up displays (HUD). HUDs have now become a reality in passenger vehicles. Companies in the automotive head-up display (HUD) market are scrambling to perfect this technology, as HUDs are the next big advancement in the interior automotive technology.
Car buyers are yet to familiarize with automotive head-up displays, since this technology is more prominent in luxury vehicles as compared to conventional vehicles. As such, the market for automotive head-up displays (HUD) is projected to surpass the value of US$ 4.7 Bn by the end of 2030. This is evident as this market in Asia Pacific is estimated to generate the highest revenue, owing to an alarmingly high number of road accidents in developing countries such as India.
HUD Manufacturers Collaborate with Smartphone Companies to Solve App Integration Issues
The automotive head-up display (HUD) market is expected to expand at an astonishing CAGR of ~22% during the assessment period. However, the cost of automotive head-up display (HUD) installation certainly pinches the pocket of customers, as many customers still rely on mobile apps for navigation and infotainment. Moreover, HUDs provide a plethora of information about speed limit and other metrics but are unable to access smartphone apps. Hence, manufacturers in the automotive head-up display (HUD) market are now turning toward Google and Apple to solve integration issues.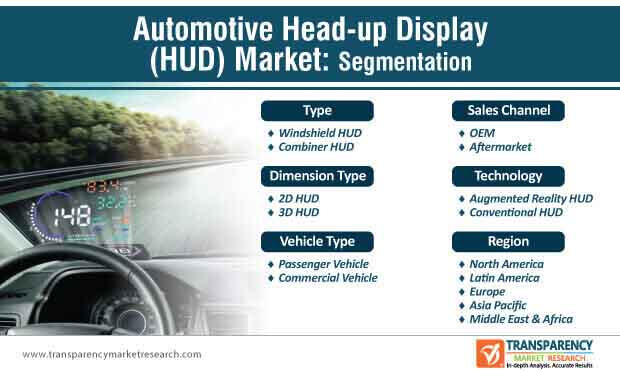 To understand how our report can bring difference to your business strategy, Ask for a brochure
Since most navigation and infotainment systems function on the antiquated technology, automotive manufacturers are increasing their production capabilities to manufacture vehicles integrated with HUDs that sync with Google Android and Apple's iOS operating systems. For instance, Navdy- an augmented reality (AR) GPS (Global Positioning System) navigation system startup, is bolstering its production to manufacture aftermarket HUD systems that can be integrated with Apple and Android smartphones.
Online Sales and Lucrative Product Return Policies Increase Product Uptake
Companies in the automotive head-up display (HUD) market are tapping into incremental opportunities through online sales to broaden their revenue streams. For instance, the Acecar HUD is listed on the Amazon e-Commerce website and is acquiring popularity for its glare-free and auto-adjustable brightness features. Innovative sales strategies such as the 12-month return policy due to dissatisfaction of HUD products is building the credibility of companies in the automotive head-up display (HUD) market.
Manufacturers are increasing their R&D muscle to develop automotive head-up displays (HUDs) that eliminate the need for reflection films. Such convenience attributes are boosting the uptake of HUDs since the information is directly projected on the windshield.
Read TMR Research Methodology at: https://www.transparencymarketresearch.com/methodology.html
Read Our Latest Press Release:
https://www.prnewswire.com/news-releases/rising-awareness-about-cleanliness-and-hygiene-across-public-places-to-sow-the-seeds-of-growth-across-the-forecast-period-of-2020-2030-tmr-301248244.html
https://www.prnewswire.com/news-releases/rapid-adoption-of-cloud-based-platforms-to-benefit-companies-in-the-global-tax-software-market-whilst-outbreak-of-covid-19-to-accelerate-use-of-digital-platforms-for-tax-filing-processes-tmr-301249303.html