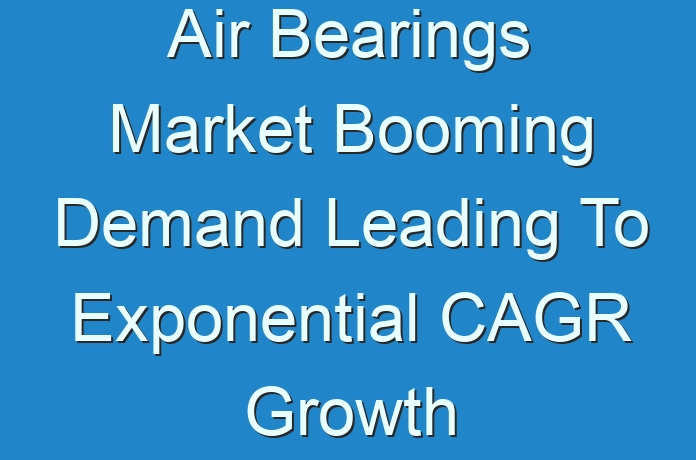 Manufacturing Activities in End Markets Witness Slowdown during Coronavirus Outbreak
Since the coronavirus pandemic is still prevalent in many parts of the world including Europe and India, business activities in the air bearing market and its related industries such as automotive and semiconductor are taking place in a staggered manner. Stakeholders are increasing their focus in essential industries including medical, wastewater management, and defense to keep economies running during the pandemic.
Companies in the air bearing market are abiding with COVID-19 guidelines in their manufacturing facilities to ensure and protect the health and safety of all employees. As such, manufacturing activities in all end markets are witnessing a slowdown due to the pandemic. Mass inoculation of vaccines is anticipated to fuel business activities and the demand for high-precision machines that make use of air bearings.
Planning to lay down future strategy? Perfect your plan with our report sample here https://www.transparencymarketresearch.com/sample/sample.php?flag=S&rep_id=31457
Improving Individual Designs in Bearings Help Overcome Limitations of High-loading Situations
The air bearing market is estimated to surpass the valuation of US$ 13.7 Bn by 2031. However, the transition toward air bearings is challenged with their load capacity and ability for damping. Hence, component manufacturers in the air bearing market are improving individual designs in air bearings to accommodate high-loading situations and provide more damping. They are increasing the availability for modern gas bearing systems by offering custom-made components that meet exact specifications of clients.
In-house designing and machining of air bearings are being preferred by customers in end-use industries such as diamond turning and grinding applications that use ultra-high precision equipment. Co-ordinate measuring machines are also fueling the demand for modern air bearings.
Flexible Web Segment Fuels Demand for Air Bearings to Avoid Contamination in Products
No friction, high precision fly height, and zero wear are popular advantages of air bearings that are grabbing the attention of end users in the flexible web segment. Flexible web applications are growing prominent in packaging, electronics, and adhesives applications. A broad range of products in the flexible web segment belongs to different materials that require stringent precision and robust manufacturing technologies to avoid contamination and damage to the products. Such specifications are translating into revenue opportunities for manufacturers in the air bearing market.
Products used in the flexible web segment are manufactured from different substrates that require air bearings in machines that are capable of operating across a variety of environments right from high-temperature conditions to cleanroom settings. Pennsylvania-based New Way Air Bearings is gaining recognition for providing gas-bearing systems that overcome unique challenges in the flexible web segment.
Looking for exclusive market insights from business experts? Buy now Report here https://www.transparencymarketresearch.com/checkout.php?rep_id=31457&ltype=S
Ultra-precision Air Bearings Enabling Reliable, Maintenance-free Operations across Industries
Innovations in air bearing spindles, rotary tables, and other complimentary equipment are contributing to the growth of the flexible web segment. ABTech Inc. – a global ultra-precision air-bearing design and manufacturing business, is enabling reliable and maintenance-free operations in the oil & gas, marine, and wastewater management applications. Industries highly dependent on sub-micron accuracies and real-time measurements such as the nanotechnology industry, photonics, optics, and life sciences are triggering the demand for air bearings used in precision material tools and high-speed machines.
Control Software Help Achieve Highest Levels of Operator Productivity
Superior position accuracy, no slip-stick phenomena, and excellent repeatability of air bearings are benefitting stakeholders in different markets such as the near-earth atmosphere, lasers, and semiconductor, among others. Companies in the air bearing market are benefitting from innovations in measurement systems such as ultra-precision air bearing-based roundness gages that are designed and manufactured in-house to deploy highest accuracy, repeatability, and reliability in operations.
In order to boost their credibility credentials and gain a competitive edge over other companies in the air bearing market, companies are providing control software and user interfaces that help to maximize ease of use for air bearings fitted in high-speed and high precision machines. These software help to simplify training for operators and allow them to achieve the highest levels of operator productivity and flexibility, thus lowering the cost of various end operations.
Air Caster Transport Facilitates Smart, Frictionless Positioning of High-tech Equipment
The air caster transport industry holds lucrative growth opportunities for stakeholders in the air bearing market. Aerofilm Systems are gaining popularity for gaining proficiency in air caster transport in order to simplify and make internal transport of heavy-duty machinery smart. Air caster transport is allowing smart transport of high-tech equipment by enabling it to float and make transport frictionless. This helps to avoid issues of floor damage, owing to high point loads of high-tech equipment. Companies in the air bearing market are capitalizing on business opportunities in air caster transport to facilitate simple, vibration-free, and precise positioning of objects in factories.
Air Bearings Enable Maintenance-free, Complete Positioning Solutions in Cleanrooms
The burgeoning growth in optical alignment, parts inspection, and torque measurement applications are grabbing the attention of stakeholders in the air bearing market. Physik Instrumente – a specialist in precision motion and positioning is boosting its production capabilities in air bearings and its various accessories to establish supply chains in parts inspection, metrology, and calibration measurement applications. Manufacturers are producing non-motorized passive rotary air bearings designed for high stiffness, precision, and accuracy in complete positioning solutions. Machines using these bearings are being preferred in cleanrooms, since they are eliminating the need for maintenance or lubrication and have an unlimited lifetime.
Specialized Machinery, Methods Help Develop Air Bearings as Per Sub-micron Accuracy
Custom configurations are gaining prominence in air bearings. As such, aerostatic bearings are anticipated to hold a higher revenue share as compared to aerodynamic bearings in the air bearing market during the assessment period. However, manufacturing challenges of air bearings such as accuracy requirement and striking the right balance between bearing and mating surface geometry needs to be addressed. In order to overcome these challenges, manufacturers are making use of specialized machinery and methods to develop robust air bearings. This helps to develop air bearings as per sub-micron accuracy and make them suitable for high repeatability applications.
Stuck in a neck-to-neck competition with other brands? Request a custom report on Air Bearing Market
Air Bearing Market: Overview
According to Transparency Market Research's latest research report on the global air bearing market for the historical period of 2017–2019 and the forecast period of 2021–2031, increase in installation of air bearings in a wide range of end-use industries where frictionless property, high speed and accurate positioning, etc. is required, are factors expected to boost the global air bearing market during the forecast period
In terms of revenue, the global air bearing market is estimated to exceed the value of US$ 13.7 Bn by 2031, expanding at a CAGR of ~6% during the forecast period
Rise in Usage of Air Bearings in Various End-use Industries to Drive Global Market
The usage of air bearings in optical lenses is rising rapidly. Currently, air bearings are required in the production of precision grinders, which have relatively small surfaces and require compact size of air bearings. Precise & high geometrical alignments providing ultra-precise motion are preferred by the optical industry and thus, the need for air bearings is growing in the optical industry. Production of a broad range of air bearings in a clean environment is expected to boost consumer comfort.
Weightless air bearings are used extensively in the aerospace industry, which helps in reducing the weight of several operating systems in aircraft. Additionally, air bearings are fuel-efficient and do not require any lubricants, and result in comparatively less wear & tear. This is leading to high demand for air bearings in the automotive industry. Increasing awareness about energy efficiency solutions in turbo generators and multi-gensets is encouraging manufacturers to focus on high efficiency product development. These factors are likely to create demand for air bearings in the near future.