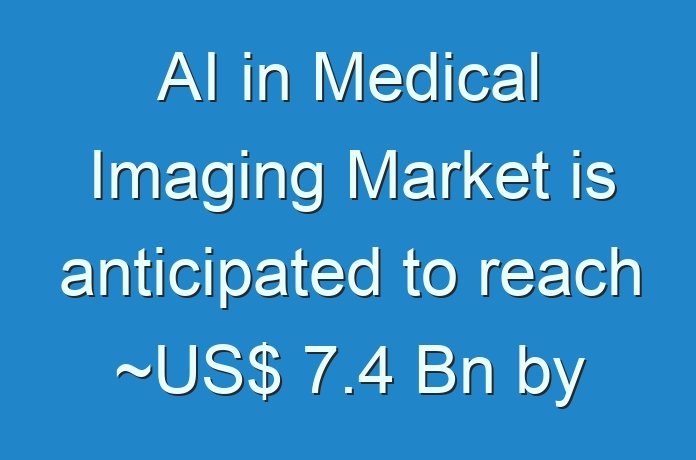 The healthcare industry is undergoing a major overhaul in terms of technology. From the entry of robots, advancements in diagnostic care, patient monitoring, and drug development, the healthcare sector is embracing new technologies and evolving at a considerable pace. Over the past few years, the adoption of artificial intelligence in healthcare sphere has gained a considerable amount of traction, particularly from the medical device sector. Experts within the industry are of the opinion that artificial imaging in medical imaging is the 'next big thing' in healthcare. Significant progress in counter processing techniques has enabled the development of artificial intelligence-based systems that are aimed to improve the efficiency and accuracy of diagnosis and medical treatments.
Artificial intelligence in medical imaging, particularly for radiology is currently making headlines and is expected to gain worldwide popularity across healthcare ecosystems across the world. Artificial intelligence is expected to revolutionize medical imaging in the upcoming years and is increasingly being used in cardiology, pathology, ophthalmology, etc. It is projected that artificial intelligence-based systems will eventually replace physicians in certain medical specializations in the forthcoming years. The AI in medical imaging market is expected to grow at a staggering pace during the forecast period, due to a range of factors, including improvement in computing power, learning algorithms, and availability of huge data sets, which are sourced from wearable health monitors and medical devices. Due to these factors, the global AI in medical imaging market is expected to reach a value of ~US$ 7.4 Bn by the end of 2027.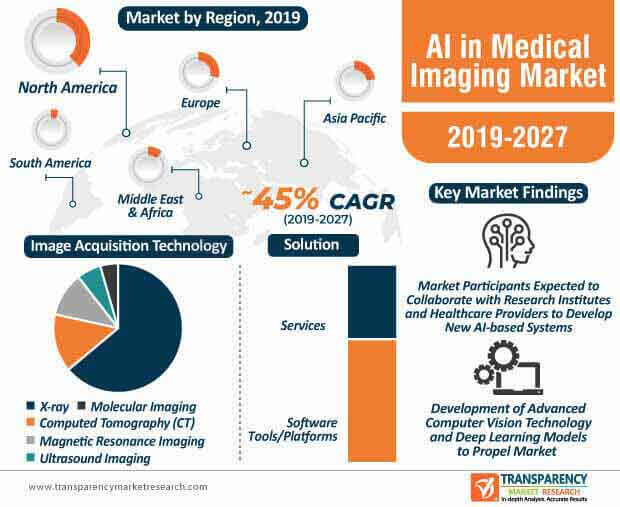 Request a sample to get extensive insights into the AI in Medical Imaging Market
AI-based Computer Vision in Healthcare to Improve Care Models
The introduction of advanced AI technology and tools is expected to play a key role in transforming the healthcare and radiology space in the coming years. The adoption of AI in the medical sphere, especially in radiology, is anticipated to present a plethora of opportunities for companies involved in the current market for AI in medical imaging. One of the key factors that will most likely improve the adoption of AI in medical imaging, such as radiology, is the widening gap between the soaring number of scans and the number of available radiologists that can read data. The mounting workload coupled with the pressure to fasten the process of data interpretation resulted in a considerable rise in the number of errors, thereby presenting participants in the AI in medical imaging market a window of opportunity to grow their market presence.
To understand how our report can bring difference to your business strategy, Ask for a brochure
Despite being at a relatively nascent stage, participants in the supply side of the value chain are increasingly focusing on the implementation of AI-based systems in the healthcare sector. In recent times, computer vision is projected to transform medical imaging and diagnosis of a range of diseases. The demand for accurate computer vision for a range of medical imaging applications, such as X-ray, ultrasound, CT scans, etc., is expected to move in the upward trajectory during the forecast period. In addition, in terms of the AI technology, computer vision is expected to witness the highest adoption rate in the AI in medical imaging market, followed by deep learning modules. The high adoption rate can be primarily attributed to significant improvements in medical imaging diagnosis in the detection of life-threatening diseases and minor abnormalities in patients. At present, although healthcare providers cannot completely rely on automated diagnosis and treatments, with continual advancements in technology, AI in medical imaging is expected to gain great amount of recognition.
Companies and Researchers Collaborate to Create Efficient AI-based Platforms
Key participants operating in the current AI in medical imaging market landscape are expected to closely work with educational institutes, healthcare providers, and other stakeholders to develop technologically advanced and cost-effective AI-based platforms for healthcare experts to develop diagnostic algorithms. For instance, in April 2019, Nvidia announced that the company would collaborate with the American College of Radiology (ACR) to develop an open architecture AI system to assist radiologists to develop advanced diagnostic algorithms. Companies in the AI in medical imaging market are aggressively exploring the potential benefits of AI in medical imaging by creating new deep learning models for improved image interpretation. For instance, researchers at the Google Health created deep learning models that improve X-ray interpretation.
Read Latest Press Release By TMR:
https://www.prnewswire.com/news-releases/continued-ravage-of-covid-19-extends-tremendous-opportunities-in-disinfectant-wipes-market-valuation-projected-to-exceed-us-16-7-bn-by-2030—tmr-301285688.html