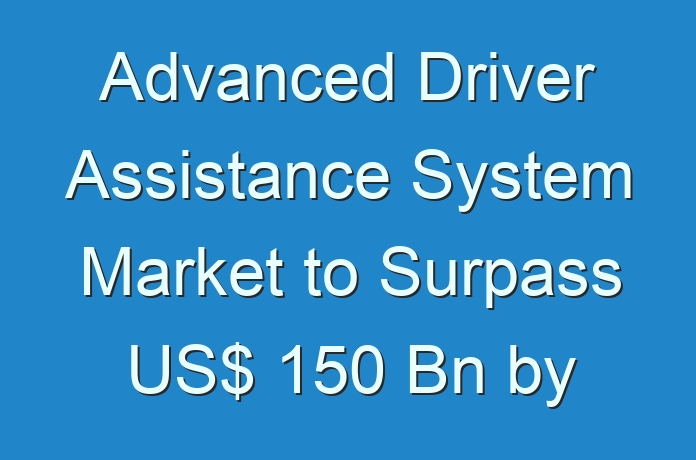 Advance driver assistance system (ADAS) is an advanced sophisticated safety system that assists the driver of the vehicle during driving and enhances driving comfort, efficiency, performance, and safety, while reducing the number of road fatalities
Key Drivers and Restraints of Global Advanced Driver Assistance System Market
Advanced driver assistance systems (ADAS) are designed and developed to curtail the number of road fatalities and improve safety of both vehicle and driver, which is projected to be a key factor that is likely to drive the advanced driver assistance system market
The advanced driver assistance system constitutes numerous advanced safety technologies, which have proven their worth in the vehicle through their assistance to the vehicle's driver. Moreover, studies conducted on ADAS performance have fueled its adoption.
Globally, governments and automotive regulatory bodies in developed countries, such as the U.S., Germany, the U.K., Japan, and France, are legalizing and implementing policy framework to mandate the integration of the advanced driver assistance system in vehicles
Want to know the obstructions to your company's growth in future? Request a brochure @ https://www.transparencymarketresearch.com/sample/sample.php?flag=S&rep_id=34301
Consumer preference is rapidly shifting toward enhanced safety in mobility, especially for long route journeys that cause strain on the driver and results in road accidents. The automotive advanced driver assistance system prevents distraction and reduces the strain on the driver by assisting the driver through its dynamic and sophisticated features.
Advanced driver assistance systems are expected to reduce traffic congestion by detecting road blocks and conceiving detours accordingly. Furthermore, advanced driver assistance systems in automotive monitor the vehicle operation and driver's misjudgment while driving.
In 2019, the European Union announced its new revised General Safety Regulation, which includes new ADAS safety technologies, to reduce the number of road accidents caused majorly due to human error. These new advanced safety features are expected to curb not only road fatalities but are also likely to pave the path toward progressively connected and automated mobility.
Consumers across the globe are focusing more on safe and comfortable driving, which has been possible due to the advent of ADAS in automotive
Global Advanced Driver Assistance System Market: Segmentation
The global advanced driver assistance system market has been segmented based on technology, component, vehicle type, and region
Based on technology, the adaptive front light segment leads the global advanced driver assistance system market. This is primarily due to its ability to aid the driver by automatically switching on low and high beams according to varying vehicle speed, which offers improved visibility even in the dark. This ADAS technology enables the automotive headlights to rotate and swivel in order to enhance illumination of the road through corners and further improve visibility in low light conditions. Moreover, adaptive front light changes the lighting pattern in order to compensate for the road curvature, thereby enhancing night visibility
In terms of component, the ultrasonic sensor segment accounted for a noteworthy share of the global advanced driver assistance system market in 2018. Ultrasonic sensors are cost-effective components of ADAS, as compared to other components. Ultrasonic sensors are obstacle detecting components that utilize ultrasonic waves to measure the distance between vehicles and detect objects and pedestrians in the vehicle's surroundings. Ultrasonic sensors transmit waves and measure the time taken by the waves to return and analyze the distance between the vehicles and objects, thereby aiding in maneuvering the vehicle
Looking for exclusive market insights from business experts? Request a Custom Report 
Global ADAS Market: Regional Segmentation
Based on region, the global advanced driver assistance system market can be segregated into North America, Asia Pacific, Europe, Latin America, and Middle East & Africa
In terms of region, Asia Pacific is projected to account for a prominent share of the global advanced driver assistance system market by 2027. Higher production of vehicles in conjunction with a surge in exports of automotive is a key factor that is anticipated to propel the demand for advance safety features in the region. Moreover, presence of key automakers and OEMs in China, Japan, India, and South Korea supplemented with availability of components, land, and inexpensive labor is driving the ADAS market in Asia Pacific.
Key Developments
In May 2018, Magna International Inc., in collaboration with Renesas Electronics Corporation, announced a surge in mass adoption of automotive advanced driving assistance system features with a new cost-efficient 3D surround view system designed for entry- and mid-range vehicles. By enabling 3D surround view safety capabilities, the new system helps automakers to deliver safer and more advanced vehicles to a larger number of vehicle consumers, thereby contributing to a safer vehicle society. The company's new 3D surround view system is a vehicle camera system that offers a 360-degree panoramic view to assist drivers when parking or performing low speed operations.
Key Players Operating in Global ADAS Market:
Continental AG
Magna International Inc.
Infineon Technology AG
NXP Semiconductors
Siemens AG
DENSO Corporation
HARMAN International
AISIN SEIKI Co., Ltd.
Read Our Trending Press Release Below: https://www.prnewswire.co.uk/news-releases/rising-number-of-do-it-yourself-customers-fuels-expansion-of-e-commerce-automotive-aftermarket-market-tmr-884599179.html