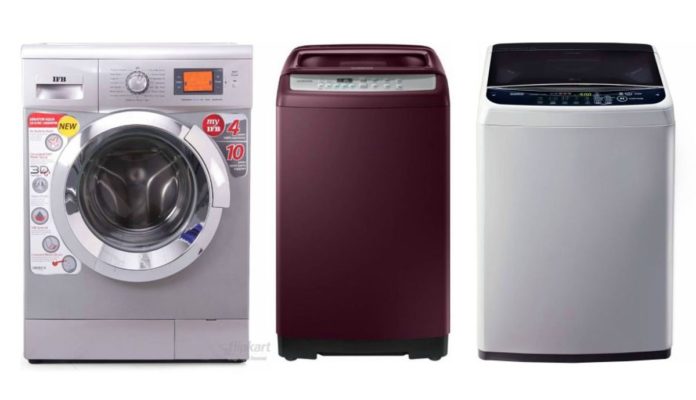 Washing Machine
Before, many households would wash their clothes by hand or employ a maid for doing this work. A noteworthy innovationthat has helped in eliminating this time-consuming chore is the washing machine.
Everybody is busy with work or other things and washing clothes by hand is a rarity. Hence washing machines play an important part in today's world. Washing Machines come in Semi-Automatic Washing Machine and Fully Automatic Washing Machines. There are washing machines with capacity loads ranging from 6 kg to 12 kg which caters to the need of a small/big family.
There has been an impressive change in the washing machines from semi-automatic to fully automatic, with a host of new-age features like the LG Washing machine range. From simple and manual washing machines like the semi-automatic to a very fancy one like the LG Washing Machine 7kg series, the consumer can buy accordingly to their needs and budget.
LG Washing Machines
Over the years LG Washing machine have come a long way in cementing their strong presence and have been ruling the markets for a long time. The products from LG like for eg: LG washing machine 7kg series provide the latest innovative offerings, value-for-money deals.
The LG Washing Machines come in Semi-Automatic and Fully automatic Top Load and Front-load machines.  With the technology constantly improving, LG has come up with washing machines that are available in all capacities, semi-automatic/fully automatic variants, and state of the art specifications, for eg: the LG Fully Automatic Front load Washing Machine (FHT1207SWL) comes with a capacity of 7 kg and 1200 RPM (maximum spin speed).
LG Washing Machines have many features like Energy Mode, Time Mode which help in saving upto 18% power and also time. For eg.,the LG Washing Machine (Fully Automatic) with a load capacity of 7 kg,  is the best front loading washing machine which has features like 6 Drum Movements for perfect wash,  Inverter Direct Drive Motor, WI-FI for remote operation, Smart diagnosing app, and a strong exterior that's last for several years.
All the LG top load automatic washing machine segment has a wide range of 5 star rated washing machines which helps in saving water, energy-saving, and wash performance.
Some other salient features in LG Washing Machines are:
Smart Inverter Technology

Smart Motion & TurboDrum

Jet Spray

6 different wash motions like rolling, stepping, scrubbing, tumble, filtration,
and swing which helps in maximizing cleansing and performance.
Intelligent Wash helps in automatically selecting the best wash cycle.
WiFi Enabled (some of the products)
7 Interesting facts about LG Washing Machines
Awarded as India's most trusted brand from 2018-2020:

LG is known for adopting new technology in its Washing Machines. Though they are a bit highly-priced, come with features and functions that are not matched by their competitors. This explains why LG has been awarded as India's most trusted Brand continuously since 2018.

Rat Away technology:

It is a feature that is present in the LG Semi-automatic washing machine (Top Load) with a load capacity of 7kg comes with a lot of features like Roller Jet Pulsator, which gives a great washing experience. Also, it comes equipped with an outer layer of rat-repellent chemical on its outer plastic cover which helps in keeping away rodents 

ThinQ app:

LG has WiFi enabled Fully Automatic Washing machines as well. It also has come up with an app called "SmartThinQ" which can be downloaded on your Android or iOS-based Smartphones. It works using voice recognition and you can control/monitor using conversational voice commands.

Allergy Care:

The steam function helps in sterilizing almost 99.9% of germs. It is equipped with WiFi, owing to ThinQ™ technology that gives you the flexibility of changing your laundry cycles anytime. It also deploys a 6motion DD technology for best results.

Direct Drive Motor:

It is an Artificial Intelligence-powered technology that helps in sensing the softness of the fabric and automatically chooses the motion and wash cycle. It helps in cutting down the noise and also vibration. The LG washing machines which come with this motor have a standard 10- year warranty on the motor. 

LG TwinWash:

This particular has become a revolution in the Washing Machine segment. It is divided into two segments, the top washer department handling larger and sturdier clothing loads, while the bottom washer handles the delicates. Both the chambers can be used simultaneously as it comes equipped with a proprietary DD motor installing and to complement it an advanced shock-absorbing suspension system. 

TurboWash360˚:

This feature helps in washing the clothes thoroughly, and complete fabric protection in just 39 minutes. The LG Fully Automatic Washing machine with this feature has 3D multi nozzles which reach every inch of the drum in all 4 directions.

People looking for washing machine can visit Bajaj Finserv EMI Store. The vast collection comes at a low cost. Bajaj Finserv EMI Network Card holders can avail of options like No Cost EMI at zero down payment and same day delivery.