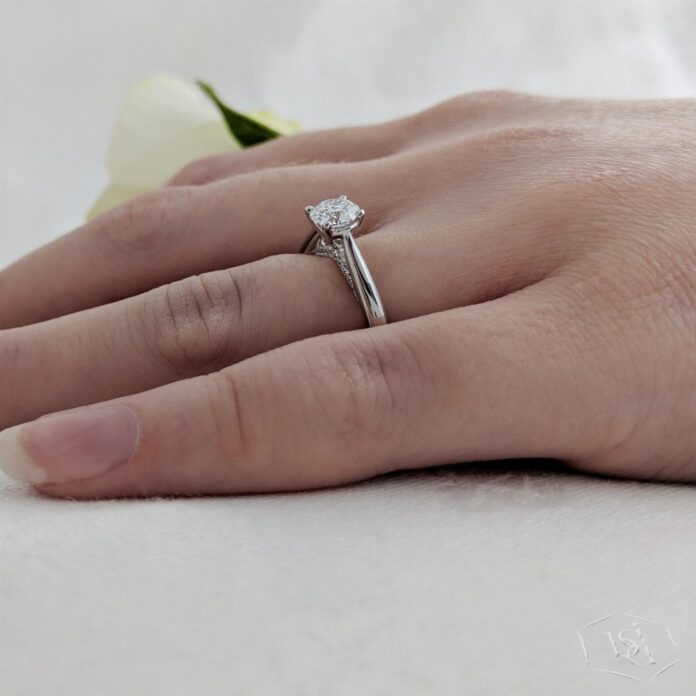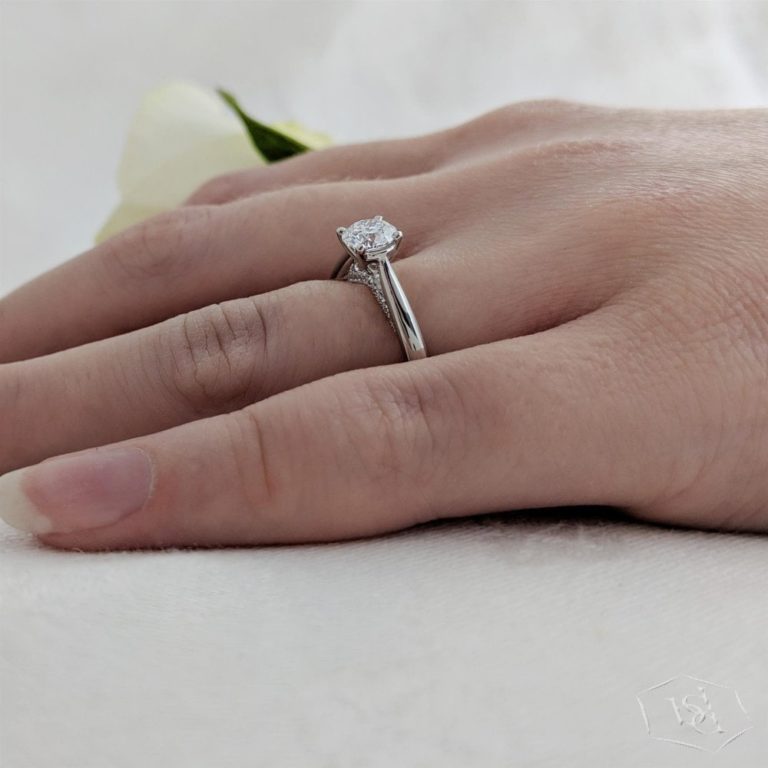 Couples these days want to flaunt similar rings for their engagement as a symbol of their equality and shared life in the relationship. Buying engagement rings is a big decision because deciding on something that is meant to last a lifetime is a tough choice. With more and more couples opting for unisex rings, and hidden halo being the emerging trend, designers decided to fuse these two together and come up with amazing unisex hidden halo rings designs so you don't have to miss out on anything.
Thick band ring
A regular hidden halo ring usually has a thinner metallic band for the ring. Since thinner bands look better on feminine hands, for the unisex design, a thicker band was made. So the stones and their arrangement remain the same but the band is thicker, similar to a normal men's ring. It is comfortable to wear and good for both men and women to flaunt with their daily casual look as well.
Geometric shaped ring
The thick band of the ring is square in shape but with rounded edges. This ring does have a slightly more masculine look but some women like it better than hammered wedding rings. The centre diamond is then placed over the smaller ones. There are no prongs for the 'holding it in place' sort of an appearance since the stone is anyway embedded in the ring itself.
Small centre stone
Not everyone likes big, flashy stones. People sometimes go for unisex rings simply because they are a toned down version of the original gender-specific one. For unisex hidden halo rings, one option is to have a smaller centre stone. Bigger stones give a more feminine appearance and a lot of men aren't comfortable sporting such a prominent rock. Smaller centre stone, on the other hand, looks subtle and makes the ring look gender-neutral, so anyone can wear it comfortably. These hidden halo engagement rings were a popular choice among couples in 2023.
Oval-shaped
Instead of the regular circle-shaped diamond with mirror-image look-alike cutes on the surface, unisex hidden rings can be designed using oval-shaped diamonds as well. They have a sturdy look, and fit well on thicker bands better than thinner ones. Since the shape will take up most of the space on the band, the smaller stones beneath will be seen even lesser and so the ring as whole does not look unusually sparkly, the way some people like it. It is a better choice for men who like diamonds, but prefer maintaining a subtler impression.
Moissanite hidden halo
This is a slight variation from the typical hidden halo ring. Instead of the larger centre stone sitting atop, here the stones are embedded in the ring itself to give it a circular kind of look. Most men's rings have this design and pattern, but off late unisex rings are being designed this way as well. The main intention of this design is to make the ring look softer with the diamond not being in your face. If you touch the ring, all you can feel is the flat surface of the diamond and not the cuts and incisions made on it like a usual popping out stone.
The lab grown diamond engagement rings make a perfect choice for your big ceremony. These rings are cheaper than organic diamonds, exactly the same and have a lot of options in the designs as well. A lab grown diamond on a hidden halo rings looks absolutely stunning so make sure you make the right choice that will last a lifetime.