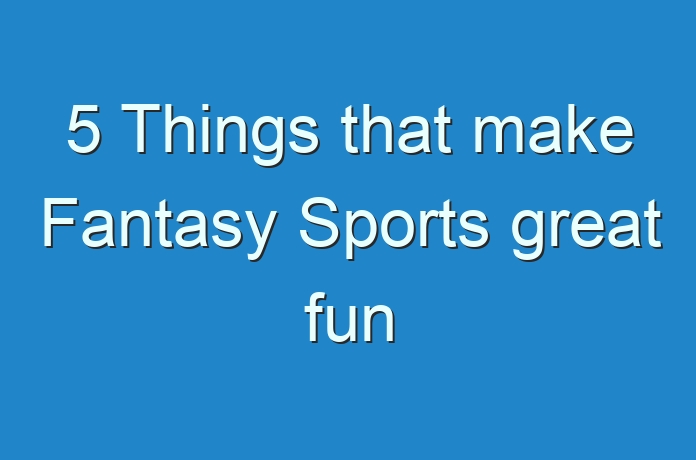 Millions of sports aficionados across the globe are hooked to fantasy sports. It is a rapidly growing trend among the fans. The best thing about it is you can do it with sports of your choice. For those who don't know it is an online platform where participants create their teams based on their knowledge and preferences using real players from different teams scheduled to play in a match or a league. They earn fantasy points based on the actual performance of the players in their fantasy team. As per a report published by KPMG and Indian Federation of Sports and Gaming (IFSG), India's estimated user base of fantasy sports platforms crossed 70 million users in 2018. 
Why is it so popular? What are the things which make it so much fun?
The zest to try out something new which is exciting and give most people the adrenaline rush, make them wait for the result more eagerly. There's a thrill, risk, and rewards are the things fantasy sports offer to their users.
It's competitive: People love the feeling of the competition. There is a strategy involved in making the teams. You have to analyze the past and present form of the players according to their playing positions. There are like-minded users who are also having the knowledge of the game – more or less than you. It gives you a chance to test your knowledge in a competitive environment. There is an unpredictability involved with the outcomes of the games.
Control of the game: Every fan at some point has ranted about controlling the team better. Fantasy sports give every fan a chance for match prediction – create a team, draft players of his choice, set the line-ups, and make adjustments and amendments according to the situation. It gives every fan that feeling of control. It gives fans a chance to prepare for every game with a different perspective and strategize accordingly.
No more meaningless matches: Normally people don't care when 2 small teams are playing, or a small team is going against a strong unit where the result is almost predictable. However, once you put money on it, suddenly it becomes more meaningful. Fans take more interest in the game and the scoreboard. You take an interest in every run scored or every wicket accounted if it is fantasy cricket or about every goal if it is football. People start taking an interest in every excellent performance by a team and the chosen players who are likely to earn them more points. The interest is sparked automatically with people keeping an eye on every minute detail and not just their favourite team's result.
The thrill of victory: Winning a fantasy league is always a difficult task, especially when the competition is fierce, and you are up against the fans who share a similar passion for the game. Whether you throw down a little money to 'sweeten the pot' or not, winning and losing will still give you the up and down of the thrill. There are only a few hobbies which can provide you with that rush.
It's fun and rewarding: Until you work with an organization where you go on the road trips to attend the corporate meetings, it is hard to explain how much fun fantasy sports can be. It provides the right distraction from your daily life routine. It also gives you an extra chance to earn big with fun. One can earn a significant amount of cash if the selection gets right.
In conclusion, fantasy sports are a great option for every sports fan. In fact, some people find it better than watching live sports. It is just a simple matter of picking up your favourite sport and investing in the right competitions.