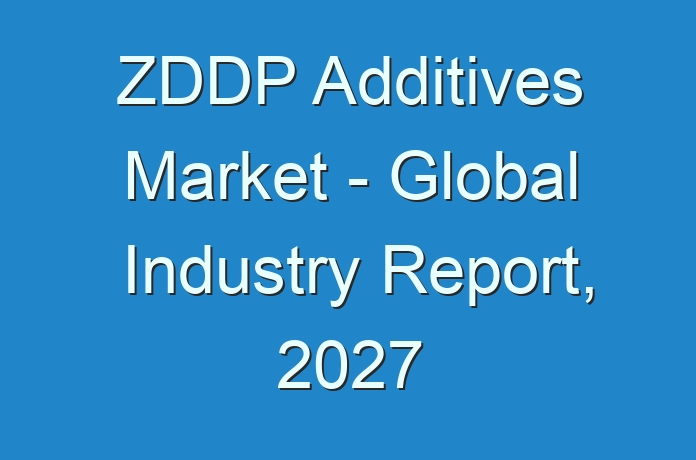 Key Highlights of Global ZDDP Additives Market
The global ZDDP Additives market was valued at US$ 2,760.1 Mn in 2018 and is anticipated to expand at a CAGR of 1.6% during the forecast period
Zinc Dialkyl Dithiophosphate (ZDDP) is a lubricating oil additive having exceptionally high hydraulic and thermal stability. This additive is generally used along with other additives such as dispersants, detergents and acid neutralizers in automotive engine oil and industrial lubricants.
ZDDP additive provides oxidation, copper-lead bearing corrosion and wear control in diesel and gasoline engines. It is particularly viable under the extreme pressure, severe temperature and load conditions experienced in highly supercharged diesel engines.
Download PDF Brochure – https://www.transparencymarketresearch.com/sample/sample.php?flag=B&rep_id=31028 
Key Drivers of Global ZDDP Additives Market
Invented in 1940s, ZDDP has been the most sought after antiwear additive in use for more than 70 years. During engine operation, ZDDP breaks down and forms a thin solid film that adheres to the metal surfaces preventing intermediate contact. This helps to eliminate the long term wear thus prolonging the engine life.
However, in last decades ZDDP has come under scrutiny related to the phosphorous content which has negative impact on the vehicle exhaust system. ZDDP although possess excellent antiwear characteristics, it tends to generate byproducts, particularly phosphorous that blocks the pollutant reducing catalytic converter,  reducing the efficiency and life span of the device.
EPA has passed the permissible level of phosphorous content in vehicular exhaust thus reducing or eliminating the use of ZDDP additives in near future. Researchers are directing their strenuous efforts to find compound to replace ZDDP altogether and number of patents have been filed in recent past.
Additionally, with the increasing need to curb down the vehicle weight in order to reduce the vehicular emission and the use of effective pollutant reducing devices is expected to limit the growth of ZDDP additives during the forecast period.
More Trending Reports by Transparency Market Research – https://www.prnewswire.com/news-releases/flourishing-construction-sector-to-invite-immense-growth-prospects-for-global-welding-products-market-between-2019-and-2027-tmr-301152083.html
Increase in R&D Investment to Develop New and Innovative Products and Enhance Footprint of ZDDP Additives  
ZDDP manufacturers primarily focus on technological advancements and customized solutions in order to introduce better lubricants that improve the efficiency of motor vehicles and machineries.
ZDDP additive manufacturers are developing products for specific applications including lubricants and greases for usage in industrial, professional, and consumer applications
Companies have been investing significantly to develop products, considering the functional and mechanical properties as well as environmental issues. Companies are increasingly utilizing ZDDP for transportation and industrial applications due to the rise in environmental concerns. These oils offer significant environmental benefits with respect to biodegradability and resource renewability.
ZDDP lubricant manufacturers have been focusing on technological advancements in mineral oil-based lubricants. Manufacturers are collaborating with key OEMs to develop lubricants and additives for high-tech engines and motors. Engineers and scientists have been striving to develop engine oils, greases, and other lubricants that are compatible with a range of vehicles and offer clear improvements in the working of engines.
Currently, the usage of ZDDP lubricants is limited to some applications. However, it is likely to increase, as companies innovate additive products and systems for new applications. Adoption of different additive substitute lubricant products are estimated to not only lower the production cost, but also help the industry compete favorably with new and innovation product types.
Request For the Customization – https://www.transparencymarketresearch.com/sample/sample.php?flag=CR&rep_id=31028
Environmental Impact to Hamper Global ZDDP Additives Market
The presence of the phosphorus in ZDDP added to the motor oil is poisonous and used as a catalysts in the exhaust converters
The reason for limiting ZDDP from engine oil is due to the hazard it poses to human health. The regulatory agencies estimate that the miniscule amount phosphorous might snitch piston rings to invade the combustion chamber.
Environmental agencies also mandate that catalytic converters be designed for 100,000 miles. Thus, phosphorous must be limited for motor oil specifications.
The authorities have also issued a requirement for all automotive manufacturers to meet the emission specifications for new manufactured cars, and it also mandated to have a certain level of emissions over the expected life of the vehicles
Exposure of workers to ZDDP can cause eye or skin problems; releasing it to the environment is also harmful for aquatic organisms, as it has long-lasting effects.
Request for covid19 Impact Analysis – https://www.transparencymarketresearch.com/sample/sample.php?flag=covid19&rep_id=31028
Fragmented Nature of Global ZDDP Additives Market
Key players profiled in the ZDDP Additives market include Chevron Oronite Company LLC, Afton Chemical Corporation, The Lubrizol Corporation, Infineum International Limited, AMSOIL, Rislone CamGuard, ZPlus, LLC, Mukund Anderson Inc., Prasol Chemicals Pvt. Ltd.  Market players have been profiled in terms of attributes such as company overview, financial overview, business strategies, and recent developments.